You could be forgiven for believing that all I do is drink, but I've been known to venture into the kitchen as well. Especially if it involves yeast, and producing something that can be toasted and buttered. Ok, so technically crumpets aren't baked but it's close enough and 'Pete Griddles' doesn't sound so good.
A comment from a friend on twitter a few weeks ago made me realise that I hadn't cooked crumpets in a long time and unusually, rather than just saying "ooh I should make those myself" and then remaining glued to my keyboard, I ventured downstairs and dusted off my cookbook and discovered that I even had all the ingredients in the cupboard.
The cookbook in question is one of those 'must have' books; it's a tiny little thing with less than 50 pages to it, and I only bought it originally because it had a recipe for Aberdeen Butteries – however it's filled with all sorts of other yummy bready delights too, including crumpets. See, even the book thinks they're baked.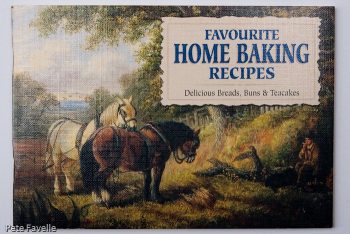 Aberdeen Butteries, by the way, are a sort of Scottish take on croissants with added lard, which virtually deep-fry themselves in the oven. They're probably not terribly good for you, but they taste divine and they're almost worth all the fiddling about that making them requires.
Crumpets, on the other hand, are incredibly quick and easy to make – especially if, like me, you tend to go through recipes and remove anything that looks a bit complicated. It talks about heating milk and dissolving the sugar in it and it calls for fresh yeast but in keeping with my "reduce all recipes to standard Waitrose pack sizes" policy, I improved it. And I also shrank it, from experience.

Crumpets
Ingredients
4

oz

plain flour

4

oz

bread flour

1

tsp

salt

1/2

pint

milk and water, 50/50 mix

- warmed slightly in the microwave, to body temperature

1

tbsp

vegetable oil

1/2

tbsp

sugar

1

packet

dried yeast

1/4

tsp

bicarbonate of soda
Recipe Notes
The imperial measurments used here are a sign of the ancientness of my cookbook!
Instructions
Throw everything but the bicarbonate of soda into a mixer and whisk for 5 minutes or so until it's a smooth and slightly elastic batter.

Put some clingfilm over the top of the bowl and leave it wherever you leave your bread to rise for an hour or two until it's frothy and "about to collapse". I have to say I've always found that sort of instruction in recipes about as useful as "bake until almost done". How do you know when something is about to collapse? I certainly don't; I leave it until it looks properly frothy and I can't be bothered to wait any longer.


Now add the bicarbonate of soda and stir it well in. This will knock all the air out as well and leave you with a slightly bubbly batter that's the perfect consistency for pouring. Put aside to rise while you rummage around in kitchen drawers looking for those really useful cooking rings you know you bought and must be in there somewhere.


Get a good, heavy non-stick frying pan and start it heating over a medium heat. I don't bother with any oil in the pan itself; the base of the crumpets don't seem to ever stick. They will, however, glue themselves to your rings given half a chance – I have a shallow dish of oil and run the rings through the oil to get them well coated all the way around the inside on every batch. You'll thank me later.


Oil the rings, place them in the frying pan, making sure they're lying flat and aren't on a slope running up the side of the frying pan (otherwise the batter will escape under the ring and you'll be making very long winded pancakes). I find it easiest to use a ladle to pour about a centimetre of batter into each ring.


Now wait. Don't be tempted to poke or jiggle anything. In around 5 minutes (it feels more like twenty, but it honestly isn't) you'll see the top of the crumpets start to dry out and start looking, well, like crumpets around the edge.


The 'crumpetness' will creep slowly in from the edges; once at least the edge is dry, you can safely remove the rings. I lift them off with our awesome oven gloves; they can sometimes stick – especially at the bottom – so a knife can help release them. I've found a flexible butter knife works best without the risk of slicing a lump out of your crumpet.


Once the top is dry, or at least almost dry, flip the crumpet over to brown the top for a minute or so. Take it out of the pan and let it cool on a cooling rack; if you put it straight onto a plate the bottom will get soggy.


If you can bear to wait, let it cool before toasting it (to make the top lovely and crunchy) and drown in butter. Or cheese, or marmite, or honey, or whatever else you like covering your crumpet with. I'm rather fond of cheese myself, a good strong cheddar melting deep into the holes…

So, are they worth the effort over shop bought crumpets? Hell yes! They are so much lighter, fluffier and although the cooking bit does involve standing around in the kitchen for a while working through the batter three at a time (which is only a limit imposed by the size of my frying pan, to be fair) it's not exactly tricky cooking – it's mostly stood looking at the crumpets and reading a book. They also keep fairly well; interestingly enough after 4 or 5 days they start to taste much closer to shop bought crumpets which would seem to suggest that the crumpets I've always loved have always been stale.