This delicious Peruvian recipe candies halved lemon skins before stuffing them like small bowls with a rich, sweet filling of coconut, condensed milk and evaporated milk. It's an unusual dessert and a great combination of citrus and caramelised dairy flavours.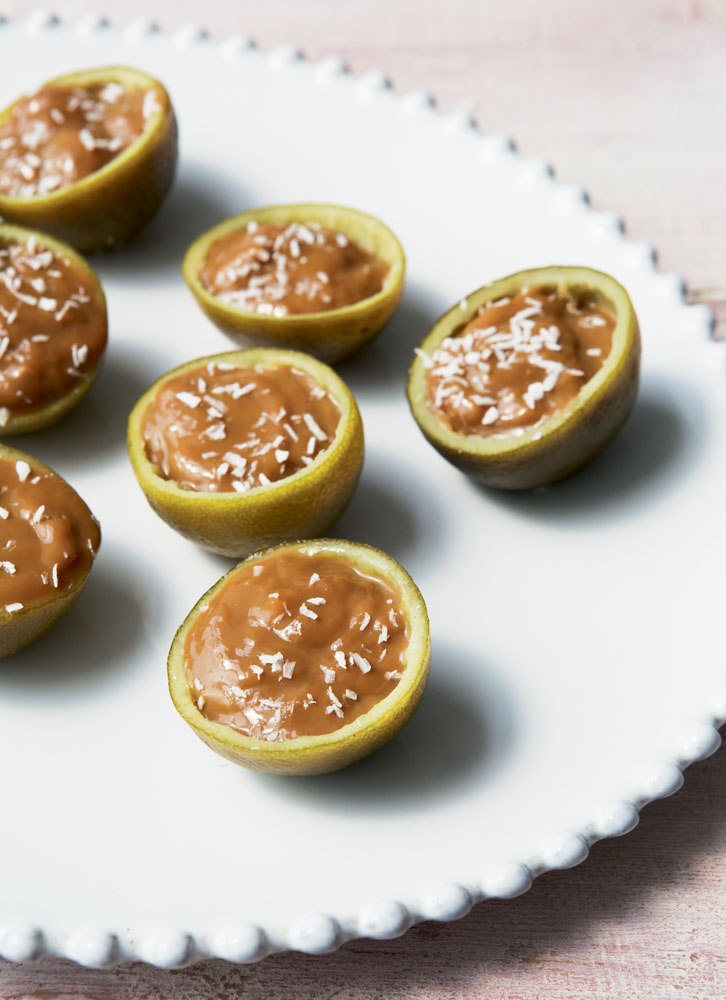 Check out our review of Peru: The Cookbook.
Limones Rellenos - Stuffed Candied Lemons
Ingredients
400

ml

(1¾ cups/ 14 fl oz/) evaporated milk

400

ml

(1¾ cups/ 14 fl oz/) condensed milk

120

g

(4 oz) shredded (desiccated) coconut

1

cinnamon stick

4

lemons

150

g

(scant ¾ cup / 5 oz) granulated sugar
Instructions
Pour the condensed and evaporated milks into a heavy pan or Dutch oven (casserole dish). Add the coconut and cinnamon and simmer over low heat, stirring continuously, until the mixture thickens and sticks to the spoon. Remove from the heat, pour into a bowl, and cool. Set aside.

Cut the lemons in half. Taking care not to pierce the peels, scoop out the pulp and seeds.

Blanch the lemon halves in boiling water 3 times, changing the water each time.

Place the lemon halves in a pan with the sugar and ¾ cup (7 fl oz/200 ml) water. Simmer overlow heat for 1½ hours, until the liquid reduces and a thin syrup forms. Remove the lemons and place on a rack to drain

Spoon the milk and coconut filling into the candied lemon halves. Serve.
If you decide to buy this book after reading our content, please consider clicking through our affiliate link, located within the post and in the footnote below.
Kavey Eats received a review copy of Peru: The Cookbook by Gastón Acurio from publisher Phaidon