As I wrote recently, I fell in love with Saraban: A chef's journey through Persia by Greg & Lucy Malouf, the moment I saw it.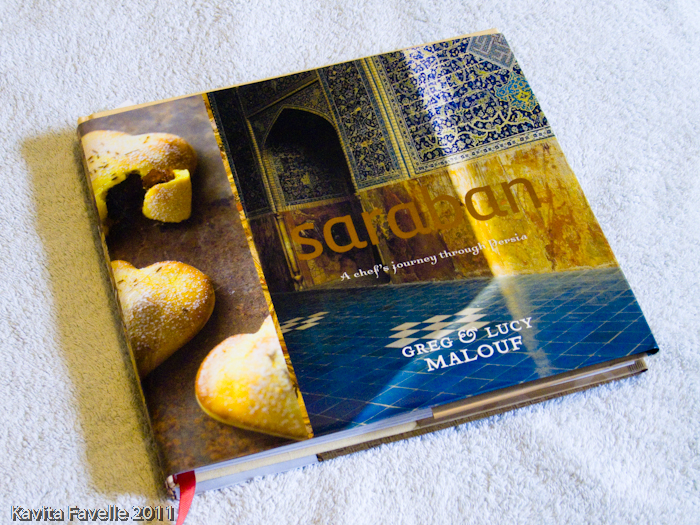 In this post, I want to share a most wonderful recipe from the book – tahcheen-e morgh (baked yoghurt rice with chicken).
During a talk I attended recently, Greg was asked to describe the one dish that summed up Persian cuisine for him. He answered:
"There is one dish that is the centre of the universe for Iranians and that is rice… the way they cook it with a crispy edge, it's like suckling pig!"
Many questions later, he was asked about any particularly difficult cooking techniques:
"The rice! I really like making it… it's really easy… but there are five minutes of sweating at the end to see if there's a crust!"
Having taken that comment to heart, I was certainly a little nervous about how the dish would turn out, apprehensive about how disappointing it would be if I failed to get the fabled crunchy crust. To my delight, the crust was magnificent and the dish delicious. I can't wait to make it again!
Tahcheen-e morgh
Baked yoghurt rice with chicken
Ingredients
For the marinade:
250

g

thick natural yoghurt

3

egg yolks

3

tbsp

saffron liquid (see notes)

1

tsp

orange flower water (see notes)

finely grated zest of 1 orange

1

tsp

sea salt

1/2

tsp

freshly ground black pepper
For the dish:
500

g

boneless free-range chicken breast and thighs, skin removed and cut into 2 cm cubes

400

g

basmati rice

2

tbsp

sea salt

80

g

butter, plus extra for greasing
Recipe Notes
Even with the pan buttered liberally, it can be difficult to turn the rice cake out of the pan in one piece. Thanks to reader recommendations, we now add a circular sheet of baking parchment at the base of the pan, along with even more liberal amounts of butter. 
The recipe for saffron liquid specifies 20 strands of saffron to 2 tablespoons of boiling water, instructing that they be lightly, briefly and carefully toasted in a dry pan over medium heat, ground in a mortar and infused in boiling water for at least 1 hour. I dislike the strong earthy taste that comes from too much saffron so I used approximately 10 strands in 3 tablespoons of boiling water and didn't bother to toast them before infusing.
I didn't have any orange-flower water (also known as orange blossom water) so used just 2 tiny drops of (the much stronger) natural orange extract that I had in stock. This worked well.
Instructions
Beat all the marinade ingredients together in a shallow dish.

Add the chicken to the yoghurt mixture. Cover and refrigerate for at least 2 hours or up to 12 hours ahead of time.

Wash the rice thoroughly, then leave it to soak in a generous amount of lukewarm water for 30 minutes. Swish it around with your fingers every now and then to loosen the starch. Strain the rice, rinsing it again with warm water.


Bring 2.5 litres of water to the boil in a large saucepan. Add the salt and stir in the strained rice. Return the water to a roiling boil and cook, uncovered, for 5 minutes. Test the rice by pinching a grain between your fingers or by biting it. It should be soft on the outside, but still hard in the centre.


Strain the rice and rinse again with warm water. Toss it several times to drain away as much of the water as you can.


Preheat the oven to 190 C and butter a 2 litre ovenproof dish.


Remove the chicken pieces from the yoghurt marinade. Mix half of the parboiled rice with the marinade and spoon it into the base of the ovenproof dish. Spread the rice over the bottom and up the sides of the dish.


Arrange the chicken on top of the rice, then spoon the rest of the rice to cover, and smooth the surface. Cover tightly with a sheet of lightly buttered foil and bake for 1.5 hours.


Remove the dish from the oven and dot the surface of the rice with bits of butter. Replace the foil and leave to rest for 10 minutes.

We didn't have a suitably shallow ovenproof dish, so we used a deeper cast-iron casserole. Although we buttered very liberally, we were not able to turn the dome of baked rice and chicken out whole. In fact it wouldn't come out at all! Instead, we had to serve it from the dish, ensuring that each plate received a generous piece of the crunchy crust.
We served it with thick natural yoghurt with parsley, coriander, dill and chives (the four herbs used in the kuku-ye sabzi (soft herbed omelette) recipe we had made recently, also from Saraban.
---
Published by Hardie Grant Books, Saraban: A chef's journey through Persia is currently available from Amazon.co.uk for £17.62 (RRP £30).
Save