I'm not always complimentary about restaurants that offer more than one cuisine, most typically an array of Pan Asian dishes covering countries across East Asia. Too many of them do none of the dishes justice and the result is disappointment all round.
But when a North London restaurant chain invited me to visit the newly expanded and redecorated branch in my neighbourhood, I decided to give them a try. It's always good to find local options instead of traipsing into town for a good meal.
Too Too Moo declare their influences to be Malaysian, Chinese, Japanese, Thai and Vietnamese which they use to create an expansive fusion menu. Current executive chef Ricky Pang gives a nod to his Grandma Pang, though I'm not sure whether she started the restaurant, introduced him to the various East Asian cuisines or simply handed down his love of cooking.
The back story or history of the restaurant is a little vague, providing only a rather sweet Javanese Indonesian folk tale by way of introduction.
Inside the Whetstone branch, the decor is pleasing, with plenty of colour, a modern warm eclectic style and lots of space. My only dislike is the enormous bin bag-like white fabric covers obscuring what seem to be attractive bird cage-shaped light fittings underneath!
The menu is divided into quite a few sections, making it a little tricky to work out how much to order from which section for a satisfying meal for two but do ask for guidance from the staff, who are easy to catch the eye of and happy to advise.
We put off the decision for a few more moments by focusing on drinks first.
Cocktails are very well priced compared to central London, all between £7.50 and £8.50. I really really loved my Fresh Watermelon and Mint Martini (£8.50) so much that I had two, rather than trying a different one afterwards as had been my plan. The combination of fresh watermelon (properly strained to remove the usual fibrous texture) and mint worked superbly in a martini!
Pete's Fresh Homemade Lemonade (£2.20) also went down very well, tart and full of fresh lemon flavour.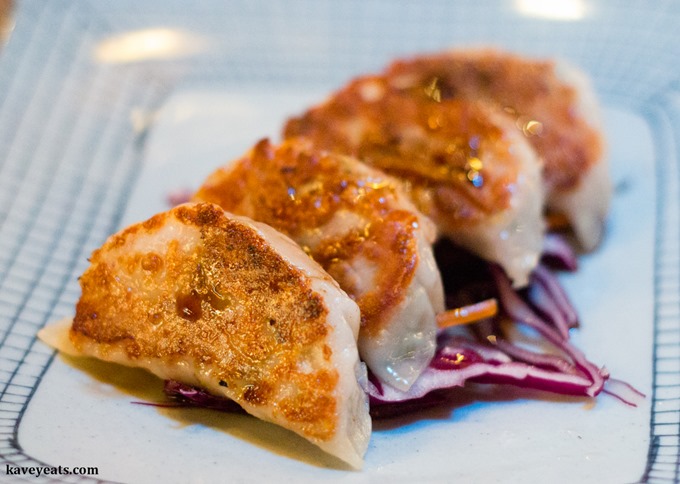 Pricing isn't quite as good a deal on some of the starters (or 'Too Too Tapas', as the menu rather tweely labels the first section).
While the Chicken Gyoza (£5.95 for 4 pieces) were well made – thin wrappings around a juicy filling – there were only four pieces in the portion making each tiny dumpling almost £1.50 each!
The Tiger Prawns Tempura (£6.95 for 4 pieces) starter was also a touch pricy, but less jarring given the more expensive main ingredient. The batter was much thicker than typical Japanese tempura but light and crisp and cooked just right, the prawns married wonderfully with the spicy mayonnaise.
My favourite from the Sashimi and Salads section of the menu was definitely the Seaweed Wakame Salad in a black sesame & pepper dressing and at £6.95 for a really generous serving, this is one of the best deals on the menu – the Japanese restaurants in London that I've been to all serve a far tinier portion of seaweed salad. The sesame dressing was superb, by the way, and generous, poured around rather than over so you can take less if you prefer. I also liked the addition of pumpkin seeds for crunch and edamame beans for colour and flavour.
The Yuzu Salmon Maki (£5.50) is filled with avocado, cucumber & yuzu mayo and was decent enough, though the nori (seaweed wrapper) had the unpleasant chewy sogginess that comes from being rolled too far in advance. While there was nothing wrong with these, they once again seemed a bit pricy for what was served, and I'd suggest you save your sushi urges for somewhere else – there were better dishes on this menu.
When it comes to main dishes, we ordered two. Our first was a Thai Green Curry Chicken (£9.95). The flavour was good, the creamy coconut broth being on the thicker side though I confess I rather like it like that. The mild crunch of green beans against soft potatoes and vegetables worked well and there was a plentiful serving of tender chicken.
The side dishes we chose were both an enormous let down. The Egg Fried Rice (£3.75) showed absolutely no signs of being fried, and certainly very little flavour. Rather it looked like freshly boiled or steamed rice with some carrots, spring onions and egg thrown in with no thought to flavour or texture.
The Plain Vermicelli Rice Noodles (£3.75) were even worse. Whilst perhaps the name should have been a clue, I'd hoped the description of 'spring onion, sesame oil & superior soy' meant that there would be some flavour. But this was the blandest serving of noodles I can ever remember being served, and a terribly claggy mass too!
Luckily, both main dishes made up for the sides.
Our second main, the Beef Rendang with candlenut & sweet potato (£11.95), was delicious and an unexpectedly enormous portion of very very soft chunks of slow-cooked beef in a tasty sauce. The flavours seemed rather muted compared to the many different styles of authentic rendang I've tried, making it somewhat closer to a European beef stew than I'd prefer, but the muted flavours were the right flavours, and the texture was really fabulous.
What both mains lacked was a kick of chilli heat. Those of you who know me know that I'm a real wuss when it comes to chilli, often finding dishes that others say are mild right at the top of my tolerance level. So for me to be labelling dishes as needing more chilli will be a strong indication to you that this was definitely a missing element in both these curry dishes.
That said, TooTooMoo may well be catering accurately to the local market and judging by the huge number of customers on the first Thursday of the year, the locals definitely love it.
We certainly still enjoyed both dishes enormously even though we felt both needed some chilli heat and the rendang just more punch overall.
We finished by sharing a Yuzu Posset (£4.90) described on the dessert card as an 'Asian style creamy panna cotta'. The posset was generously topped with rhubarb compote and an almond crumble biscuit was served alongside. The posset was excellent, the perfect silken texture and a good lemony flavour, though not as distinctly yuzu as we'd hoped – perhaps the use of just a splash of yuzu mixed with lots of regular lemon juice explains this? Regardless, we enjoyed the dish and it was a good end to the meal.
Overall, we enjoyed the meal, though found some of the pricing surprisingly high, and a few dishes in need of some tweaking for our personal tastes. But at the same time, we could see why the restaurant is a popular one in the neighbourhood, offering colourful tasty food in a colourful tasty setting. We will certainly visit again.
Kavey Eats dined as guests of Too Too Moo.
Too Too Moo Whetstone, Crouch End and Islington branches are currently running a bottomless brunch on Fridays, Saturdays and Sundays. Phone or see website for further information.