This Onion, Chilli and Mint Marmalade features a hefty kick of chilli that adds extra punch to its rich sweet and savoury flavours. The recipe is from Sally Butcher's Veggiestan cookbook, now republished as a new edition for its 10th anniversary.
It pairs equally well with soft and salty cheeses such as feta or goats cheese, punchy blues and aged hard cheeses and is also a great condiment to serve with savoury snacks.
Check out our full review of Veggiestan to find out more about Sally Butcher's delicious collection of Middle Eastern recipes.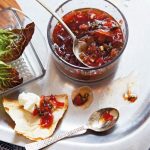 Onion, Chilli & Mint Marmalade (Muraba-e-Murch-e-Surkh wa Piaz)
This is a cracking relishy jammy type thing to have in your pantry. It is cool and spicy and sweet and sour all at the same time. We enjoy it with feta-style cheese and warm flat bread as a sort of ploughmans, but there are numerous uses for it. Try it with crispy fried vegetables, or spread on naan with melty goats' cheese as a dinner party starter.
Servings
2
x 900 g/ 2 lb jars
Ingredients
600

ml

(1pint/ 2½ cups) water

500

g

(1lb 2 oz) caster sugar

2

cm

(¾ in knob) fresh ginger, peeled and chopped

big handful fresh mint leaves, washed and roughly shredded

juice and zest of 2 unwaxed limes

2

large red onions, peeled

3

tablespoons

brown sugar

200

g

(7 oz) assorted chillies of choice, washed, beheaded and chopped

2

tablespoons

balsamic vinegar
Instructions
Put the water and sugar in a 'non-reactive' (ie non-aluminium) pan, and bring it to the boil.

Add the ginger and set to simmer. When the syrup starts to thicken, take it off the heat and add the mint, lime juice and rind.

In the meantime, slice the onions finely and heat them in a frying pan together with the brown sugar and the chillies: stir regularly so that it doesn't burn or stick.

When the vegetables start to caramelise (after about 20 minutes), add the balsamic vinegar, simmer for a few minutes more and take off the heat. Stir the red onions into the syrup, mix really really well, and then spoon into sterilised jars whilst still fairly warm and seal. This is ready to rock and roll straight away, but will keep for 3–4 months. Dare you to eat it for breakfast.
This delicious jammy marmalade makes a wonderful home-made gift, especially when bottled in small, pretty jars.
If you decide to buy this book after reading our content, please consider clicking through our affiliate link, located within the post and in the footnote below.
Kavey Eats received a review copy of Veggiestan by Sally Butcher from publisher Pavilion. Book photography by Yuki Sugiura. Our photography by Nicky Bramley.