This delicious One Pot Fish, Chickpea & Spinach Stew is quick and easy to make, perfect for a satisfying midweek dinner or a fast meal on a busy weekend. Featured in Alan Rosenthal's Foolproof One-Pot: 60 Simple and Satisfying Recipes, the foundations of the recipe lie in Marcella Hazan's famous tomato pasta sauce – Rosenthal's tweaked version forms the base of this delicious seafood stew.
Chickpeas and spinach make for a filling dish as it is; but crusty bread is recommended to sop up all the lovely sauce.
Read our full review of Alan Rosenthal's Foolproof One-Pot cookbook for more on this handy book full of delicious ideas for meals that can be made in a single pan.
One Pot Fish, Chickpea & Spinach Stew
The foundations of this dish lie in Marcella Hazan's famous pasta sauce that calls for only four ingredients; tomatoes, butter, a whole onion and salt. While Hazan instructs to remove the onion, so it merely infuses the tomato sauce, I like a stronger onion flavour and so, in my recipe, the onion is grated, melting into the other ingredients over the course of time. This recipe is simple and clean, allowing the short list of ingredients to do all the talking.
Ingredients
75

g

2½oz unsalted butter

800

g

(28 oz) canned chopped tomatoes

200

g

(7 oz) cherry tomatoes, halved

1

onion, peeled and coarsely grated

2

sprigs

thyme

1

garlic clove, finely grated a pinch of chilli flakes

8

raw unshelled tiger prawns (shrimp)

400

g

(14 oz) canned chickpeas (garbanzo beans), drained

125

g

(4½oz) baby spinach

400

g

(14 oz) skinless white fish like cod loin, cut into 4cm (1½ in) pieces

juice of ½–1 lemon, to taste

sea salt and freshly ground black pepper

crusty bread, to serve
Recipe Notes
If you're feeling organized, you could cook the tomato sauce with the chickpeas a day before, then finish the dish by adding the fish and prawns at the last minute.
Instructions
Add the butter, chopped tomatoes, cherry tomatoes, grated onion, thyme, garlic, chilli flakes, 1 tsp salt and a good grind of black pepper to your deep pot. Remove the heads from the prawns (shrimp) and add them to the pot (these will give great flavour!), reserving the bodies for later.

Place over a medium heat, bring the pot up to a gentle simmer and then lower the heat, cooking very gently, for

40 minutes, stirring regularly, until the sauce is thick and the fat starts to shimmer on top of the tomatoes.

Remove the prawn heads with a slotted spoon and transfer to a plate. Discard the thyme stalks. Allow the prawn heads to cool a little and then squeeze them over the pot so all the flavoursome juices are captured. Don't be squeamish here; this adds delicious rich seafood flavours to the dish and you'll be missing a trick if you leave this stage out!

Add the chickpeas (garbanzo beans) and bring the pot back to a gentle simmer. Add the spinach in a layer on top of the sauce and, using it as a platform, lay the fish and prawns on top. Season. Pop the lid on and cook on a low to medium heat for another 10–12 minutes or until the fish is cooked through, giving the pot a couple of shakes during this time.

Give the dish a good grind of black pepper and a generous squeeze of lemon, then serve with some crusty bread on the side.
This recipe is a really easy one to make and delivers a lot of flavours in a straightforward one-pot dish.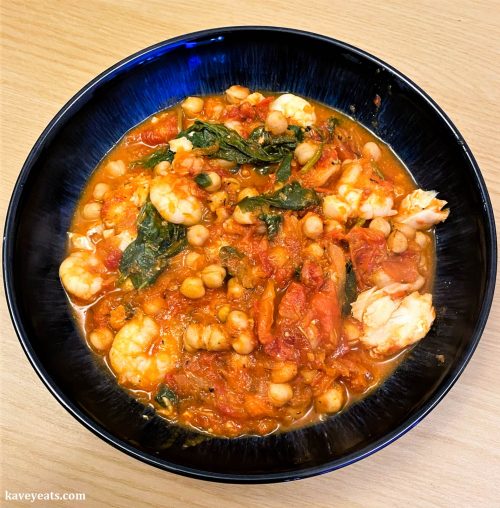 If you decide to buy this book after reading our content, please consider clicking through our affiliate link, located within the post and in the footnote at the end.
Kavey Eats received a review copy of Foolproof One-Pot by Alan Rosenthal from publishers Quadrille. Book photography by Rita Platts. Home cooking photography by Jack Thomas.