If ever a dish represented autumn in a bowl, it would be this hearty, warming soup of mushrooms, butternut squash and soured cream, flavoured with paprika and ginger. It's simple to make, delicious to eat and I love how each mouthful gives a different combination of textures and flavours.
The first time we made this soup was for an Instagram cookalong. Publishers Fourth Estate sent out review copies of Nigel Slater's latest book Greenfeast: Autumn, Winter, gave us a choice of five recipes from to cook, and we all cooked and shared them via our Insta Stories over one autumn weekend.
Pete and I loved it so much, we made it again a couple of days later, and another three times in the two to three weeks to follow. It became an instant favourite for us, and we know we'll be making this recipe again and again for many years to come.

You can also scale the recipe up to feed visiting guests. The recipe as it is will serve four as a starter or two as a generous main. Multiply by 1.5 or 2 to feed four people as a main meal.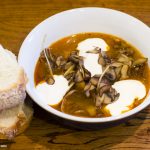 Mushroom, Butternut, Soured Cream
Ingredients
1

kg

butternut squash

6

medium shallots

5

tbs

olive oil

1

tsp

sweet paprika

1

tsp

hot smoked paprika

1

litre

vegetable stock

150

grams

soured cream
For the mushrooms
200

grams

chestnut mushrooms

3

tbs

olive oil

10

gram

piece of ginger
Instructions
Set the oven at 200°C/ Gas 6. Peel the butternut, halve it lengthways and discard the seeds and fibres. Cut the flesh into large chunks, then place in a single layer on a baking sheet or roasting tin. Peel the shallots, halve them, then tuck them among the squash.

Mix the olive oil and the paprikas, then spoon over the squash, slide the dish into the oven and bake for about an hour, or until the squash is patchily browned but thoroughly soft and tender.

Warm the vegetable stock in a large saucepan. Add the squash and shallots to the stock, place over a moderate heat (use a few spoonfuls of stock to deglaze the roasting tin if there are any interesting bits of roasted squash and shallot left), then season with salt and a little pepper and bring to the boil. Partially cover the pan with a lid and simmer for twenty minutes, until the squash is falling to pieces. Crush a few pieces of the squash into the liquid with a fork to thicken it slightly.

Slice the mushrooms thinly, then fry them in the olive oil in a shallow pan till golden. Peel the ginger and shred it into very fine matchsticks, then add it to the mushrooms and continue cooking for a minute or two. When all is golden and sizzling, remove from the heat.
Image on left by Jonathan Lovekin, on right by Kavey Eats
As Pete (who does most of the cooking in our household) commented, what we love about Nigel Slater recipes is how straightforward, accurate and easy the instructions are, and how delicious the finished dishes are. As is so often the case, the dish not only became an instant favourite, it also looked much like the image in the book!
If you decide to buy this book after reading our content, please consider clicking through our affiliate link, located within the post and in the footnote below.
This recipe from Nigel Slater's Greenfeast: Autumn, Winter has been published with permission of the publisher, Fourth Estate. Photo credit Jonathan Lovekin. Calligraphic cover artwork Tom Kemp. Kavey Eats received a review copy of Greenfeast: Autumn, Winter.