For the last few months, mum and I have been keeping a little secret! Together, we've been working with Simply Beef and Lamb on their latest campaign to remind the British consumer how delicious, affordable and versatile lamb is through the delicious Indian dish, keema.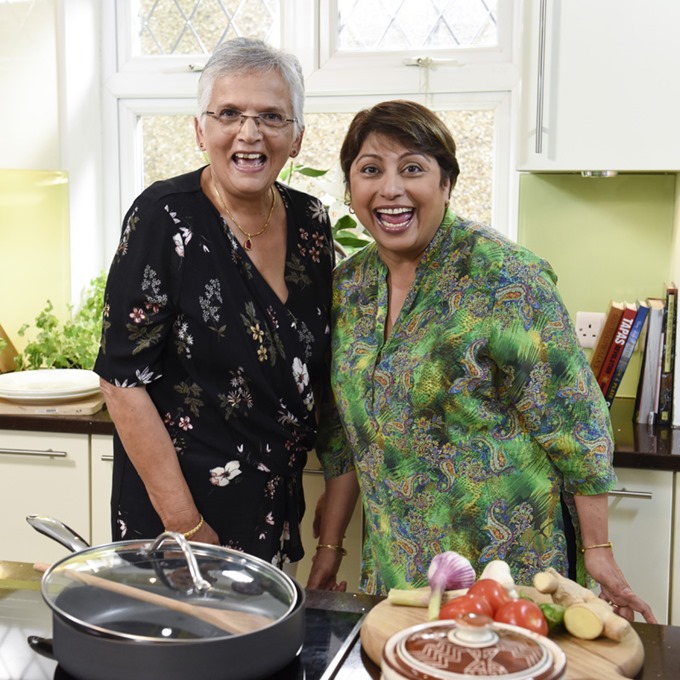 The keema nans! Mamta and Pervin
Mum (who is the home cook behind MamtasKitchen.com) is one of two ambassadors for the campaign along with Indian restaurateur Pervin Todiwala. Together, they are the Keema Nans! Yes, a groan-worthy but rather glorious pun… but wait for it, we have another one for you… the campaign itself is called the Keema Sutra!
As Mamta's daughter, I come from a family that loves lamb and mum's keema and other lamb mince dishes are a firm favourite.
During these last couple of months, I've been helping mum to prepare two recipes and lots of handy cooking tips for inclusion in the Keema Sutra, popped into the photography studio to watch the professional food economist, stylist and photographers create gorgeous recipe images and went with mum on the day she was filmed making one of her two dishes.
I know I'm biased but I think mum is brilliant in the videos and I know her recipes are utterly delicious. I really hope she helps more people give the Keema Sutra keema recipes a go.

Fascinating watching professionals at work, choosing props, cooking and styling, shooting the image and checking on screen
The other part of the message is to know what you are buying. Mum rails against the myth that spices are used to disguise poor quality meat and has always been a firm proponent of the message that when it comes to meat, you should buy the best you can afford. Simply Beef and Lamb supports the Red Tractor Mark which confirms that rules about food safety, animal welfare, traceability and environmental impact are followed. They also run the Quality Standard Mark, which ensures that all beef and lamb marked with the logo meet very high quality standards. Look out for these logos when you shop.
Come back tomorrow for mum's delicious Indian Lamb Meatball Curry recipe!
Kavey Eats and Mamta's Kitchen were commissioned by Simply Beef and Lamb to participate in this campaign.