On our latest trip to Japan, I was determined to get a glimpse of rural Japan.
We had very much enjoyed our previous insights into traditional Japan – staying in ryokans (traditional Japanese inns, often with quite an age and history to them) and visiting many century-old temples, shrines and castles.
But until this trip, we had not overnighted in a rural location, nor in a traditional village house.
Shirakawa-go in Gifu Prefecture is probably the best known tourist destination for those wishing to see postcard-pretty villages of gasshou-zukuri (traditional thatched-roof houses), but I had read that the villages become very crowded in high season. And the limited options for overnighting – in a handful of guesthouses with small, low-ceilinged rooms and shared bathrooms – didn't appeal.
Thanks to a suggestion on a travel discussion website, I started investigating a stay in Miyama instead. Located about an hour's drive north of Kyoto – just 45 minutes on the train – Miyama is a rural mountainous region of forests and agricultural land. Within the area are over 200 kayabuki (traditional, thatched-roof farmhouses), the majority of which are still residential dwellings. These kayabuki are not quite the same as Gifu's gasshou-zukuri ones in shape – Gifu roofs take the form of two huge rectangular panels meeting in a steep apex with a plain and squat ridge of thatch across the top, whereas the thatched roofs in Miyama are wider at the bottom than the top, pinching in about two thirds of the way up, and feature a decorative criss-crossed wooden cap atop the ridge.
What really decided me on including Miyama in my itinerary was finding Miyama FUTON & Breakfast (a play on the European bed and breakfast label).
Built around 150 years ago and known as Hanabusa, the house is typical of rural Japanese architecture of the period, influenced by the local climate and lifestyle. Our hosts told us that they think the house was built by a local merchant who made his living as a repairman. It is now owned by Hario Nishio, one of only 50 traditional master thatchers in the entire country – thatching is a dying art as new homes are rarely built with thatched roofs and many owners of older properties choose to convert the thatched roofs to tile for ease of future maintenance.
The idea of offering this traditional home as a holiday rental is to encourage visitors (both Japanese and international) to experience and enjoy the local area and traditional crafts, and of course to admire the beautiful thatch and other features of the house. Guests are offered a range of activities such as walks in the local forest, guided bike rides, cookery lessons of various kinds and a bamboo craft workshop by an expert thatcher.
On arrival guests are met by one of the association's concierge staff – at the nearest train station for those without a car, or at a local supermarket (more akin to a farmers market than the typical corporate store) for those who are driving. We made our way to the supermarket without difficulty and Taka greeted us before helping us to choose and buy ingredients for our evening meal – local deer meat and locally grown vegetables, mushrooms, tofu and rice.
Shopping done, we followed Taka's car to the association's reception office where we filled in the paperwork to check in, purchased some local beers and paid for the bamboo craft workshop we'd arranged for the next morning.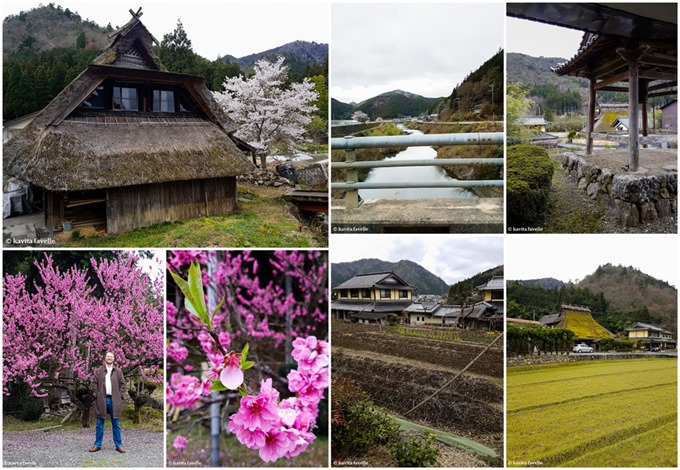 Local area including a dilapidated thatched house undergoing renovation (not where we stayed), blossoming fruit trees and a Buddhist temple, just behind the house
Finally we were lead to Hanabusa house, sat in a tiny hamlet of dwellings nestled between the hills behind and rice paddy fields and a small river in front.
The house is really striking. We'd spotted and admired it from the car on our way to the supermarket but hadn't guessed it would be our home for the night!
A vivid lime-green moss covers most of the thatched roof and some of the tile canopy beneath it; the colour echoing the spring growth in the nearby field. Below the canopy are simple wooden walls and straw mat window coverings.
Already delighted when we pulled up outside, stepping through the sliding door is when my heart really started fluttering.
The door leads through to an earth flooring that extends right through to the back of the house where it opens out into a kitchen dining area. The kitchen is a modern western style with a western dining table provided. The rest of the ground floor is on a raised wooden platform; we remove our shoes before stepping up to reach the tatami-floored sleeping room and tea ceremony room plus the wooden floored living room with it's large sand-filled irori (Japanese hearth) which we are invited to use for heat and cooking. There is also a lovely glass-walled corridor with views onto the small but pretty back garden.
On the other side of the earthen flooring, to the left of the main entrance is another raised wooden flooring area. A gorgeous wooden stair case leads up to the next level, and behind it on the ground floor are a small sink area, modern bathroom and toilet.
Upstairs is impressive – completely open plan, the flooring is a mix of wooden and tatami, furnished with a few chairs and lamps, the steep straw roof above is open, giving an impressive view of how the thatched roof is constructed. There's a steep ladder to go up another level onto a small loft platform, also floored with tatami.
With so much space downstairs, we didn't make much use of the upstairs living areas but they do mean the house is spacious enough to sleep up to 10 or even more.

This set of images are by Miyama Futon & Breakfast, collage by Kavey Eats
Outside, there's a round chicken house and small garden, and a modern storehouse.
Keen to settle into the house after our quick tour of it we were surprised when Taka lead us outside to visit the storehouse, until we saw inside. Here, he introduced us to the beautiful suikinkutsu – a traditional Japanese musical garden ornament made by burying a bucket or large jar in the ground. As he poured water slowly into it, we listened using a long bamboo pole, until we heard beautiful bell-like music as the water splashed off the shaped tiles lining the suikinkutsu. Beautiful!
The only negative about our gorgeous rental was that it was cold! I don't think anyone had been staying there for a few days before us, so it hadn't been heated at all. We put all the electric heaters on full blast, but it did take quite a long time for the chill to recede enough to relax.
I particularly loved cooking our meal of local ingredients in the kitchen and over the irori.
We had chosen our local produce at the farmers market style shop where we'd met Taka – deer meat, mushrooms, leeks, some aburaage (deep fried tofu slices) and rice.
I browned the meat briefly on the stove top, then added a simple stock I made with soy sauce, mirin and brown sugar mixed into water. Taka had already helped Pete to light the charcoal earlier, so by this point they were good and hot. Pete transferred the pot to the hook over the irori and we left the meat and stock to cook slowly. After a while he added chopped mushrooms and leeks. Once everything was cooked, he brought the pan to the table and I stirred in the aburaage just before we ate. Once we'd fished out and eaten all the meat and tofu, I poured some rice into the stock and Pete rehung the pot over the hearth until the rice was cooked through.
All in all a delicious dinner, enjoyed with a local sparkling plum drink for me and some local beers for Pete.
Having made up our futons earlier, using three mattresses and two duvets each, we had a good night's sleep in our peaceful and beautiful house.
The next morning, we woke up early to use the bathroom and get dressed before the breakfast team arrived. It took them quite a long time to make, bustling away in the kitchen while we chilled and read our books at the dining table, but our breakfast of locally made sausages, eggs, salad, fresh bread, yoghurt, juice, milk and coffee was delicious and a great start to the day.
After breakfast, we came outside to do our pre-arranged bamboo workshop.
Our teacher, professional bamboo thatcher Fumio Kanaya learned his trade from master thatcher Hario Nishio, the owner of our lovely rental house and president of the association through which we booked it. Before we came outside, he had already set out lots of tools for us and several poles of bamboo in varying shades of black, brown and green. These were arranged within the open garage next to Hanabusa house.
On a simple bamboo table were some small items also made from bamboo, for us to look at and decide what to make . We agreed to make little helicopter toys and toy whistles, and quickly set to work.
Taka and another colleague from the association were there to translate, and take a few photos, though we persuaded them to join us and have a go at the projects too. I am pretty sure they had as much fun as we did!
Protective gloves were provided as the knives to carve the bamboo were super sharp, though we quickly got the hang of it and to my surprise, there were no injuries!
It was hugely absorbing and surprisingly relaxing working with the bamboo; so much softer than the wood I remember carving and chiselling in my high school woodwork class three decades ago. Once the helicopter blades were carved to shape, we sanded them smooth, drilled a hole in the centre and shaped a slim rod to provide a handle. Testing them outside we were thrilled when they caught the air and spun slowly to the ground!
For the whistles, we also used saws, chisels, and hole cutting tools, though Fumio advised us not to glue the two pieces together until we got home.
Lastly, with offcuts from one of the largest diameter bamboos, we made some very simple sake cups, the natural segmented shape of the bamboo doing most of the work for us.
As we worked, we learned a little more about the association.
Where once thatched houses were prevalent across rural Japan, they have increasingly fallen out of favour since the mid-20th century. Mr Nishio had travelled to Europe and noticed how Europeans tend to  attach a strong value to the remaining thatched houses, often sold for a premium because of their beautiful appearance (though only to those willing to take on the maintenance). But in Japan, we were told, most people have not yet come to appreciate the beauty of thatched roofs. So one of the core aims of the association is to share the beauty of traditional Japanese thatched roof homes and the skills of the craftsmen who make them.
The other side of the project is to counter the migration of young people from the area to large towns and cities. Many younger Japanese do not want to follow the traditional rural life of their parents and grandparents, and non-agricultural job opportunities here are few and far between. By bringing tourism into the area, the association hopes to encourage young people to live and work in the area, both locals and those from farther afield.
A few hours later, our workshop was done and we carefully packed up our efforts and said our goodbyes.
I would recommend a stay here to anyone wanting to experience the more rural side of Japan. Two nights will give you more time to explore the area and book more of the activities offered by the Miyama FUTON & Breakfast team – I'd have loved to do the mochi making workshop and one of the cookery classes too. There are also nature walks in the nearby forest and bike tours of the area. Make sure you visit nearby Kayabuki no Sato, a cultural heritage site featuring a large cluster of over 30 well-maintained traditional thatched roof houses, one of which is a Folk Museum open to the public.
You can visit Miyama via public transport, especially if you're happy to hike or bike once you get here. For us, having a rental car was perfect and allowed us to enjoy the area at our own pace before heading onwards to Kyoto for the next part of our itinerary.
With thanks to all at the association, especially Taka and Fumio, for making our stay so special.
Click here for more posts about our experiences in Japan.
Another idea for those seeking the quieter side of Japan is to walk the Kumano Kodo Iseji route in in Mie Prefecture.
Save for later on Pinterest using this handy collage pin.