I don't think I've ever seen as many people cooking as many dishes from a recently released cookery book as I have from MiMi Aye's Mandalay: Recipes and Tales from a Burmese Kitchen.
One of the first recipes we cooked from the book was this delicious Burmese Braised Beef Curry, a really simple dish to make, and packed full of flavour. As a huge fan of coriander leaves, this was an absolute winner for me.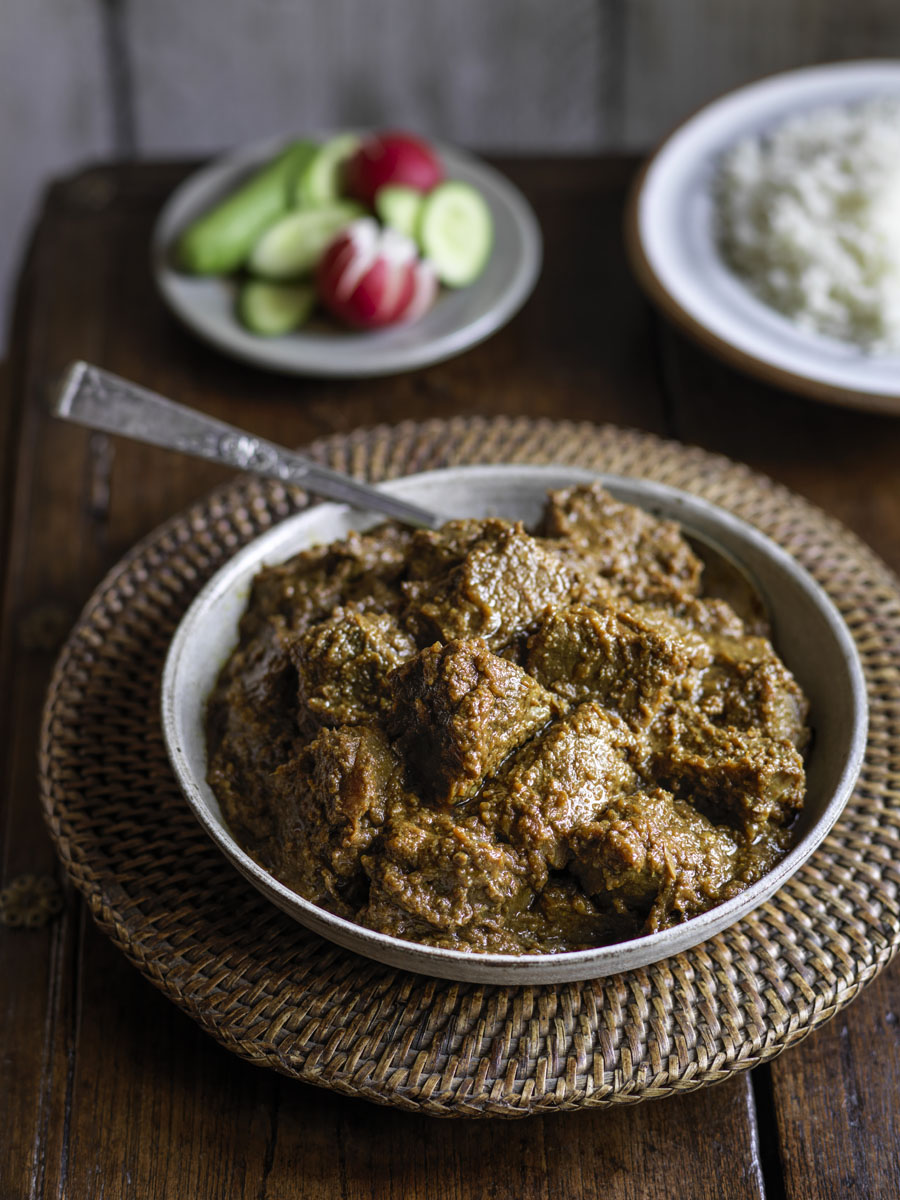 Publishers Bloomsbury Absolute have kindly given us permission to share the recipe on Kavey Eats. We hope you enjoy it as much as we do.
Braised Beef Curry (Amè Hnat)
Amè hnat is the dish that we like to serve at family gatherings, as it's so rich that it can be the star with lots of different side dishes. It reminds me of the Malaysian dish beef rendang but has more sauce. You can add a couple of quartered boiled potatoes to the curry near the end of the cooking time, which will soak up all the lovely juices – my eldest niece likes to fish these 'gravied potatoes' out for herself and I think she likes them more than the beef!
Ingredients
8

tablespoons

groundnut oil or other neutral-tasting oil

1

kg

beef, cut into 5cm cubes
For the base
3

onions, roughly chopped

1

spring onion, roughly chopped

2

tomatoes, roughly chopped

5

cm

piece of ginger

5

garlic cloves

bunch of coriander, stems only

1

green finger chilli

6

curry leaves
For seasoning
1

teaspoon

ground turmeric

1

teaspoon

salt

¼

teaspoon

MSG or ½ tablespoon chicken or vegetable bouillon

2

teaspoons

paprika

1

tablespoon

ground coriander
Instructions
Heat 4 tablespoons of the oil in a large saucepan over a medium-high heat and add the beef. Fry for 20 minutes, turning the cubes from time to time so they don't stick to the pan. Juices will seep out but these will reduce down and the meat will brown.

Meanwhile, add the base ingredients along with 1 tablespoon of water to a blender or food processor. Blitz to a rough paste.

Transfer the meat from the pan to a dish and set aside. Add the remaining 4 tablespoons of oil to the pan used to brown the beef. Heat over a medium-high heat and add the onion-tomato paste. Add the seasonings, stir and then fry for 5 minutes until fragrant. Add the beef and 1.5 litres of water and cover the pan with a lid. Turn the heat down to medium-low and cook for 2½ hours until the beef is tender and falling apart, stirring occasionally to stop the curry from sticking to the base of the pan.

When it's ready, serve the curry with steamed rice, any of the soups and a vegetable dish or salad to balance the richness. It also goes well with Indian breads, such as naan, puri and paratha.
See our full review of Mandalay and our interview with author MiMi Aye, and check out two more recipes, Classic Burmese Pork Curry, and Burmese Golden Pumpkin Curry.
Made the recipe? Let us know how you enjoyed it in the comments!
Browse our full collection of curry recipes from around the world.
If you decide to buy this book after reading our content, please consider clicking through our affiliate link, located within the post and in the footnote below.
Mandalay: Recipes and Tales from a Burmese Kitchen by MiMi Aye is currently available on Amazon UK for £18.20 (RRP £26). Recipe and image published courtesy of publishers Bloomsbury Absolute. Photography by Cristian Barnett.