Pete and I have recently moved from suburban London – our home of nearly three decades – to a small village in rural Wales. We now live just outside Abergavenny in Monmouthshire, an area we've previously visited only as holiday-makers.
Of course, we've been keen to explore our local restaurants, with plenty of recommendations kindly given by local residents including a flurry of praise for Mezze Me, on Frogmore Street. The restaurant describes its menu as "fresh and homemade Turkish and eastern Mediterranean food", and in the 6 months they've been open, they've already grown a loyal customer base, Pete and I included.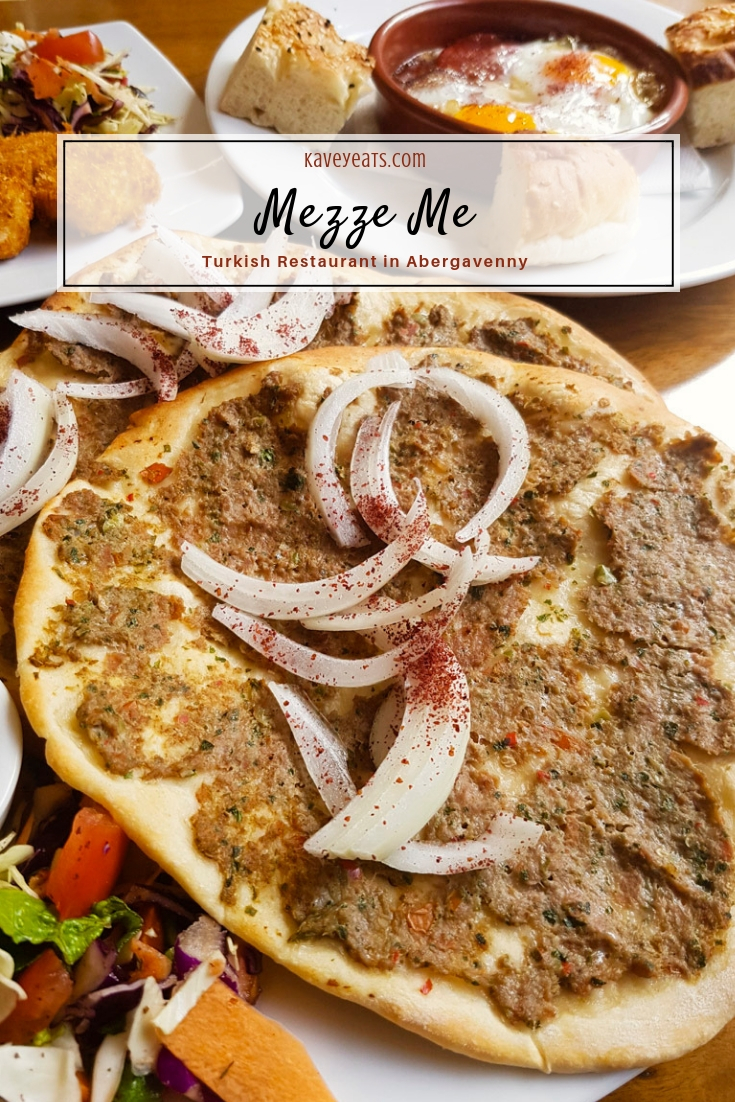 The menu is divided into cold and warm mezze, wraps, and mains.
Over two lunch time visits, we ordered a selection of dishes to share.
Halloumi bites with a yoghurt, garlic and cucumber dip (£5.50) are coated in breadcrumbs, fried till crisp, and served piping hot. The cooling yoghurt dip is a perfect foil; these disappear far too quickly!
The Baba ghanoush (smoked aubergine, tahini, garlic and lemon puree, £4.20) is one of the best we've had, smoky, silky, fresh. It's a real delight, mopped up with the fresh Turkish bread provided.
Likewise, the Hummus (£4.20) is excellent, just the right texture, the perfect balance of chickpea, tahini, lemon and garlic, and a generous portion too.
The Turkish village breakfast (eggs fried with beef salami and served with bread, £6.20) seem a touch expensive for what they are, but the robust spicy flavour of the salami is a treat. My personal preference is for the eggs to still be runny rather than set, which I'll ask for when ordering next time.
It's unusual to see Lahmacun (turkish flatbreads spread with spiced lamb mince and grilled) in the Mains section rather than sold individually as mezze, but since they're often compared to pizzas, perhaps it makes sense. Here, you get two for £9.90, which is more than we're used to paying in the Turkish restaurants we love in London. But they're tasty, and perfect folded around the raw onion garnish, and eaten with one's hands.
Kofte (£11.50) come in the form of five small minced lamb patties with a small serving of rice and vermicelli pilaf, mixed salad, a grilled sweet pepper, a piece of bread and sweet chilli sauce. The kofte are delicious, as is the rice, but I'd prefer a more robust chilli sauce than this East Asian style sweet one.
I make the same pricing comment about the kofte as the lahmacun: I'm used to much larger portions of this dish in London (meat and rice in particular), for the same price or less; I hadn't expected Abergavenny pricing to top that of London, but perhaps the scarcity of Turkish food allows for a premium to be charged?
My quibble on some of the pricing aside, the food is very good, freshly cooked and full of flavour. The service is warm, friendly, and welcoming, making this an excellent choice for lunch or dinner on your own or with friends.
Save for later: