If you're not one of those organised and determined people who bring a packed lunch in to work with them, lunch in the City (and indeed, anywhere in central London) can be expensive. Where I am, just around the corner from the Gherkin, it's hard to find a good lunch for less than a fiver, and very easy indeed to spend £8-10 without trying. Even pegging it at a conservative £6 a day that's £30 a week, £120 a month, over a grand a year! Eek!
And even though there are a thousand places within a 10 minute walk, it seems like there are a million and one office workers looking to buy lunch in them, making for lengthy queues even in those with the fastest turnaround times.
Enter MealPal, an idea that has already proven itself in New York (and several other cities across the US) and has recently launched here in London. I'd already heard a few whispers about it when I came across a post by fellow blogger and friend Tiki Chris, and was happy to use his link for a free trial. Several people in my office signed up too and in that first week, we were all quickly impressed with the range of choices available near our office, the value of buying lunches this way, and the convenience of being able to skip those pesky queues.
How does it work?
Members buy a meal plan of either 12 or 20 meals to use within 30 days of purchase. At a cost of either £4.39 or £4.79 per meal (depending on how many you buy), these units can be used to buy meals on any weekday, from any of the participating restaurants and cafes in London.
The "kitchen" (MealPal terminology for their ordering interface) opens between 5pm and 9.30 am for users to browse, select and reserve their meal for the following lunch. If you change your mind within this time window, you can cancel your reserved meal (and book a different one if you like, or not). Be aware that if you cancel a meal after 9.30, you will still be charged for it, as your confirmed order has been sent through to the restaurant.

(1) Narrow in on options near your office by landmark, address or postcode (2) Use Portion and Cuisine filters to narrow down the search results (3) If you've saved favourite vendors, show only these in your results (4) Click on a marker in the map to check which vendor it is and what's on offer (5) Click on a photo of a dish to read more about it (6) reserve your chosen meal by selecting a pickup time
When your time slot comes around, simply turn up at the restaurant, bypass the queue and ask at the till to collect your MealPal. In most cases it will be ready and waiting, or it will be finished off for you immediately where it needs to be made fresh. You'll be done and out of the door again within minutes, if not seconds.

Walter and Monty; by 12:30 the queue is stretching right out of the door so it's a huge benefit to walk straight past it to the till
In terms of choice, the way it works is that each participating restaurant proposes a single dish as their MealPal offering for the day. Most offer a different choice every day of the week, so if you don't like what they list one day, it's worth checking again the next to see what's on the menu.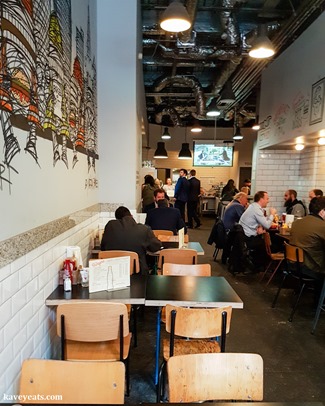 Breakfast & Burgers; their burgers and hotdogs (which both come with fries) are perfect for when you're craving something delicious and filling
If you're not a fussy eater and enjoy lots of variety, you'll be delighted with plenty of choice for vegetarians, pescetarians and omnivores, including lighter and more substantial options. That said, if you are a bit of a picky eater, do note that you can't request changes to the dishes, even if it's just a case of leaving something out.
You can also influence the dishes Mealpal shows you first by editing your preferences – Vegetarian or Meat Eater, Healthy Only or Everything, Small, Medium or Large Portions and then a fairly long list of ingredients to mark as Dislike, Sometimes and Like.
What's the verdict?
Excellent! In my office, several of those who used the free trial have signed up on a paid basis, and it's become a daily conversation to find out what everyone has chosen for the day. The reaction to dishes ordered has been very positive.

Cafe Cotto; large paninis filled with a generously sized chicken escalope with mozzarella and mushrooms, a packet of crisps is also included
With a dodgy ankle for the last several weeks, I've stuck to restaurants within 5 minutes' walk of my office, and have already discovered a few favourites. Breakfast & Burgers do really excellent burgers (as their name suggests) but also fantastic hotdogs, both served with perfect fries; they also offer a large selection of hot sauces, ketchups and mayos that you can squirt into little takeaway pots if you are a chip dipper!
I adore Walter & Monty's salad boxes featuring a mix of really delicious salads and pickles topped with really good quality, perfectly grilled beef, lamb, chicken or halloumi; the salad boxes are ready and waiting but the meat or cheese is added hot and fresh to the box when you come in to collect it.
Café Cotto is a super friendly local sandwich bar and I'm a big fan of their large grilled paninis filled with chicken escalope, mushrooms and mozzarella or fat juicy meatballs in a tomato sauce, and you get a packet of crisps included too.
Offerings from Chilango, Crushh, Farmer Js and K10 have also been popular amongst my colleagues; I'm hoping to try more of these in the coming weeks.

Walter and Monty; your salad box is ready and waiting but the meat is sliced fresh and hot onto the salad box, ready in less than a minute; picanha beef, grilled chicken, lamb
Everyone is enthusiastic about the great value of paying less than £5 for meals that we know cost around £6 to £8 normally.
There are a handful of minor niggles.
There's an app available for mobiles but only if you have an iPhone. Android users can only access MealPal via the web, which seems surprising given that they've already been running successfully in the United States for over a year.
Participating restaurants place a limit on the numbers of orders they will accept per day (perfectly reasonable, so they can ensure they are able to fulfil all the meals reserved with them) and in some cases, that limit is reached long before the Kitchen closes to reservations. That's not been a big issue so far, as there have only been one or two items that are sold out for those reserving their lunch in the last half an hour or so, but it'll be interesting to see how MealPal copes with increased take up of the service. They will presumably need to sign up more restaurants or increase the number of meals each one caters per day, to ensure sufficient choice for customers.
If a meeting overruns and you realise you won't be able to make your chosen pick up slot, there is no mechanism to advise the restaurant that you will be late for pick up and to switch to a later slot. I've not yet investigated whether or not the meal would still be waiting if you arrive half an hour late or whether it would have been binned as uncollected.
If you don't use all your units within your allotted cycle (of 30 days), you lose them and effectively end up paying more per meal on the ones you did have during that cycle. One of my colleagues is just coming to the end of his first paid cycle and unexpected meetings out of the office mean he's wasted three of his units, making the cost per meal £5.17 rather than £4.39. I think the 12 units per month plan at £4.79 per meal might be a better bet for him going forward.
Despite these little issues, the response has been overwhelmingly positive and MealPal is firmly established in our corner of the office. I'm not alone in appreciating the great value, varied choice of meals and ability to bypass the queue on collection.
Now, my only decision to make is what to have for lunch today… blackened chicken burger, steak burrito, currywurst with fries, classic tuna salad, chicken katsu curry, spicy beef and pork noodle soup, chicken escalope and mozzarella panini, Marrakech salad, chicken teriyaki, lamb biryani, falafel with guacamole and yoghurt salad…?
Free Trial – Five Free Lunches With MealPal London
MealPal is offering readers of Kavey Eats a free trial of five meals when you join MealPal.
Use mealpal.com/kaveyeats to sign up and you're ready to go… make your choice, reserve, skip the queue to collect and enjoy! Offer expires 21 April 2017.
There's no obligation to continue with the service after your trial – you aren't asked for payment information so it's not one of those "oh shit I forgot to cancel" schemes that catches out forgetful folk. If you're anything like me (and many of my colleagues) you'll quickly become hooked on the choices, value and convenience of MealPal lunching!
Kavey Eats signed up for a free trial using an offer from Tiki Chris. MealPal provided an additional meal cycle to review the service in more detail.
Save
Save