Yesterday I shared the news that my mum Mamta is one of the two Keema Nans working with Simply Beef and Lamb on their latest campaign, The Keema Sutra. Two of mum's most delicious keema recipes are in the Keema Sutra flipbook , along with many of her tips for cooking Indian food.
Watch her show you how to make her Indian Lamb Meatball Curry in this short video and then have a go yourself.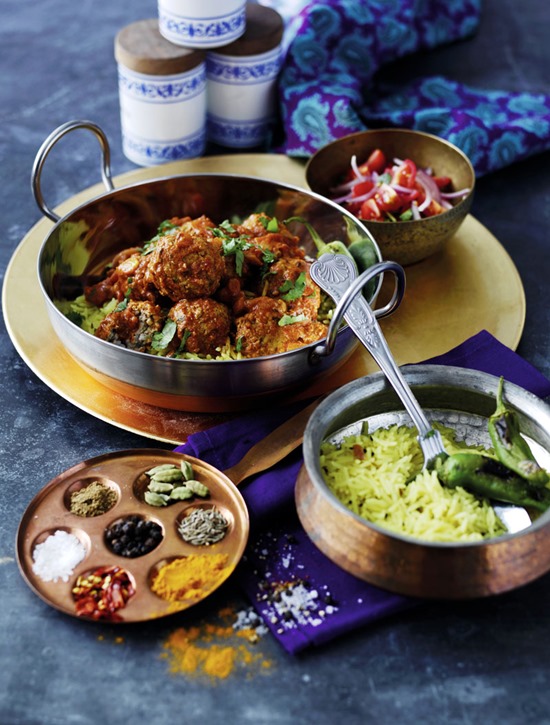 Mamta's Indian Lamb Meatball Curry
Lamb mince makes delicious kofta (meat balls) which can be added to any curry sauce that you like. This meatball curry is really delicious, perfect to serve for a special meal. Despite the long list of ingredients, this curry is easy to make and relatively inexpensive too.
These meatballs can also be served plain as a snack or starter – you can even squish them into flat burger patties and serve in mini burger buns. Just shallow fry in a pan and serve with a fresh green chutney or your choice of condiment.
For the curry, the meatballs are dropped into the curry gravy raw and simmered until cooked through.
If you like, make double the quantity of meatballs and freeze half to use another day.
Ingredients
For the meatballs:
450

g

lamb mince

1

egg

, lightly beaten

2

slices

white bread

(2 small or 1 large slice), roughly broken up

1

medium

onion

, peeled and roughly chopped

1 1/4

cm

piece of fresh root ginger

, peeled

2-3

cloves

garlic

, peeled

1-2

green chillies

(adjust to taste. If you do not have green chillies, add red chillies to taste)

1 1/2

tsp

salt

, or to taste

1/2

tsp

freshly ground black pepper

A few fresh coriander leaves

(or mint if you prefer)
For the curry sauce:
30

ml

vegetable oil

, for cooking

1

medium

onion

, peeled and roughly chopped

2-3

cloves

garlic

, peeled

2 1/2

cm

piece of fresh root ginger

, peeled and roughly chopped

1

tsp

cumin seeds

2-3

large

cardamoms

, broken slightly with a mortar

6-8

whole

black peppercorns

6

whole

cloves

2

bay leaves

5

cm

piece of cinnamon stick

or cassia bark

1/2

tsp

ground coriander

1/2

tsp

ground turmeric

1/2

tsp

ground chilli powder

, adjust to taste

1

tsp

mild ground sweet paprika

, for colour

salt

, to taste

2

medium

tomatoes

, finely chopped, or use 200g chopped tinned tomatoes

2

tbsp

tomato purée

550

ml

water

(adjust for how thick you want the curry to be)

1

tsp

garam masala

(see notes)

2

tbsp

freshly chopped coriander leaves
Instructions
To make the meatballs:
Place all meat ball ingredients, except the lamb and egg, in a food processor and process finely. If you do not have a food processor, grate the bread, great or finely chop the onion, ginger, garlic and chillies and then add the other ingredients.


Place the lamb in a large bowl. Add the onion mix and the egg. Mix well by hand or with a large spoon. Transfer to an airtight container, cover and leave in the fridge for a couple of hours or overnight to marinate. This helps the flavours to infuse.


Shape the mixture into 20 walnut-sized balls. Wetting your fingers and palms with water helps.

To make the meatball curry:
Heat the oil in a pan, then add the whole spices – cumin seeds, peppercorns, cloves, bay leaves, cinnamon stick and cardamoms.


When the cumin seeds begin to sizzle, add the curry sauce onion, ginger and garlic.


Fry until golden to dark brown. Be patient, this stage can take a while.


Add the chopped tomatoes, tomato purée, ground coriander, turmeric, chilli powder, paprika and salt. Cook until the oil separates or the mix looks shiny.


Add the water, bring to the boil and then turn down to a simmer.


Add the meatballs one by one to the simmering (not boiling) sauce.


Allow to simmer without the lid for about 20 minutes or so (closing the lid sometimes makes the meat balls break up), gently turning the meatballs over and shaking the pan from time to time.


When meat balls are ready, any oil will separate and float to the top of the sauce. Add half the coriander leaves and garam masala, stir gently and transfer to a serving dish.


Garnish with remaining coriander and serve hot with freshly made chapattis, steamed rice or plain pilaf rice.

Tip
To serve meat balls as a snack heat a little oil in a shallow pan. Add a few meat balls at a time and fry them on medium heat, turning over frequently, until they are nicely browned and meat is cooked through. Garnish with salad and serve with mint and coriander chutney, chilli sauce or tomato ketchup.
Do visit the Keema Sutra flipbook for more wonderful keema recipes that will show you how delicious, versatile and family-friendly keema can be.
Save this recipe to Pinterest for later using this handy collage image.

Made the recipe? Let us know how you enjoyed it in the comments!
Browse our full collection of curry recipes from around the world.
Kavey Eats and Mamta's Kitchen were commissioned by Simply Beef and Lamb to participate in this campaign. Photography by Simply Beef and Lamb.