The 25th anniversary of a restaurant in the heart of Soho might be taken to signify that it's a good restaurant. If that means attracting customers, serving them something edible and taking their money, then certainly Maison Touareg succeeds.
Unfortunately, based on our recent experience, it seems to rely almost entirely on the custom of tourists, which means it doesn't need to make much effort to impress customers and win repeat business.
In truth, it's not the kind of restaurant I'd normally choose to visit. But I was a little bemused to be sent photographs of a party celebrating it's 25th anniversary. I expressed my surprise at being sent images and press information, with a view to my blogging, of an event I'd not been invited to, nor attended. I wasn't offended, more amused, to be honest. The lovely PR agent assured me I had been on their invite list, and perhaps the original email had gone astray. These things certainly happen, as I know from experience, and I accepted her gracious suggestion to make a review visit to the restaurant on another occasion.
Why would I normally not choose to visit such a place? Mainly because of their decision to offer both Moroccan and Lebanese cuisine. Whilst the cooking from these two countries has a few flavours in common, the two cuisines are really quite distinct. I'd rather see a restaurant focus on one or the other, than to offer a mishmash of both.
Still, the offer to visit and enjoy was sincere, and I looked forward to the experience.
Arriving early, I had hoped to have a drink in the bar mentioned on their website, but there seemed to be no bar available, so was seated early instead.
I was initially offered a table for two amid two large group tables. The staff were surprised at my preference not to be surrounded by such groups, but did loosely wave me back towards the front of the restaurant, suggesting I choose any of the vacant tables for two.
The interior is attractive; a riot of rich colours and textures, predominantly dark reds, with light thrown in pretty patterns by the latticed Moroccan ceiling lanterns.
Settled in, we ordered drinks. I chose from their "virgin cocktails" list and asked for a Touareg Lemonade – fresh mint, lime juice, rose water and lemonade. This was a very delicious and refreshing thirst-quencher, though a little over-priced at £4.50.
We also asked for tap water, which was refilled without asking throughout the meal.
The wine list was off putting for one major reason. Both Moroccan and Lebanese wines were well represented but not a single one had the vintage provided. Since this makes quite a difference to taste, not to mention an ability to judge the price, I felt it to be a glaring omission.
With his main, Pete ordered a glass of Guerrouane Rouge, Morocco (£3.95). It was so rough he didn't drink it, and when we asked about vintage, the waitress eventually returned to confirm that it was 2010.
The list of mezzes was appealing. There were more Moroccan dishes than Lebanese, but both countries were certainly represented.
The pastilla of chicken (£5.25), described as savoury chicken baked in a thin pastry with almonds and cinnamon, was excellent. The portion was generous, the flavours and texture were certainly reminiscent of what we enjoyed in Morocco and the onion and sultana relish served with it was delicious.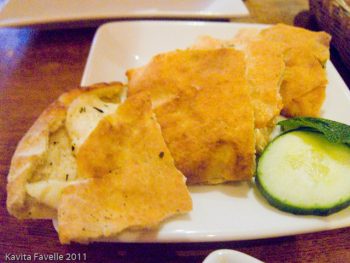 The kallaj (£5.25), by contrast, was not such a good deal. Although the Lebanese toasted bread filled with Halloumi cheese was tasty enough, it was a fairly small portion (with very thin slices of Halloumi within the bread), the price of its ingredients and simplicity of assembly did not merit the price tag and it was served with no relish alongside, like the pastilla.
A Moroccan salad (£4.95) was exactly as described – finely diced cucumber, tomato, red onion with mint and olive oil dressing. Again, a little expensive given the ingredients, but fresh and tasty, and very nice with the pastilla.
With the mezze dishes, we were served a basket of bread. Like the bread used for the kallaj, this was clearly not fresh and had perhaps been reheated too many times. It cooled very quickly to a very unpleasant hard and chewy texture.
Thus far, whilst we'd occasionally struggled to get the attention of staff in a very busy restaurant, service had been friendly and the food mostly decent, if not the best of its kind.
Things took a down turn with the arrival of our mains.
The menu seemed almost completely Moroccan, if there were Lebanese dishes there, we didn't recognise any from our recent trip to that country.
From the grilled dishes section, Pete ordered the kafta skewers of marinated minced lamb. Priced at £14.50, the minced lamb skewers were OK, though bland. The rice was dry. And the plate was topped with more of that shockingly stale flat bread.
My meshwi samak, from the seafood section, consisted of pan-fried seabass, grilled prawns and deep fried squid served with rice and salad. My sympathy goes out to anyone who parts with the £17.50 charged for this sorry excuse of a dish. The squid were pale, limp, chewy rings with no redeeming features – I left all but the first one I ate. The prawns were so overcooked as to be mushy inside, which made shelling them quite the challenge. The fish was soft and had some flavour to it. The rice, like Pete's, was dry and unappetising.
Having eaten so well in and around London this past few years, I was surprised to suddenly be faced with the kind of dish that reminds me of why we still have that international reputation for poor quality, overpriced restaurants here. It was a bit of a shock to the system!
We shelved plans for dessert and called it a day.
On leaving, the manageress asked how our meal was. I'm a firm believer in being honest and politely explained that whilst we'd enjoyed the starters, the mains were not very good at all. "What did you have?" she asked me, and I told her. "Aah, you don't like seafood!" was her surprising response. Er, yes, I do actually, which is why I ordered it. The problem was not the contents of the dish but that it was cooked very poorly! She asked about service, which we rated as friendly and helpful.
In retrospect, if we ever went again, which is probably not very likely, I'd order only a selection of mezze dishes. The menu offered a selection of any 4 for £18.95, 5 for £21.95 6 for £24.95 or 7 Mezze £27.95. Judged on the mezze alone, the food was OK. It was the mains that really let the place down.
Kavey Eats dined as guests of Maison Touareg.