Bitter Honey, released in April 2020, shares recipes and stories from the island of Sardinia. Author Letitia Clark has a background working in the restaurant industry, and splits her time between London and rural Sardinia. Knowing little about Sardinian food (within the broader Italian cuisine we encounter in the UK), I am keen to learn more about this simple and rustic cuisine.
There is something to be said for illustrated book covers and this one hits the mark, its pale salmon-pink background with bright orange and blue shapes is both simple and dynamic. The beautiful, uncomplicated illustrations of food are a promise of what's inside the book – fish, lemons, and pasta.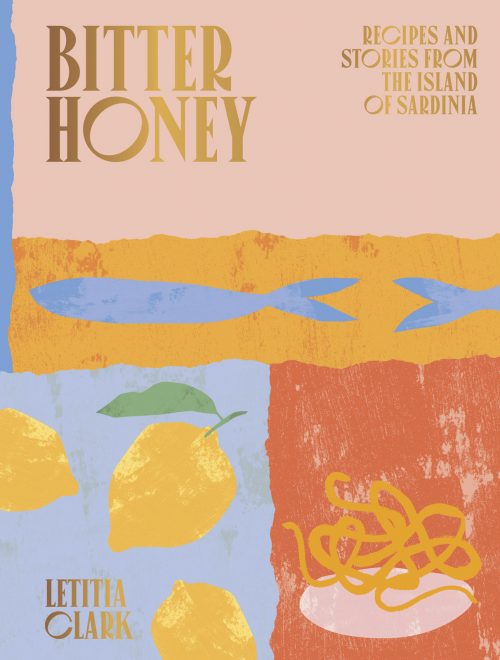 The pastel colour scheme and the rustic drawings throughout the whole book provide instant appeal that leads me to keep reading. As you'd expect, each of the chapter titles are in Italian and come with another homely illustration to represent what you'll find in the section. However, some of the images are a bit ambiguous so the helpful list of recipes makes it slightly easier to figure out the contents of the chapter.
Like all good cookbooks, there is a helpful index to find specific recipes or ingredients. The short final chapter 'La Cucina Sarda' describes the ingredients you usually find in a typical Sardinian kitchen.
The first few pages include a preface, an introduction and some personal stories from the author, including her inspiration for the book; she explains a complete change in lifestyle driven by her desire to cook home-food instead of restaurant food, and goes on to describe how she fell in love with Sardinia. Her summary of the difference between Italian and Sardinian food is that 'Sardinian food is a distilled version of Italian food: simpler, more rustic, more wild'.
I really like that each recipe has a bit of history or a personal story from the author and most have a picture attached; this really helped me pick out which recipes I made.

Images courtesy of Hardie Grant, photography © Matt Russell
One negative is that several recipes include hard to find ingredients with no suggestions for substitutes, and this put me off trying them. For example, pane carasau (a paper-thin flatbread) is not widely available in south Wales, but I would love to know whether I could use pita breads or tortillas or popadoms in the Pane Frattau recipe instead.
The first dish I cooked was Slow-cooked flat beans with tomato, pancetta and chilli. I really enjoyed its gentle chilli spice and how the flat beans felt like thick noodles. The pancetta was definitely the star, cutting through the acidic tomato sauce brilliantly; the recipe suggests that it's optional, but I would recommend otherwise.

I made my own pasta for the second dish tried… yes, you read right! Trofie alla Carlofortina is a Ligurian dish which was traditionally made because of the local tuna fishing economy. It includes small trofie pasta with tuna, Genoese pesto and sweet tomatoes. I found the instructions for making the pasta a bit vague (with a suggestion to watch Youtube videos for more guidance!) and it took two of us 40 minutes to roll and shape the pasta, which was frustratingly slow. I was dubious about the combination of tuna and cheese but it worked nicely! The dish was really fresh with basil and fantastic textures of the pasta and coarse pesto. Will I make the dish again? Yes. Will I buy ready-made pasta next time? Definitely!
As a keen baker, I always like to make a sweet dish from a new cookbook. I opted for something I have made before – the Two-BoozeTiramisu. Tiramisu is one of my favourite puddings and this recipe is fool proof. It produced the one of the best Tiramisus I have ever had, with just enough boozy flavour from the brandy and marsala wine, and a rich mascarpone cream. The textures were perfect, and it held together really well. Delicious!

Bitter Honey is faithful to its premise of simplicity in some senses, but not in others. Overall, the recipes are well crafted, however some of them are a bit vague and need more clarity (like the pasta making). The recipe for Original yoghurt cake misses out when to add flour, so cooks will have to guess – and need a good understanding of baking to do so. Most ingredients are widely available but several are not, as mentioned earlier.
With over 80 recipes in the book there are many more that I'll be trying in the future, such as Slow-cooked courgettes with mint, chilli and almonds, Pork cooked in milk with cloves, and Braised cuttlefish and peas. The book has a lovely aesthetic and gives great insight into interesting Sardinian food traditions like the cheese making process that hasn't changed for centuries or the way that olives are still handpicked. Bitter Honey is a good introduction to Sardinian cooking for those wanting to know more.
Recipes from Bitter Honey
We have permission from Hardie Grant to share some recipes with you from the book:
If you decide to buy this book after reading our content, please consider clicking through our affiliate link, located within the post and in the footnote at the end.
Kavey Eats received a review copy of Bitter Honey: Recipes and Stories from the Island of Sardinia by Letitia Clark from publishers Hardie Grant. Book cover and book photography provided by Hardie Grant (photography © Matt Russell), all other images by Jack Thomas.