I'm rather partial to a cocktail!
Especially since I don't like table wine or beer, which seem to be the default alcoholic choices to drink with food when eating out in a restaurant. I usually end up choosing a soft drink – a fizzy drink, fruit juice, maybe a milkshake or a lassi, or just plain old tap water. But show me a really good cocktail menu and you have my attention, especially if it's not one of those slave-to-fashion affairs in which virtually every cocktail features trendy home made bitters. Uugh! As someone with a sweet-tooth, I'm not a fan of trendy bitter cocktails!
When it comes to drinking at home, it's a simple matter to raid not only the (groaning) alcohol cupboard but the fridge and pantry too, all the better to shake up something special.
Most Gin Cooler recipes combine gin with either cucumber or elderflower, plus lemon or lime, and sometimes a little soda water to create a tall rather than short drink.
Usually the cucumber is sliced or diced and added whole, but for my Lemon, Mint & Cucumber Gin Cooler I've juiced the cucumber with some mint and combined the glorious green liquid with gin, lemon zest, lemon juice and a touch of sugar. Including the cucumber skin gives a much deeper green colour and a stronger flavour, but of course you can peel the cucumber first if you'd like something a little more subtle.
Because I'm a child at heart and love a good froth moustache, I've added an egg white to make a thick layer of froth but you can miss this out if you're not so keen, or if you make this for anyone who can't consume raw eggs. Likewise, if you prefer a tall drink, omit the egg white and instead add up to 100 ml of soda water; shake all the ingredients except for the soda water, pour the mix into a tall glass and then top up with the soda water.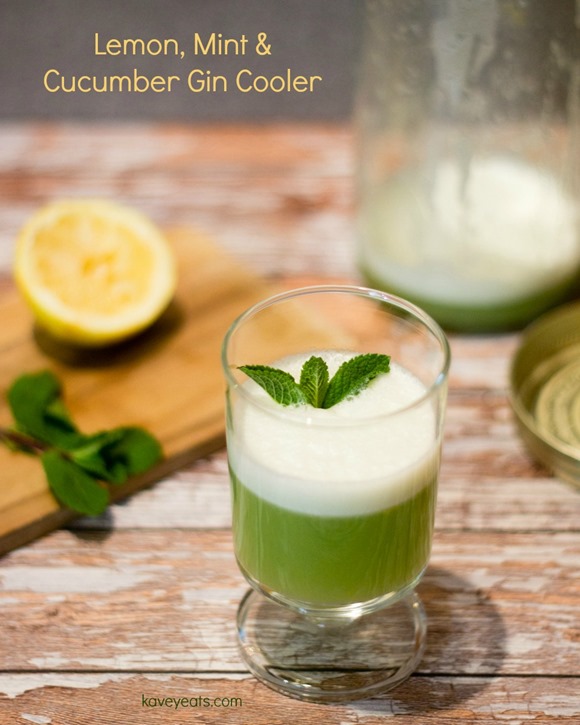 For the lemon zest, make sure you use one of the new generation of super-sharp fine-gauge graters such as the Deiss Pro Citrus Lemon Zester & Cheese Grater. These allow you to zest only the very top layer of the citrus peel which is full of essential oils and flavour, leaving behind the bitter white pith.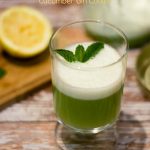 Lemon, Mint & Cucumber Gin Cooler
Ingredients
One third to half a cucumber

(to make 60ml of strained juice)

3

mint leaves

Zest of one lemon

, unwaxed or thoroughly scrubbed

30

ml

lemon juice

60

ml

gin

30

g

white sugar

1

small

egg white

(raw)
Recipe Notes
I wanted both the strong flavour and the vivid green colour of the cucumber skin. However, for a more subtle cucumber flavour, peel the cucumber and discard the skin.
As this recipe includes raw egg white, it is not suitable for pregnant women or anyone with a compromised immune system. However, its role is purely to create froth, so you can miss it out without changing the flavour of the finished cocktail.
If you scale this recipe up, one egg white will be sufficient for up to 2 servings.
Instructions
Blend the whole cucumber with the mint leaves in a food processor, jug blender and strain through muslin to collect the juice.

Zest the lemon using a fine-gauge grater or zester. Then cut the lemon in half and juice.


Into a cocktail shaker or suitably-sized jam jar, measure 60 ml of the strained cucumber and mint juice, 60 ml of gin, 30 ml (2 tablespoons) of lemon juice, 1 tablespoon of sugar and add the lemon zest and egg white.


Seal the jar and shake hard until all the ingredients are thoroughly combined, and the egg white has created a frothy emulsion.


Pour into a glass and serve immediately.

Kavey Eats was commissioned to develop and publish this recipe by Deiss Limited.