For the last few weeks my mind has been firmly on comforting, one-pot dishes using lamb and beef. We produce really excellent quality meat in the UK and it's a pleasure to cook dishes that make the most of it.
I recently shared a tasty beef goulash recipe that uses shin of beef, a very affordable cut. I love this kind of stewing cut – long slow cooking can be so convenient, allowing us to put a dish in the oven earlier in the day and come home to a delicious meal later on; it also turns a cheaper cut into something utterly delicious – it's an almost magical transformation! My favourite cut of beef for this kind of cooking is beef cheek (also known as ox cheek); it becomes so tender after a few hours of cooking and has such a wonderful flavour.
Check out my guide to which cuts of beef are best for which type of dish or cooking method.
For today's recipe, I decided to splurge a little on a half leg of lamb, which currently costs less than £10 a kilo at most supermarkets and generously feeds four.
This one pot dish is very straightforward to make; it's comforting yet a little different to the typical stew, and smells absolutely gorgeous too. The red wine and balsamic vinegar give a wonderful flavour which is just so good with lamb, a genius combination that I learned from Genevieve Taylor in her book, Stew!, published a few years ago.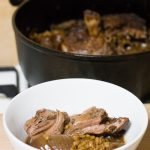 Leg of Lamb & Pearl Barley Braised in Red Wine & Balsamic Vinegar
Total Time
3
hours
20
minutes
Ingredients
1

kg

half leg of lamb

on the bone

5-6

medium

onions

, peeled and quartered

2

tsp

crushed garlic

1

tsp

dried rosemary

350

ml

red wine

150

ml

balsamic vinegar

vegetable oil

150

g

pearl barley

250

ml

water
Instructions
Measure wine and balsamic vinegar into a measuring jug and set aside.


In a large casserole dish that can also be used on the stove, heat a little vegetable oil, then brown the lamb on all sides. Remove the lamb from the dish and set aside on a plate.


Add more oil only if needed, then cook the quartered onions in the same dish until some of the edges char to brown, stirring occasionally. The wedges usually break into one or two pieces during this stage.


Add the garlic and rosemary to the onions, stir well and then place the browned lamb over the top.


Place a lid over the lamb and put into the oven.


Add the pearl barley and water and stir well. It may be easier to remove the lamb first and then put it back in after you've added the barley and water. Turn the lamb other side up, to allow the rest of it to submerge in the cooking liquid.


At this stage, the pearl barley should be plump and cooked through, and the lamb will come away from the bone easily with a fork or spoon.


Serve with some fresh green salad or green vegetables.

Note: If you'd like to make this recipe without the pearl barley, omit both pearl barley and the water that is added with it. Do stir and turn the lamb over at that same point, and if the volume of liquid remaining is high, remove the lid for the final 30 minutes instead of 15.
Simply Beef and Lamb is a division of the Agriculture and Horticulture Development Board. It supports the Red Tractor Mark and the Quality Standard Mark which provide consumers with confidence in what they are buying. The Red Tractor Mark covers food safety, animal safety, traceability and environmental impact. The Quality Standard Mark, as its name suggests, is all about the quality of the meat itself, and requires that all beef and lamb awarded the mark meets very high standards throughout the food chain, from farm through to meat counter.
This post is part of Simply Beef and Lamb's #LivePeasant campaign, encouraging us to embrace a more rustic approach to cooking, and to think about traditional recipes using beef and lamb.
You may also enjoy these #LivePeasant recipes by fellow bloggers:
This post is a paid commission for Simply Beef and Lamb and part of their #LivePeasant campaign. Visit their website for more great beef and lamb recipes and detailed nutritional information.