Cabbage is one of the most commonly eaten vegetables in Korea and one that everyone loves. I'm a huge fan too, and love how versatile this humble brassica can be. In this delicious recipe from Su Scott's Rice Table: Korean Recipes & Stories To Feed The Soul, the cabbage is cooked fast and hot so that it chars on the edges but retains some bite, and then dressed in a spicy, sweet and tart gochujang dressing.
The dish works fabulously as part of a Korean meal but it's also wonderful with non-Korean food – it works particularly well with grilled or barbecued lamb chops; the dressing balancing the fatty meat beautifully. You can even enjoy it as a main with plain rice and a fried egg garnish.  It's a hugely versatile dish.
Leftovers keep well in the fridge for a few days.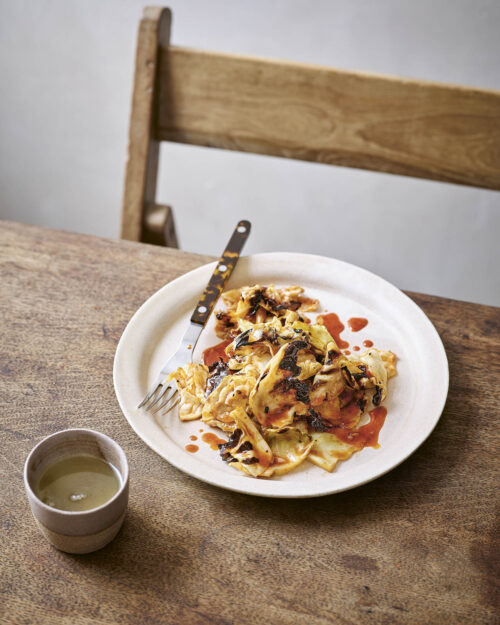 Read my in-depth book review of Su Scott's Rice Table.
Korean Charred Cabbage in Warm Gochujang Vinaigrette (Yangbaechu Gui)
I always think it's a pity that so many people consider cooked cabbage rather unpalatable. In Korea, white cabbage is one of the most commonly used everyday vegetables and everyone loves it. We take advantage of the versatile nature of this humble brassica in every possible way you can imagine. I have certainly grown up eating a lot of cabbage and have a real soft spot for it. When cooked, the crunchy opaque leaves, tightly nestled together, unfurl and turn translucent. The fibrous texture of the raw ingredient softens and becomes tender, unveiling the delicatevegetal nuances that cling onto the bolder flavours, delivering comfort that eats softly on the tongue and gently on the stomach. This inspiration certainly comes from the contrasting explosion of flavour combinations I experienced as a child – steamed cabbages dipped in tart and sweet gochujang dressing – which I have come to appreciate more as a grown up. Slightly charred cabbages boast intensely caramelized sweetness that sits on the verge of bitterness (in a nice way) and pairs well with a warm, garlic acidity laced with smoky gochujang.
Eat this with a crispy fried egg on the side and steamed rice to make it a midweek-friendly dinner.
Ingredients
½

white cabbage

1

tbsp

vegetable oil

½

tsp

sea salt flakes

¼

tsp

freshly cracked black pepper

2

tsp

golden granulated sugar

2

tsp

soy sauce

2

tsp

gochujang (Korean fermented chilli paste)

½

tsp

gochugaru (Korean red pepper flakes)

2

tbsp

extra virgin olive oil

2

garlic cloves, minced

2

tbsp

cider vinegar
Instructions
Prepare the cabbage by removing any wilted outer leaves. Slice the cabbage in half lengthways so you have two wedges. Remove the cores and tear the leaves into large, bite-sized pieces. The edges of the pieces will appear uneven and that is perfectly fine. Transfer the torn cabbage to a large mixing bowl and soak it in cold water for 10 minutes. Drain well.

Toss the cabbage with the vegetable oil, salt and black pepper.

Preheat the grill (broiler) to high and place a large empty baking tray under the grill to heat up.

Carefully remove the hot tray from the oven and place the seasoned cabbage onto it. You should notice the sizzling sound as the cold cabbage hits the scorching hot tray. Grill for 7 minutes, turning once or twice to ensure you have an even char. You should notice the edges catching in places. The inside of the cabbage will soften but still retain some bite. When ready, set aside.

Meanwhile, combine the sugar, soy sauce, gochujang and gochugaru in a small mixing bowl. Give it a good stir and set aside. Put the olive oil and garlic into a small, cold saucepan. Gently warm up over a low heat for a couple of minutes to infuse. I start the pan from cold to prevent the garlic from burning too quickly, so be patient and keep the heat on very low. After 2 minutes or so, you should notice the garlic begin to smell fragrant. Add the soy sauce and gochujang mixture to the pan, stirring continuously to incorporate it into the oil. Continue cooking on low for 2 minutes.

Whisk in the cider vinegar and bring it to a warm temperature without boiling. It should only take about 30 seconds. Remove from the heat and set aside.

In a large mixing bowl, combine the cabbage and warm gochujang vinaigrette. Serve warm or cold. Stored in an airtight container, it will keep well for a few days in the fridge.
This dish is a delight, and already repeated in the short time we've been cooking from Su's book.
Made the recipe? Let us know how you got on in the comments.
You may also enjoy other Korean recipes and content here.
Browse our full collection of recipes from around the world
Kavey Eats received a review copy of Rice Table by Su Scott from publishers Quadrille. Book photography by Toby Scott. Home cooking photography by Kavita Favelle.