Cheltenham's food scene has improved and grown a great deal since we last visited regularly several years ago. Multicultural restaurants are now more prevalent, including Koj Cheltenham, a Japanese restaurant, cocktail and whisky bar in the heart of the city centre.
Named for owner Andrew Kojima, it offers a Japanese food menu that's full of temptations, not to mention an eclectic cocktail list and an excellent selection of Japanese whisky, sake and shochu.
I've known Koj for many years, since we connected online nearly ten years ago over a mutual love of food which we both shared via our blogs. In 2012, Koj reached the final of BBC1's MasterChef, which helped springboard his move from a career in finance to one in food. After Masterchef he embarked on an intensive training programme in top restaurants across the UK and France, including the Michelin-starred kitchens of Michel Roux Junior, Gordon Ramsay, Heston Blumenthal and others.
After honing his skills in a long list of professional kitchens, Koj launched and ran a successful business as a freelance chef, catering for private and corporate clients. Throughout this period, he developed his own personal cooking style and a range of signature dishes; very much influenced by the two cultures he grew up with. Half Japanese, half British, Koj now specialises in Japanese dishes with British and other European influences.
Having moved out of London, Koj ran a successful No Sushi Japanese pop up in Cirencester before taking on the site of Koj Cheltenham, which he renovated and launched in spring 2017. Reviews from customers and critics alike have been hugely positive, several food guides have already listed Koj within their pages, and the restaurant has ranked strongly in local and regional restaurant and food awards.
Customers are advised to order one item from the Nibbles section and one Bun each, followed by 2-3 Grazing dishes between two people, depending on how hungry they are and which ones they choose – most of the dishes are small grazing plates with a handful of larger dishes (such as curry noodles and donburi) at the end.
Although we visit for lunch, we're keen to try as much as we can, so we make a feast of it! A £20 bento box set menu is available till 7pm if you prefer.
Order duly placed, a complimentary dish of Pickled vegetables is brought to the table with two thick slices of lotus root and sesame seeds, some fabulously punchy beansprout kimchi, and a slippery mushroom pickle.
For drinks, Pete enjoys a bottle of Big Drop Pale Ale, a 0.5% ABV low alcohol beer, and I sip a delicious hojicha (roasted green tea, £4). Next time we'll come for an evening and stay overnight, so we can enjoy the extensive bar menu!
Our first nibble is Crispy shiitake mushroom with tonkatsu mayo (£4). Piping hot from the fryer, the soft juiciness of the mushroom is perfect against the crisp coating, and I love the kick of flavour in the tonkatsu mayonnaise.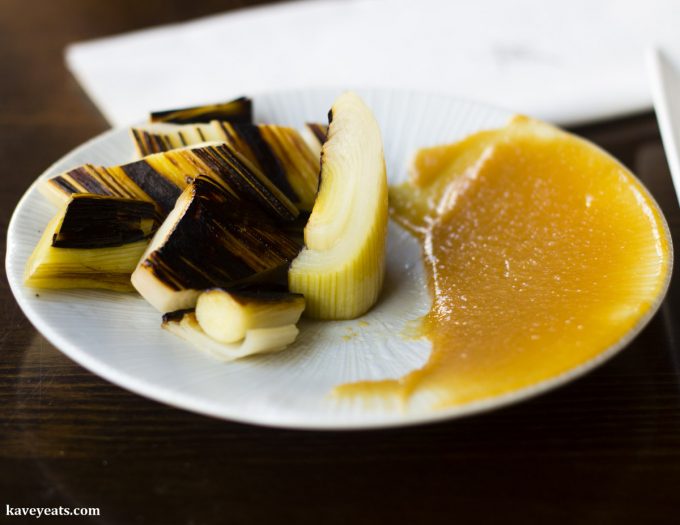 Our second nibble is a contender for one of our favourite dishes of the meal; a simple plate of Grilled leeks with white miso (£4). The leeks are so perfectly cooked, soft all the way through and then boldly charred to black – that hint of bitterness perfect against the rich, sweetness of the white miso paste. If this is on the menu when you go, do not miss it!
One each from the buns equals a Pork belly bun with kimchi and apple (£6) and Panko cauliflower bun with red onion and curry mayo (£6).
Given the bun craze in London these past few years, I've enjoyed many more fluffy pork bao this decade than ever before (not to mention some superb examples in Taiwan) and Koj's pork bun certainly lives up; a soft fluffy bun is wrapped around a generously thick slab of pork belly that is all tender meat and melty fat, but has a wonderfully crisped surface too, and is paired with slivers of crunchy green apple and juicy kimchi.
The panko-crumbed cauliflower is a great veggie version, the sweet earthy cauliflower works so well in a crumb, and the red onions and curry mayo add just the right level of punch without overwhelming the vegetable.
On to the Grazing dishes, of which we order three plus a side portion of rice.
We are a bit discombulated when the dish of Koj fried chicken with sesame mayo (£10) comes out, to see it coated with cornmeal rather than the more traditional wheat flour or potato starch. But we are quickly proved wrong – although the cornmeal gives a distinctly different texture to the surface, the expected flavours of karaage chicken come through, the chicken is beautifully tender, and of course, the cornmeal makes it gluten free. The pale mayo looks innocuously like plain mayo but has a fabulously deep sesame flavour, which is perfect with the chicken.
The menu describes the Shiitake okonomiyaki (£9) as "Japanese bubble and squeak hash brown", which is as good a description as any other. It's tricky, because okonomiyaki doesn't have an equivalent in European cooking, and I've seen it variously described as like a pancake, like a pizza, and like bubble and squeak. Regional variations in Japan make it even harder to pin down but I'd say a cross between bubble and squeak and a fat sloppy pancake is about right!
Koj's okonomiyaki is a thing of beauty, the batter just cooked so it's still wobbly inside, generously studded with shiitake mushrooms and green onions, with the requisite topping of different sauces and katsuobushi (bonito flakes). Short of a specialist okonomiyaki cooking plate on each table (where customers cook their own), this is definitely a taste of Japan.
Another contender for favourite dish (we never do manage to narrow it down to one), the Spicy peanut miso aubergine (£10) is fabulous, combining the classic flavours of nasu dengaku with the crunch and flavour of peanuts, this is a lovely way to enjoy aubergine.
Garlic butter rice (£3) is delicious on its own – it really sings with the flavour of melted butter and garlic – but it's also great with some of the leftover sauce from the aubergine dish.
Honestly, we really don't need desserts, but we are swayed by the introduction for Little Desserts:
"The Japanese word 'betsubara' means 'other stomach'. They believe there is always room for dessert. Our desserts are intended to satisfy a sweet tooth without leaving you too full."
We dither for quite some time before ordering a Sticky toffee pudding with miso butterscotch (£4) and Jelly and sorbet (£4.50).
A sweet, liquidy umeshu (a Japanese stone-fruit liqueur) jelly (set with agar agar so it's vegan-friendly) is topped with slivers of lychee fruit and a yuzu (citrus) granita. It's light and sweet and refreshing and summery.
The sticky toffee pudding is a tiny pot of heaven; a soft, dense, square of cake is soaked in the richest butterscotch sauce, its flavour amplified by the addition of savoury sweet miso. It's shockingly good, and yes, another contender for best dish of the meal…
We're done when Koj emerges from the kitchen, insistent that we also try his signature icecream, a smooth, silky, sweet and savoury blend of burned white chocolate and miso. Amazing! Do try and save space for one or more of these little sweet treats.
To peer at during the meal, a wall of classic Japanese characters and logos including Domo, Hello Kitty, Godzilla, Totoro, and Kumamoto Bear! Gudetama appears to be missing though, hopefully Koj can find a space and add him in!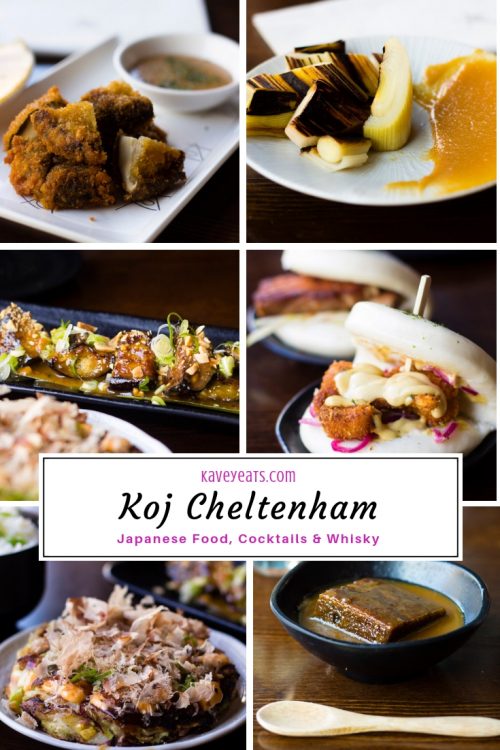 This really has been such an enjoyable meal, we are rather envious of the inhabitants of Cheltenham  in having such a restaurant on their doorstep. For us, it's a 90 minute drive each way, but we're already planning our return visit.
Koj Cheltenham is open Tuesday to Saturday for dinner, and on Saturdays only for lunch.