Do you ever envisage a new dish in your head, hoping it will be as delicious as you imagine? And when you make it, it's even better? I can't pretend it's something that happens all the time – more often there are tweaks to be made… or rarely, the idea is quietly binned and never mentioned again – but now and again success strikes and makes me insufferably chuffed with myself.
So it was with this Chicken Tarragon Pasta Bake.
In my mind were a number of recipes we enjoy, from macaroni cheese to chicken savoyarde to the penne al forno at my local Italian.
Once the idea for my new dish popped into my head, all we needed was to enjoy a roast chicken dinner (oh, the hardship) and follow that, as usual, by stripping the leftover meat off the carcass and popping the remaining skin, bones and tendons into the slow cooker with water overnight to make stock.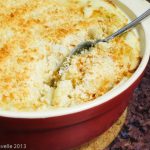 Kavey's Chicken Tarragon Pasta Bake
Ingredients
250

g

dried macaroni-style pasta

50

g

white breadcrumbs

(we used Panko)

300

g

leftover roast chicken

(chopped small)

50

g

unsalted butter

40

g

plain flour

600

ml

chicken stock

(slightly warmed)

175

ml

double cream

50

g

parmesan or other strong hard cheese

(grated)

2

tsp

French mustard

2

tsp

dried tarragon

salt

pepper
Recipe Notes
For the pasta, choose any of the small hollow tube shapes. We chose chifferi rigati by De Cecco, which are short ridged elbow-shaped tubes.
We like the tarragon flavour to be understated. If you like it strong, add an extra teaspoon or two of dried tarragon.
Instructions
Preheat the oven to 200C (390F).

Put the pasta on to cook. When ready, drain, rinse and set aside. While the pasta is cooking, make the sauce:

Melt the butter in a saucepan, add the flour and cook for a couple of minutes, stirring constantly. Keep the heat low to medium, to avoid browning.

Add the chicken stock and cream and stir thoroughly.

Add the cheese, mustard and tarragon. Taste and adjust seasoning.

Cook for a further 10 minutes, until the sauce thickens a little.

Once the sauce is ready, add the chicken and drained pasta and stir thoroughly.

Bake for 20-25 minutes until the crumbs on top are golden brown.
Serve hot with a crispy green salad.
I hope you enjoy this as much as we did. Do let me know how you like it!
Other delicious and simple recipes from Kavey Eats:
Save for later: