When I was invited to take part in the Grey Poupon cooking challenge, I immediately remembered the intriguing recipe for Cackalacky Spare Ribs that I'd read in my recently acquired book, The Whole Hog Cookbook by Libbie Summers.
As Grey Poupon was originally an American-owned brand (born back in 1777) Cackalacky seemed doubly appropriate. (These days Grey Poupon UK is a separate entity, their mustard still produced in Dijon, the spiritual home of mustard).
With Google at my fingertips, I quickly learned that Cackalacky is a nickname for Carolina, USA and for many things originating in the two states, North and South, though the origins of the word are a mystery.
In food terms, Cackalacky is a condiment variously described as a "hot mustard sauce", a "mustard BBQ sauce" or simply a "spice sauce". Recipes vary hugely, but what they all have at their core is the use of yellow mustard. Many recipes also include sweet potato; for acidity there's a choice of cider vinegar or lime juice; for sweetness some recipes turn to molasses, others to honey and still others to brown sugar; some add onions and garlic, some don't; and then there's a whole range of spices.
Although I took the book as my original inspiration, I had some way to go in developing my own recipe.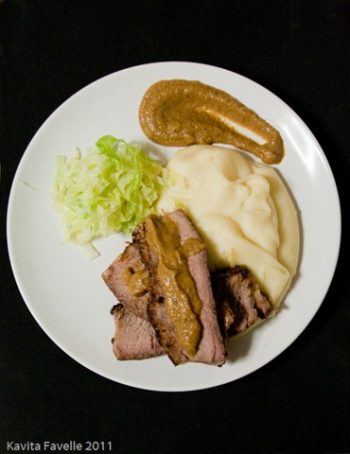 For a start, I wanted to switch from pork spare ribs to beautiful British beef. I decided on a bone in rib of Hereford beef, to be roasted whole. This was first rubbed with a sugar spice mix based on Summers' rib rub, a few hours before cooking. I also took her advice to baste the beef with some of my Cackalacky sauce five minutes before the end of its cooking time.
However, when it came to the recipe for Cackalacky sauce, I struck out on my own, taking elements from several very varied recipes I found, and hoping my own creation would work. Instead of sweet potato, I decided to use apples, still seasonal in the UK. Of course, Grey Poupon mustard would have a starring role. And I decided on my own combination and amounts of sugar, honey, herbs, spices and vinegar.
I recently enjoyed a lovely potato and parsnip mash when eating out, and felt the soft, sweet and earthy flavours would be perfect against the spiced beef and sweet-sour mustard sauce. Again, very seasonal for a British winter.
Lastly, one of my favourite winter greens, some Savoy cabbage, just shredded and lightly boiled.
I'm not very experienced at developing my own recipes, it's something I'm still very nervous about. So I was truly delighted when my Cackalacky and accompaniments came together beautifully. This is definitely a recipe I'll make again.
Feel free to try this with other meats too – my swap from pork ribs to a roasting joint of beef worked really well.
Kavey's Cackalacky Roast Rib of Beef
Ingredients
Bone in rib of beef
2 teaspoons freshly ground black pepper
1 teaspoon ground cumin
2 teaspoons paprika
1 teaspoon cayenne pepper
1 tablespoon dark muscovado sugar
1 cup Cackalacky sauce (see below)
Note: My rib of beef was a single rib join weighing 1.3 kilos. Adjust volumes of spice rub if your joint is significantly larger or smaller.
Combine sugar and spice ingredients thoroughly and rub into the surface of the meat. Use your hands!
Leave the meat in the fridge for 2-3 hours.
Roast the meat according to your preferred temperature and times and the size of the joint. Set your alarm for 5 minutes before the end of the cooking time.I tried a new method, pre-heating the oven to 230 C, cooking the beef at that temperature for 15 minutes and then turning down to 190 C for the rest of the cooking time. However, the result was cooked more than we prefer, and next time we'll stick to our normal temperatures and times, for medium rare.
Five minutes before the beef is due to finish cooking, take it out of the oven and baste generously on all surfaces with Cackalacky sauce. Return to the oven.
After the final five minutes, remove from the oven, cover with tin foil and leave to rest for 10-20 minutes.
Kavey's Cackalacky BBQ Sauce
Ingredients
2 apples, peeled, cored and diced
1 teaspoon cooking oil
6 tablespoons dark muscovado sugar
1 cup cider vinegar
1 cup water
4 heaped tablespoons Grey Poupon yellow mustard
2 tablespoons honey
1 teaspoon dried oregano
1 teaspoon dried thyme
1 teaspoon freshly ground black pepper
1 teaspoon cayenne pepper
Salt to taste
Note: As I was combining elements from several different recipes to create my own, I wasn't sure how much sauce to make. I initially made exactly half the above amount, realising as soon as I'd finished that I hadn't made enough to both baste the beef and serve as a condiment. I immediately made the recipe again, exactly the same way. The amounts above are for the total volume I made.
Heat the cooking oil in a pan and add the diced apples. Cook until the apples start to take on a little colour.
Add the dark muscovado sugar and stir on a medium heat until the sugar dissolves and coats the apples.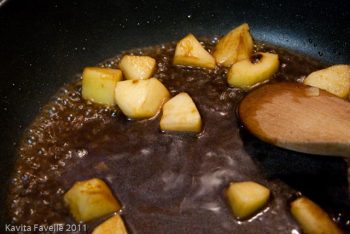 Add the cider vinegar and water and bring to a simmer.
After a few minutes test the softness of the apples. I used a potato masher to break them down more quickly.
Add the oregano, thyme, black pepper and cayenne pepper and stir, then cover and cook on a medium heat.
Once the apples have softened completely, stir in the mustard.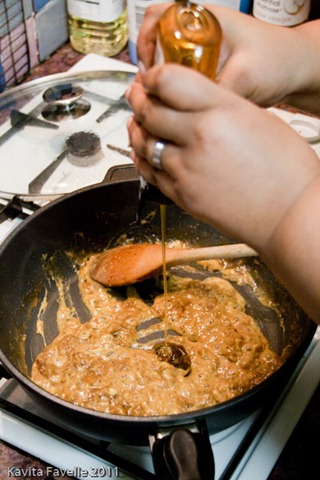 Add the honey and mix in well.
Transfer the mixture to a blender and blitz until smooth.
Season with salt and check for taste. At this stage, you could adjust sweetness or acidity by adding a little honey or vinegar, if you wish. I was happy with the taste, so didn't adjust mine.
Parsnip & Potato Puree
Ingredients
Equal quantities of potatoes and parsnips, by weight
Salt and freshly ground pepper, to taste
A splash of double cream, to loosen
Peel and chop the potatoes and parsnips and boil till soft.
Transfer to a food processor.
Add salt and pepper and a splash of cream.
Blitz until smooth. Adjust seasoning and add more cream if required.
Although the beef was cooked medium-well rather than my intended medium-rare, the quality of the beef meant it was still delicious and I loved the combination of flavours from the spice rub and the Cackalacky sauce. The mellow sweetness of the parsnip and potato puree worked very well against the sharp mustardy flavours. And the cabbage, carefully not overcooked, gave a lovely freshness and crunch to the plate.
This is very different to anything else in my normal cooking repertoire but has been a fun and successful exploration. If you try making it yourself, do let me know how you get on!