Katto Knives was founded by best friends Josh and Thomas in 2018. After a mental breakdown, Josh turned to cooking to distract his mind, help him with his recovery and support his well being. That hobby lead to a quest for the best equipment, including knives, and eventually formed the basis of the business.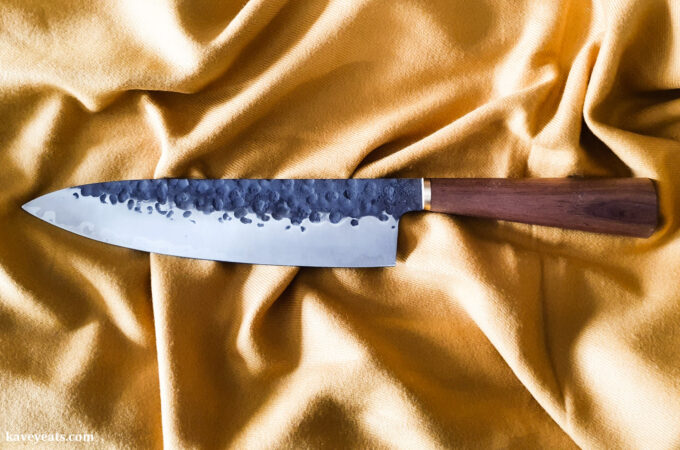 Josh and Thomas wanted to create a brand with plenty of character and with sustainability at its core. They wanted to create knives that were individual, handmade and still affordable. After investing several months in research and reading, Josh and Thomas decided to use Japanese steel blades paired with hand-carved wooden handles made from sustainable wood.
The importance of making is part of the Katto ethos, whether it's a crafts person turning and polishing the wooden handle, or a customer using their knife to make a meal for friends. As every handle is made by hand, the knives have an individuality about them.
Currently, Katto produces four types of knife (chef's, santoku, utility and bread knives) and customers can chose between different woods for the handles. Woods available at the moment are walnut, beech and rosewood, but as Katto sources FSA 100% certified woods – preferably from wind-felled timber – other woods may feature in the future. They use only natural oils to finish the handles.
The blades (which Katto imports from Asia) are AUS-10 Japanese steel with a Rockwell rating of 58-60 HRC, which means they are strong but flexible, and sharp without being brittle. They can be sharpened at home – Katto recommends using a Japanese whetstone, or customers can send them back to Katto to be sharpened for free.
After use, wash your Katto knife in warm water and dish soap, dry immediately and store carefully (in a leather scabbard or a knife block, or on a magnetic knife rack) to protect the blade from damage. Applying a little oil from time to time will also prevent any oxidisation.
You will notice on receiving your knife that the area of the blade near the spine has a black finish when you receive it. Known in Japan as kurouchi (literally 'black hammered') it conceptually equates to 'blacksmith's finish' and is essentially a residue of the forging process. It will naturally fade away over time.
Katto chef's knives are 34 cm in length with a 26.5 cm blade. Price ranges from £120 to £160 depending on the choice of wood for the handle, monogramming is available for £15 extra and you can also upgrade to a leather scabbard (in place of cardboard) for another £15.
Santoku knives are 32 cm long with a 19 cm blade and cost £110 to £140 depending on handle. Utility knives are 26.5 cm long with a 16.2 cm blade and cost £100 to £130. Monogramming and leather scabbard are extra, as above.
We chose a Chef's knife with Henry (American walnut wood) handle.
Note that our knife arrived with the personalised monogram missing despite it being part of the order confirmation, so I'd recommend ordering well in advance if you buy as a monogrammed gift so you have the chance to resolve if this happens to you.
Opening the parcel is a delight! Wrapped in brown paper and tied with a string, your knife comes in a sturdy wooden gift box. Inside you'll find your knife (of course) in a cardboard scabbard (unless you upgraded to a leather one).
There's a penny for good luck (to counter the bad luck traditionally associated with giving knives as gifts), and a Katto-branded cotton bag as well.
Our Katto Chef's Knife is a pleasure to use. It's well balanced, the handle is comfortable to hold and the knife feels strong and sturdy in use. It's also good and sharp, and the length and curve of the blade works well for both of us.
Kavey Eats received a complimentary review product from Katto Knives.