Italy has more products of Protected Designation of Origin (PDO) than any other country, well over two hundred in fact.
Grana Padano cheese and Prosciutto di San Daniele (ham) are two such products, both made in the north of Italy. These products have been made in virtually the same way for many hundreds of years, both awarded PDO status in 1996.
Find out more about PDO status, and how these two products are made, below.
I recently attended an event hosted by the Consortiums that look after these two products, during which we learned more about the history of each product and how they are made.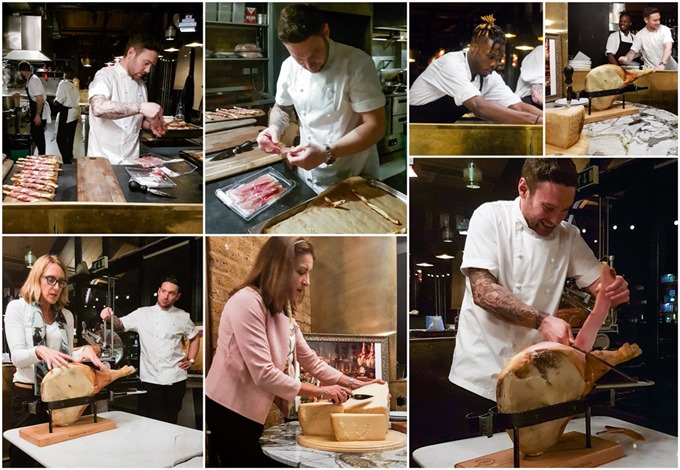 During the evening, Chef Dan Doherty (of Duck & Waffle) and his team served us four simple, achievable and delicious recipes that really showcased the versatility and flavour of Grana Padano and Prosciutto di San Daniele.
To start, once we sat down at the table, these wonderfully simple Grana Padano cheese pastry straws wrapped in Prosciutto di San Daniele.
Next, a salad of perfectly Poached egg, Prosciutto di San Daniele, Grana Padano & rocket with truffle dressing.
After that, the most wonderful Figs roasted in sherry vinegar caramel, Grana Padano crisps &  Prosciutto di San Daniele.
To finish, a fantastically rich and decadent Grana Padano, confit onion & potato gratin with Prosciutto di San Daniele.
All of these dishes are straightforward to make, and give great inspiration of inventive ways to use these two fantastic products in the home kitchen and best of all, I'm sharing the full recipe for the last dish here on Kavey Eats.
PDO is an EU designation for products made in a strictly designated geographical area, using traditional processing techniques that tie them to the cultural and culinary history of their place of origin.
PDO products are each recognised for their superb quality, and the scheme ensures that inferior products cannot be marketed with the protected names. Quality schemes govern exactly where each product is made, and stipulated exact ingredients and specific techniques to be used. They also apply quality assurance checks throughout the manufacturing process, and again once the product is ready, to verify that it meets the required minimum standards. Only products that are good enough are certified (by independent bodies) and marked with the relevant logo, so that consumers know they are getting the real deal.
Grana Padano is believed to have originated in the year1124, in the monastry of Chiaraville, near Milan. Made by the monks in large copper cauldrons, it was known then as 'Caseus vetus', latin for 'old cheese'. But the general population were not familiar with latin and they nicknamed it instead 'formaggio di grana', Italian for grainy cheese. Over time, other regions within the Pianura Padana (the Po River Valley) began to produce their own grana cheeses. Today, other grana cheeses of the region are known as Parmigiano-Reggiano, Granone Lodigiano, and Trentingrana.
Today, 132 dairies are members of the  Consortium for the Protection of Grana Padano Cheese, and produce their grana cheese to the exacting standards codified in the PDO.
There are three vintages of the cheese available. The pale 9-16 months old Grana Padano is great in salads and sauces, and as part of a mixed cheese board. The 16-20 month cheese has a grainier texture and stronger flavour, and holds its own well against young and fruity red wines. It's also great for cooking. The Reserva is matured for 20 months or longer, creating a richer colour and grainier texture, and of course, the flavour becomes much deeper. It has a real umami taste and is wonderful with chutneys and pickles, full-bodied reds and wonderful with dessert wine.
You can recognise Grana Padano cheese easily by the distinctive diamond-shaped design imprinted into its skin during pressing, and the quality assurance mark fire-branded onto the surface once it has passed final quality control checks.
Pork has been air dried to preserve it for millennia, and indeed the history of prosciutto (Italian for 'ham') stretches back to at least the 11th century BC.
Prosciutto di San Daniele has long been recognised for it's superb flavour and texture. This starts from the selection of pigs used, they must be born and reared in one of ten specified regions in central and northern Italy, and are traditional local breeds, fed only quality grains and milk whey. Production of the ham itself may only take place in  San Daniele del Friuli, an area blessed with the perfect climate for air drying hams during the winter months.
There are only two ingredients that go into the ham – the pork itself and sea salt, though a fat and rice flour 'stucco' paste is used to seal the open side of the ham where there is no protective layer of skin. Add to the pork and salt only the local microclimate which allows the hams to air dry at the perfect rate. Today, modern air-conditioning technology allows producers to mimic the winter temperatures and humidity all year round, but the techniques employed are otherwise as they have been for over three thousand years.
Like Grana Padano, quality assurance checks production throughout the process, and also confirms quality of the hams once they have matured. If they pass, they are fire-branded with the Consortium's mark.
Kavey Eats attended the evening as a guest of the Grana Padano Protection Consortium and the Prosciutto di San Daniele Consortium.