This Indonesian Spiced Beef Stew reminds me of a classic British beef and vegetable stew but in this case there are warming spices, herbs and other additional ingredients that provide an unmistakeably South East Asian flavour profile. Taken from Petty Pandean-Elliott's The Indonesian Table, traditionally semur daging has a thinner sauce. Pandean-Elliott has added flour to thicken it, creating a really comforting dish that is particularly good for a cool autumn or winter day.
The recipe contains two variations you can try, one for Manado Pork Stew (Semur Babi) and one for Vegetarian Stew (Semur Tempe dan Tahu).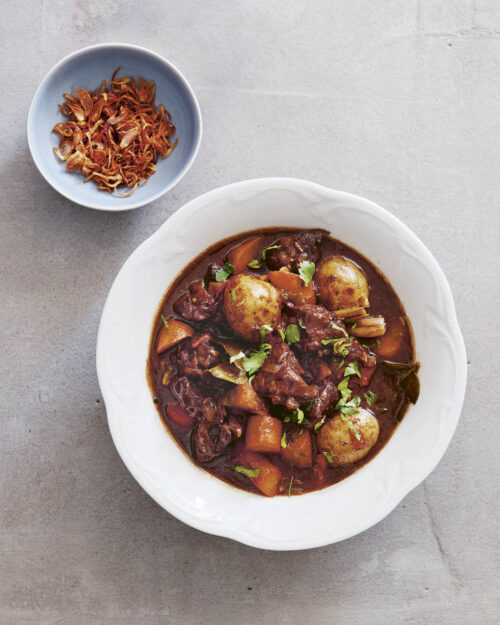 Read my The Indonesian Table by Petty Pandean-Elliott.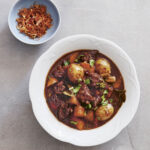 Indonesian Spiced Beef Stew (Semur Daging)
The sweetness in this beef stew is tempered by the spices, creating a comforting main course best served with steamed rice. Semur daging is available around the region, with spices changing from region to region. And like most stews,a low and slow cooking time is a must for developing rich and intense flavours. Chopped tomatoes add a bit of vibrant colour. The traditional dish is like a thin stew, so I've thickened it with some flour to make it feel more substantial. This famous dish of Idul Fitri often reminds me of the holiday with my Muslim friends in Jakarta.
Ingredients
For the spice blend:
1

tablespoon

coriander seeds

1

teaspoon

ground cumin

1⁄2

teaspoon

cloves
For the beef:
2–3

tablespoon

sunflower oil

1

kg

(2 lb 4 oz) stewing beef or topside (top round), cut into 2.5-cm (1-inch) pieces

Salt and black pepper, to taste

2

tablespoons

all-purpose (plain) flour, plus extra for dusting

3

banana shallots, finely chopped

3

cloves

garlic, finely chopped

2

red bird's eye chillies, thinly sliced

1

10-cm (4-inch) piece of fresh root ginger, finely grated

3

green cardamom pods, lightly crushed

1

teaspoon

freshly grated nutmeg

1

teaspoon

ground cinnamon

1

stalk lemongrass, crushed and tied into a knot

4

makrut lime leaves, torn

5

tablespoons

sweet soy sauce (also known as kecap manis)

2

tablespoons

dark soy sauce

300

g

(10 1⁄2 oz) new potatoes with skins

2

carrots, unpeeled

2

tomatoes chopped into 1⁄2-cm (1⁄4 -inch) cubes

Small handful of Chinese celery leaves or parsley

3-4

tablespoons

crispy shallots (optional)

Steamed rice, to serve (optional)
Recipe Notes
Variation: Manado Pork Stew (Semur Babi) - Replace the spice blend with 1 1⁄2 tablespoons Speculaas Spice Blend. Omit the cardamom and replace the beef with pork neck.
Variation: Vegetarian Stew (Semur Tempe dan Tahu) - Omit the potatoes. Replace the beef with 500 g firm tofu and 500 g tempeh, cut into 2.5-cm chunks (do not sear). Add them to the pan with the soy sauce. Mix well and season with salt.
Instructions
To make the spice blend, combine the coriander seeds, cumin and cloves in a frying pan and dry-roast for 5–6 minutes over medium-low heat until fragrant, stirring occasionally to prevent them from burning. Leave to cool. Finely grind using a pestle and mortar. Set aside.

Heat 2 tablespoons of oil in the same pan over medium-high heat. Season the beef with salt and pepper, then dust it with flour. Working in batches, add the beef to the pan and sear each side for 1–2 minutes. Transfer to a plate. Repeat until all the beef is cooked.

If needed, heat another tablespoon of oil in the same pan. Add the shallots and garlic and sauté for 2–3 minutes. Add the chillies and ginger and sauté for a minute. Add the beef and spice blend, mix well and sauté for 1–2 minutes. Sprinkle in the flour and sauté for 1–2 minutes until the flour turns brown.

Stir in the cardamom, nutmeg, cinnamon, lemongrass and lime leaves. Add the sweet and dark soy sauces and 1 litre hot water. Mix well, then season with salt. Bring to a boil, then reduce the heat to medium-low. Cover and simmer for 1 hour.

Add the potatoes and carrots and cook for another 30 minutes. Add the tomatoes and half of the Chinese celery leaves. Mix well and cook for another 5 minutes.

Ladle the stew into soup bowls. Sprinkle with crispy shallots, if using, and the remaining Chinese celery. Serve with rice if you wish.
This dish is easy to make, and the leftovers are even better the next day.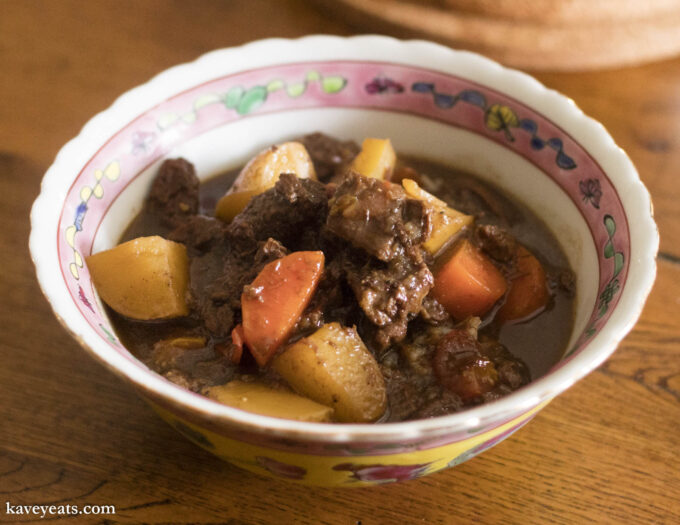 You may also enjoy more Indonesian recipes and content, here.
Recipe from The Indonesian Table by Petty Pandean-Elliott published with permission from Phaidon Press. Book photography by Yuki Sugiura, all other images by Kavita Favelle.