HyperJapan is a hotly anticipated diary event for lovers of Japanese pop culture across the UK.
The show features the latest in gaming and anime (including some of the latest technology such as VR and handroid) and in cosplay and fashion (including kawaii, character clothing and all manner of clothing and accessories). Additional stalls sell popular foods (especially sweets, snacks and drinks), ceramics, crafts, artwork and more. There are plenty of food stalls selling food to eat during your visit… from katsu to confectionary, from sushi to shaved ice desserts, from waffles to wagyu burgers, and more.
Tourism is covered too, with both Japan's national tourist board and a range of commercial travel specialists available to talk to visitors considering a trip to Japan. While HyperJapan's focus is more pop culture than traditional, there are some classic arts and crafts on display too – this year visitors could learn Amezaiku (candy sculpture), Ikebana (flower arranging), Kokeshi (wooden doll painting), Sumi-e (calligraphy painting), Mask Painting and Origami.
But for me, there's one part of HyperJapan that I enjoy above all the others and that's the annual Sake Experience, Europe's largest public sake tasting event. Last year there were eight breweries taking part, this year we had ten breweries, each of whom brought along one, two or three sakes from their product range.
Tickets to the Sake Experience cost £15 per person (over 18s only) and you'll also need to purchase the general entry to HyperJapan itself. When you enter the Sake Experience area you'll be directed into a queued pathway that will take you from stall to stall, each one representing one of the sake breweries. The staff will introduce the brewery, perhaps sharing some of its history or a unique aspect of production, they will tell you about the sakes they are showcasing and of course, you will be provided with generous samples of each one.
If you wish, you can vote for your favourites in three categories – People's Favourite, Best Sake for Sake Beginners and Best Match with Non-Japanese Food, and pop your form into the voting box at the end. At the exit, a sales stall sells all the sakes you've just tasted, so you can take home your favourites to enjoy later.
Learn more about sake – how it's made, the difference types available and more about the terminology used to label them – in my Sake Guide For Beginners.
Read on for my overview of this year's breweries and sakes, in order that we visited them within the Sake Experience…
Gekkeikan Sake, Established in 1637, Kyoto
Now one of the larger sake breweries, Gekkeikan's products are readily available worldwide. I loved their beautiful bottle designs, the bright citrus design for their Utakata Sparkling Sake Yuzu, and the beautiful red, white and gold flowers for their Utakata Sparkling Original Sake. They were also providing tastings of their Gekkeikan Nigori Sake, a style of sake that has less of the sake lees filtered out, creating a thick, cloudy and creamy sake.
I found the yuzu sake a little too heavy on general citrus flavour, and not as distinctly yuzu as I would have liked. I really liked the sparkling original sake, though it was a touch sweet even for me. My favourite from Gekkeikan this year was their nigori sake, a rich, strong and sweet nigori.
Kubota Brewery, Established in 1753, Fukui Prefecture
Kubota presented three sakes – their Sakuza Dry, Sakuza Sweet and Yuzu Wine.
The Dry was actually not super dry, had a good flavour but oddly, very little aroma at all. The Sakuza Sweet was delicious, and not super sweet, but nicely balanced. I'm not sure about the need for the gold flakes within it, but I guess a bit of bling won't hurt!
The super sweet Yuzu Wine was incredibly strong on the yuzu flavour, to the extent that it was hard to detect any sense of the sake base – it could just as well have been vodka or any neutral spirit.
Umeda Shuzojo, Hiroshima Prefecture
The Honsuichi Muroka Junmaishu had a lovely aroma and wonderful, classic sake flavour with lots of complexity, fruity, nutty, and an umami finish. The Honsuichi Muroka Junmai Ginjo was too bitter for me, and a little medicinal.
But I absolutely loved the Honsuichi Daiginjo Genshi, an explosion of fruitiness, really rich perfumed honeyed fruits like melon, lychee, rose. Just lovely and one of my top five this year.
Urakasumi, Established in 1724, Miyagi
Junmai Ginjo Urakasumi Zen had a clean and classic sake flavour. The Junmaishu Urakasumi offered more acidity, good for those who find sake a touch sweet.
The Urakasumi Umeshu was a really interesting umeshu, as unlike many, it was not saturated in sugar and had a distinct green fruit flavour, the sweet and sharp very well balanced. I do love sweet umeshu but this one should have more universal appeal among those who enjoy liqueurs but don't have too sweet a tooth.
Shirakabegura, Nada Region, Hyogo
As the makers of MIO Sparkling Sake, Shirakabegura are another sake brewery that's now recognised and available worldwide. Indeed they were one of the sponsors of this year's HyperJapan event.
As well as the distinctive blue-bottled MIO, which I often buy to enjoy at home, we tasted their Junmai Daginjo, a fantastically fresh-tasting and smooth sake.
Their Yuzu no Kimochi, a barley-shochu based yuzu wine sweetened with honey, was sweet, strong and very yuzu, very delicious, my favourite yuzu option this year.
Takeda Shuzo, Niigata Prefecture
We tasted two sakes here; a Junmai Katafune which was the only sake at the show I actively disliked – it was what was for me an extremely unappealing cheesy smell to it, one that carried through into the taste – and a Junmai Ginjo Katafune, which I failed to write any notes on.
Kikusui Sake, Established 1881, Niigata Prefecture
This brewery really surprised me, I tasted two of my top five of the event here!
The Kikusui Junmai Ginjo was a balanced sake, one that would appeal to those who like a touch more acidity to balance the natural sweet fruitiness of rice.
The Kikusui Funagachi Gold comes in a can, it's unpasteurised (nama) and it's honjozo! (Read more about sake classifications here). Both Pete and I loved the big bold flavours of this sake – lots of fruitiness, rich sweetness, and the classic rice flavour of sake.
And then we were blown away by Kikusui Perfect Snow as well; a full-bodied nigori sake that we found similarly, rich, bold and delicious!
Seto Shuzo, Shiotacho
Seto had a hard act to follow and with only one sake on offer too. But they totally nailed it, their Kinmon Azumacho Honjozo was another of my top five, rich, and somehow both bold and delicate at the same time. No, I know that makes no sense, but I think it's because there were so many complex aspects to the flavour, all of them balanced together and creating a flavour that really rocked my tastebuds!
Ozeki Sake
I was very happy to see Ozeki back at the Sake Experience, as last time I attended I fell hard for their Ikezo peach sparkling jelly sake in a can and they had brought it along this year too.
But first we tried three of their more traditional sakes. Their Premium Junmai was a classic example, delicate and subtle. The Ozeki Nigori Sake was the last of my top five, I just adored the creamy melon texture and taste.
The Hana-Fufa Yuzu Sparkling Sake, like Kubota's, was punchy as hell on the yuzu flavour, but not much sake behind it. Great for yuzu lovers though.
Hamakawa Shoten, near Tokyo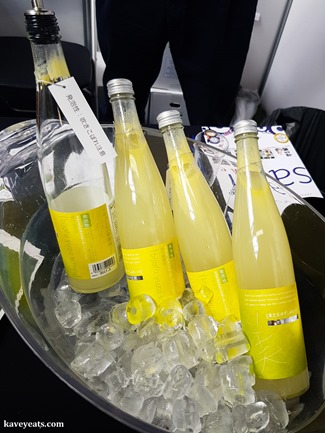 Last of the lot was Hamakawa Shoten's Bijofu Yuzu Schwa!!, the two exclamation marks being part of the name. This again was very yuzu, but also had a really strong kick of pithy bitterness. It was far too bitter for me, but I am very sensitive to bitterness compared to most.
To recap, my top five this year:
Umeda Shuzojo's Honsuichi Daiginjo Genshi
Kikusui's Funagachi Gold
Kikusui's Perfect Snow
Seto Shuzo's Azumacho Honjozo
Ozeki's Nigori Sake
So it looks like I need to take some time to seek out and try a few more honjozo sakes, given my strong preference for them this year!
Kavey Eats attended the Sake Experience as guests of HyperJapan.