Having decided to make myself some Coffee Rum & Walnut Brittle Ice Cream, the first step was to make the brittle. I knew I had a bag of French walnuts sitting in the airing cupboard, gathered from the grounds of a friend's home in Corrèze, dried in the sun and delivered to me as a very kind gift last year.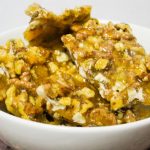 Walnut Brittle
Ingredients
230

g

shelled walnuts

360

g

sugar

1

tsp

salt
Instructions
Line a baking tray with a silicon baking sheet or a sheet of parchment paper.

Break the walnuts into small pieces, though take care not to crush them as you're not trying to make powdered walnut!


In a large, heavy-based pan dry fry the walnut pieces for a minute or two to give them a slightly toasted flavour. Take care not to burn them. Remove to a bowl and set to one side.


Wipe the pan clean of walnut skin and then spread the sugar and salt evenly over the surface and heat over a medium flame. Don't stir the sugar, just leave it alone to melt. Stirring tends to result in clumps that don't melt evenly, as I remember all too well from previous caramelising efforts!


As soon as the sugar melts and takes on a rich golden brown colour, remove from the heat and stir in the walnuts. Work really quickly as the mixture will cool and harden fast and you need to distribute the walnuts evenly throughout the caramel.


You may like to ask someone to hide the box from you so that you don't eat the lot in one sitting.

You may also like this recipe for Coffee Rum & Walnut Brittle Ice Cream!