If you've ever wanted to make an Old Fashioned cocktail at home, this recipe from Home Cocktail Bible by Olly Smith is just what you need! If, like us and our book reviewer Nicky, you have a bourbon collection that's somehow always growing, this is a great way to use it in a tasty, classic cocktail.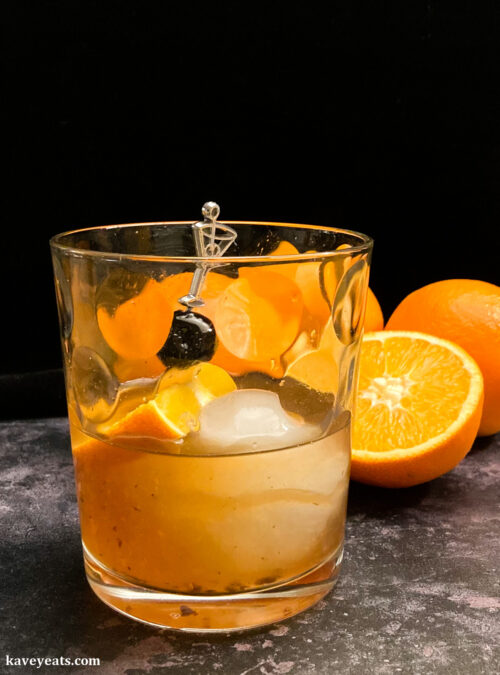 Read our full review of Olly Smith's Home Cocktail Bible here.
Old Fashioned Cocktail
It's impossible to drink an Old Fashioned and not feel that you've stepped slightly deeper within yourself. Stretching back to the early 1800s, its roots linger through numerous variations woven through sweetness and an enduring burnished character that suggests low-lit, carefree dates and time to kill. I find it dreamy and reflective, the thickening texture of the sugar syrup expanding through that resonant, orangey bourbon and hypnotic amber trailing around a singular icy monolith. It's the equivalent of drinking what I imagine a bonfire would taste like if it was laced with demerara sugar and the well-wishes of all the fairies and gods hidden giggling in the shadows. Perhaps it's the echo of the charred oak that bourbon soaks into as it mellows and ages that brings this to the fore. I certainly love sipping an Old Fashioned at a barbecue. It stands for steadfast resolve – at a time when whisky cocktails became fancier and more convoluted, simple Old Fashioned cocktails held firm. The straightforward nature of the drink is, I suspect, what allows space for gentle sips to bring richer ideas to unpromising conversations, and the Old Fashioned strikes me as one of those rare cocktails where one is either too much or plenty. I witnessed this first-hand in the Pendennis Club in Louisville, Kentucky, which lays claim to the place where sugar syrup and muddled fruit first featured in the Old Fashioned. Who knows how much truth there is to this; all I can say for sure is that my drinking companion's appetite for the Old Fashioned was as undimmed as the dawn which crept imperceptibly around us as we continued gently chuckling into the rising light.
Ingredients
60

ml

(2oz) bourbon

7.5

ml

(¼oz) simple syrup (make simple syrup by dissolving sugar in water, equal amounts of sugar to water)

2

dashes Angostura Bitters

1/2

orange slice

1/2

lemon slice

1

maraschino cherry
Recipe Notes
Ice: Cubed
Garnish: Orange slice and cherry
Equipment: Muddler, long bar spoon
Note: This is traditionally made in the glass it's served in but you can also make it in a shaker then pour over ice.
Instructions
Muddle the orange, lemon and maraschino cherry in a glass

Use a long bar spoon to discard the fruit pulp

Add the bourbon, simple syrup and bitters

Stir gently to combine

Add ice (ideally one oversized cube)

Garnish with an orange slice and a cherry

For a sweeter, smokier drink swap the simple syrup for maple syrup.
Kavey Eats received a review copy of Home Cocktail Bible by Olly Smith from publisher Quadrille. Photography by Nicky Bramley.