Migraines are tricky to deal with even at home, and I'm very lucky that employers and clients have been understanding about days off sick because of them. But when it comes to travelling on holiday, I have a set of strategies to help me cope.
I started suffering from migraines in my late thirties, and when they were at their worst, I experienced several a month, though they are not quite as frequent any more. If you've ever had a migraine, you'll know how overwhelming they are compared to regular headaches (even bad ones). As well as really intense pain in my head and eyes, I get extremely nauseous, often throwing up several times. I become super sensitive to light and sound. Sometimes I lose swathes of my vision. And this can last for many hours.
Strategies for Coping with Migraine When Travelling
Realistic Travel Itineraries | Taking Breaks | Identifying Triggers | Reducing Triggers | Ensuring Access to Medication | Compromising with Travel Companions
Realistic Travel Itineraries
When it comes to planning our itineraries, I try to be realistic about how much I can do in a day. My husband and I were never fast travellers, but we've embraced slow travel even more now I need to take migraines into account.
While drafting an itinerary, at the point when I'm estimating how much time to spend in each itinerary stop, I inflate the time a little to add in slack time. By building in extra time in each place I know that if lose several hours or even a whole day to migraine, I won't miss out on exploring that place entirely. It also means we can explore at a less frenetic pace.
Occasionally, I may organise two or three days in a row that are more full-on than usual, in which case I make sure to add in at least one full rest day afterwards, before moving on to the next thing.
When booking organised excursions I gravitate towards private tours, so I can arrange for activities and pace to be adjusted to suit us. If there is a lot to see and do in a place, I choose two half day tours on different days, rather than one long, full-day tour.
Taking Breaks
This one is related to the suggestion above. I mentioned that, with rare exceptions, we avoid full-on go go go days, which helps a lot. That goes not only for organised excursions but also for the time we spend exploring on our own.
We relax regularly between exploring, whether it's kicking back in a cafe, or sitting in a park or other peaceful spot reading our Kindles for an hour or two. People watching is also something I enjoy and a great way to sit and rest too.
Occasionally, where we are on an organised group trip (such as our two night cruise around Vietnam's Halong Bay), I look at the full schedule and choose to skip one or more activities, to ensure I'm not overdoing things. On a recent trip to Vietnam, there was an optional excursion from our cruise in the Mekong Delta to get off the boat and bicycle several miles inland to a local fruit farmer. Whilst I would have enjoyed visiting the farm, I knew the cycle trip would be too much in the intense heat, so relaxed on a sun lounger on the boat whilst the other passengers headed out.
For all our trips, I look for hotels in which we are happy to relax, either in our room, by their swimming pool, or in a comfy cafe or bar area. And of course, whilst we happen to be early morning risers, there's something very indulgent about sleeping in late on the odd morning.
Identifying Triggers
There are as many different triggers for migraines as there are migraine sufferers, and it took me some time to understand mine.
If you've not yet identified your triggers, it may help to keep a migraine diary that you can review over time and see if you can spot any patterns. Note down (after your migraine has passed) what you were doing and eating for the 24 hours preceding the migraine. Include details such as whether that time involved several hours of working on spreadsheets or other documents on a computer screen, or if you forgot to take your glasses to work, or if you had back pain or shoulder pain, plus what you ate or drank. If you think smell may be a trigger, jot down details such as sitting on the bus next to someone with very strong perfume.
It's also worth talking to your doctor about migraine, and ask them to refer you to a migraine specialist for further advice.
In my case, I'm fairly confident that there aren't any foods or smells that trigger migraine, but I know that muscle tension and pain in my shoulders and neck often does. Eye strain, and reading a book with my shoulders hunched over, are also on my list, as are heat exhaustion and feeling really stressed.
Reducing Triggers
Once you have some insight into your main triggers, The next step is to think about what can be changed when travelling to avoid or vastly decrease those triggers.

I have greatly reduced what I carry when out and about, so that the weight of cameras, guide books, and what I call "purse paraphernalia" doesn't cause strain on my shoulders and neck. Outside of the hotel, I carry only what will fit into a small bum bag (fanny pack) in which I keep a little money and a credit card, my phone (which now doubles as my main travel photography camera), any ID and travel tickets I need, a pack of travel tissues and a tiny pot of hand cream. The two essentials are the limited capacity, and carrying it on my hips rather than hanging off my shoulders.
When I sit and read a book, during some of that down time I mentioned, I'll usually sit at a table which makes it easier to position myself and the book so that I'm not bending my neck down to read.
I also find that my neck and shoulder pain respond well to massage, so I look for hotels that offer that facility and book in for a knot-busting massage when needed.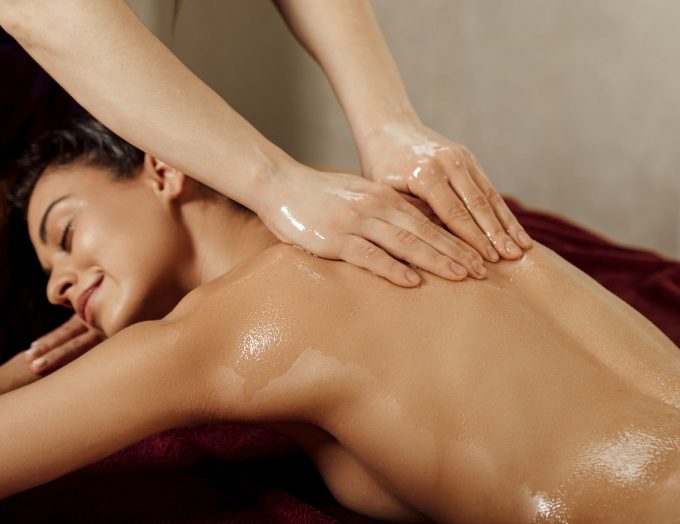 Another thing I'm conscious of is staying hydrated and ensuring I don't get too hot. As I don't tolerate hot temperatures well I've suffered from heat exhaustion quite often, and sometimes that edges over into heat stroke. Symptoms include high temperature, headache, nausea, excessive sweating, dizziness and fainting. Those heat stroke headaches can also trigger a full-on migraine for me. As soon as you spot symptoms, take immediate steps to cool down, hydrate (drinks lots of water) and rest. You may also benefit from taking some rehydration salts with your water to replace salts you've lost in sweat.
Stress is another common trigger, and when things go wrong, or something unexpected happens, it's easy to fall into a spiral of ever-increasing stress and worry. It's certainly easier said than done, but I consciously try to calm down and take a little time to let the anger or upset fade, so that I can accept whatever has happened has happened, and focus instead on what our options are to resolve or deal with it. I'm not always good at putting this one into practice but I'm definitely getting better!
Once you've identified your personal migraine triggers, I hope you will find it easier to think about what small changes you can make to the way you travel that will help you to reduce the incidence of migraines during your trips.
Ensuring Access to Medication
If you haven't already, do talk to your doctor about your migraines.
My doctor has prescribed a daily medication which reduces the tension headaches that often trigger my migraines, and he also identified and treated my high blood pressure, which is another very common trigger. These are medications I take every day.
I also have a prescribed migraine drug which I take as soon as I feel a migraine coming on. If I take this early enough it reduces the severity and duration of the migraine—I combine this with either non-steroidal anti-inflammatory drugs (NSAIDs) or pain killers. Lastly I have an anti-nausea drug which I find useful if taking the other medications late (once the stomach's digestion has already slowed or stopped) as it encourages the stomach to empty, kick-starting digestion to do so.
So that's two main lines of attack that my various medications cover: reducing the likelihood of migraines occurring in the first place, and helping to treat symptoms when they do.
Your doctor (or a migraine specialist) should be able to help you work out which medication options are best for you depending on your medical history, as well as your migraine triggers and symptoms.
A key piece of advice when travelling internationally is to check ahead of time that all medication that you deem essential (including both prescribed and over the counter drugs) is legal in your destination country.
There are many drugs that you might consider basic medication, which cannot be taken into some countries. If your usual drugs are not permitted, talk to your doctor about whether they can prescribe or recommend alternatives that would still be effective, and are legal in your travel destination.
Sometimes the banned list of different countries is surprising: Codeine and Tramadol are not permitted in several countries (whether or not you have a prescription); Pseudoephedrine, found in common decongestant medicines, is banned in Japan; Diazepam, which is prescribed for muscle spasms and inflammation as well as reducing anxiety, is banned in Greece, Japan and the UAE.
Make sure you take a list of your usual medications with you, in case of loss or damage. People often know medicines by their brand names, but make sure you also know the generic name for the active ingredient(s), as you may find not find your familiar brand in other countries. For example, the active ingredient of Immodium is Loperamide. You can ask your local pharmacist or doctor for help with identifying generic names of drugs you use.
When it comes to flying, one of my additional rules is that I carry any key medications in my hand luggage, rather than in my main suitcase (if that's going into the plane's hold). I don't want to risk not having key drugs with me in the event that my luggage doesn't make it to my destination.
One last suggestion is to ensure that you have the original packing (box or bottle) for your medications, so that custom officials can readily identify what you are carrying.
Compromising with Travel Companions
I am really fortunate that my travel partner, husband Pete, is laid back about the extra downtime I build in and very solicitous when migraines strike. He also does more than his fair share of luggage carrying!
But what if you are travelling with people who prefer to be on the go a lot more and are reluctant to "waste" time relaxing or resting?
My best suggestion is to discuss your itinerary in advance and organise additional activities your travel companion(s) can do without you. It can be hard not to feel disappointed that you aren't participating in absolutely every aspect of the trip, but the benefit of keeping migraines at bay is that you are fully able to enjoy everything that you do participate in. For me, that's well worth missing a few activities.
If your travel partner has some interests you don't share, this is also the ideal way to incorporate those into the trip. Perhaps they love to attend local sports events, visit art galleries, or go shopping and you can build in relaxation and recovery time for you whilst they do those activities.
Whilst I'm having a massage (assuming he doesn't want one too), my husband will often head out for a walk (he can walk far more in a day than I can) or take a swim in the pool.
I hope you've found this guide useful and will take away some tips on how to better cope with migraines when travelling. If you have any other recommendations to share that you have found help you deal with your migraines, please do leave a comment and let me know about them!