The publication of How to Bake Anything Gluten Free by Becky Excell follows the phenomenal success of her debut How to Make Anything Gluten Free (previously reviewed here), which prompted Nigella Lawson to endorse Becky as "the Queen of gluten-free baking" (I can only imagine the resulting paroxysms of joy in the Excell household).
Becky's two books are, as I write, number 1 and 2 in Amazon's Gluten-Free Diet chart, her second has followed the first to achieve prestigious Sunday Times bestseller status and the grapevine has rumours of a third book in production.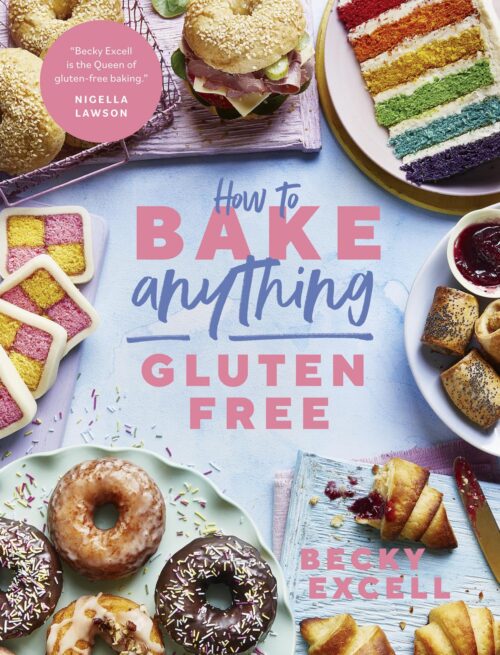 There's a lot to be said for repeating a winning formula and you can barely slide a fag paper between this book and the original when it comes to ethos, cover style, layout, index, look, feel, writing style, photography, instructions, colour palette (for more on all of these, I'll link you back to the review of How to Make Anything Gluten Free). The only things distinguishing How to Bake Anything Gluten Free (HTBAGF) from its predecessor are the chapter titles and recipes (and even here there are riffs on the same themes).
If you're reading this with more than a passing interest in gluten free cooking I suspect you'll have at least flicked through Becky's first book and can guess that this, like its precursor, isn't designed to be a manual or an education in how to become more accomplished in cooking gluten free (GF). Rather it's a set of repeatable, reliable recipes using primarily commercial GF supermarket flour, which complements the repertoire set by How to Make Anything Gluten Free. So I've reviewed it in that spirit.
The "Bake" bit of the book title covers most of the contents: okay, there's a Tiramisu Crepe Cake, a Billionaire's No-Bake Tart, Millionaire's Shortbread, a No-Bake Cheesecake, and a fair few fried doughnut and fritter recipes but those aside your oven will get a decent workout. It's a sweet-focussed book for the most part and the chapter titles reflect that: Cakes and Bakes; Traybakes and Cupcakes; Cookies and Biscuits; Doughnuts; Desserts; Bread; Savoury; Christmas; and Essentials (which are frequently referenced flour-blend, pastry and topping/filling recipes).
Understandably for a second book, there are fewer "standards" and more recipes towards the unusual end of the spectrum, though the Breads section gives a good run out to some common products such as a Super-Seeded Sandwich Loaf, Garlic Bread, Focaccia, Bagels and Pittas. The Christmas section stays thankfully traditional, with Mince Pies, Pigs in Blanket Sausage Rolls, Christmas Pudding and Cake, Stollen Bites and Yule Log among the festive table fillers.
I'd been hankering after flapjacks since the start of the 2020 Covid Lockdown but had failed to bother making any despite tapping my Twitter pals up for their favourite recipes (sorry about that, oops). Anyway, no more excuses, DIY Flapjacks from the Traybakes and Cupcakes chapter were first on my guilt-ridden agenda. I bought frozen blueberries for the purpose as the recipe helpfully riffs off the flapjack theme with fruit, nut and chocolate options. Despite my precise measuring and adherence to the instructions, I regret to tell you that these were christened "flopjacks" by my son. The mixture didn't ever really cohere, and after baking and cooling resembled nothing so much as a flabby granola. The photo flatters the bake, as I had to delicately baby the fragile few slabs I could rescue into a vaguely photogenic tableau. And be warned, the end result was also tooth-squeakingly sugary. Even my sweet-loving husband double-checked that I'd got my measurements right (I had). I'm reverting to friends' recipes on this occasion I'm afraid.
I was a bit disillusioned (and probably borderline diabetic after the flopjack attempt), so went savoury next with Mark's Curry Puffs (Becky's husband's heritage recipe, couldn't resist this) from the Savoury chapter. My heart sank when the filling initially looked as if it was going to be a sodden disaster, but once the cooking time was up it was texturally perfect (and tasted wonderfully rich, savoury and softly spicy, redolent of that singular Malaysian bakery smell). The pastry was difficult to work with as it softened dramatically with handling and as a consequence I reckon the instructions should have you chilling the puffs before egg-washing the tops; my earlier-constructed puffs simply tore apart even with a gentle application of the pastry brush and the uncooked puffs were a pain in the backside to transfer to the trays. My resultant workbench was a war-zone. These small details are so important with GF recipes where the normal rules of baking tend to break down. Also worth noting that the pastry and build process take longer than the book indicates, with an extra 45 minutes needed – in all it was nearly 3 and a half hours' work. That said, the pastry was impressively tender, the filling was excellent, they reheated brilliantly with a quick zap in the meecrowaavé (copyright Nigella) and (if I could muster the time and patience) I'd make them again. I took the baking option rather than frying these, but I'm tempted to experiment with frying that deeply satisfying potato and pea filling folded into rice paper wrappers for a lazy alternative.
After this marathon bake, the Cheese and Jalapeno Cornbread seemed a quick and easy choice to accompany a bowl of chilli. Apart from a lack of clarity on whether the "jalapenos" mentioned in the ingredients list were fresh or from a jar of pickled chillies (I guessed at the latter), it proved to be a straightforward recipe. My husband and our cat-sitter loved it so much that I ended up knocking up (yes, that easy) another just days after eating that one. Next time I'll adjust the sugar and increase the chillies (just personal taste) but it's a cracker of a recipe, and it helpfully keeps happily until the next day and freezes well in portions. The cat-sitter was eating hunks of it on its own, warmed and buttered.
Bouyed by this success, I hopped back to the Cakes and Bakes section to make some good old-fashioned Fruit Scones. A decent scone is a joy and the GF versions tend to be tiny, a bit tough – though paradoxically crumbly – and, well, disappointingly joyless. This was a solidly reliable recipe. The scones were small but decently textured if a little sandy (the eternal curse of commercial GF flours). I think next time I'd see whether using a non-fan setting on the oven would counter the slight dry grittiness – a generous slather of good butter and a heaping of jam definitely helps though. These (like most scones, GF or not) are best eaten on the day, but they froze with no adverse effects.
There are other attractive dishes throughout the book, and it's particularly good to see variety in gluten free recipes paired with easily accessible, reasonably priced ingredients. Most people tackling GF bakes will be using a standard bag of supermarket GF flour and for this reason alone the accessibility of Becky's approach is a huge positive.
If you're a doughnut fan, you'll enjoy the sheer variety of recipes in that chapter (including Maple Pecan Cruller), some of which are variations on the choux/éclair theme (choux is one of the most effective forms of GF pastry so naturally profiteroles and éclairs feature in the Desserts chapter too). Cakes range from a copy-cat Jamaican Ginger Cake at the simpler end of the scale to impressive Piñata or Rainbow Cakes that would look fabulous on a party table. GF sponges can be indistinguishable from their non-GF counterparts and it's to Becky's credit that she's taken advantage of that by pushing the boat out rather than reverting to a standard Victoria sponge. She's also included Mark's Mum's Pandan Chiffon Cake; just seeing a Malaysian speciality in a book like this gives the soul a lift. Alongside Key Lime Pie, Lemon Surprise Pudding and Raspberry Ripple Arctic Roll in the Desserts chapter it's great to find a Sticky Malva Pudding from South Africa and a Japanese-Style Cotton Cheesecake. This subversion of expectations is probably the main reason to have How To Bake Anything Gluten Free on your shelf alongside her first book, particularly if you're cooking for kids (or the young at heart) – she's determined to make sure you have some fun with GF food alongside the everyday dishes she helps you to recreate.
Recipes From HTBAGF
We are delighted to share these two recipes from the book, with permission from publisher Quadrille.
You may also enjoy these gluten free recipes.
If you decide to buy this book after reading our content, please consider clicking through our affiliate link, located within the post and in the footnote below.
Kavey Eats received a review copy of How to Bake Anything Gluten Free by Becky Excell from publisher Quadrille. Our photography by Nicky Bramley.