This time last year I had a disappointing experience at a Hotel du Vin. I'd been wanting to stay at one of the chain's modern, funky hotels for some time and finally made a booking at the Bristol property, known as The Sugar House. Our stay was let down firstly by a particularly poorly planned room (with lots of space which was not well used and astonishingly badly designed lighting to name just a few of the many faults). Reception staff were neither friendly nor helpful, though their colleagues in the bar and restaurant were friendlier. For the price we paid, we had hoped for much more. Whilst it wasn't truly awful, it was unusually disappointing because expectations were high.
Hotel du Vin does, after all, market itself as a purveyor of indulgent, luxurious boutique hotels offering good food and friendly service.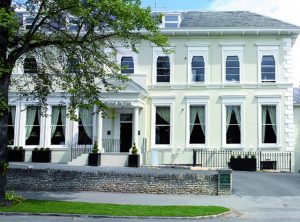 When I was invited to give the chain another try, I was a bit nervous. But I had read many positive reviews of other properties and the Cheltenham branch in the Montpellier district was super handy for a visit to my mother in law, who lives just a short distance away.
I called a few days before our visit with a quick question. I didn't give my name, so the receptionist who took my call had no reason to treat me differently to any other guest, when I asked about afternoon tea and potentially about extending it to a later time than normal. She could not have been more helpful and assured me that their bar staff would be happy to serve tea and cakes even if it was past the usual time for these items.
A good start.
When we arrived, we were pleased to grab one of the last remaining spaces in the hotel's forecourt. Parking directly in the grounds is very limited, though there does seem to be plenty available on the street just in front.
The Room
Quickly checked in by a warm and friendly receptionist, we were shown to our room. We had been assigned to one of the grandest rooms in the house and the receptionist took genuine delight in our awe on stepping into the room. She never bores, she said, of that positive reaction!
In what is a common Hotel du Vin style, the bathroom was open plan within the large bedroom space and, with it's twin bathtubs and twin monsoon showers, quite spectacular. (Don't panic – whilst this isn't a room for couples who are shy with each other, there is an additional small enclosed bathroom with a toilet and sink!)
The room is exactly the kind of space that most of us would never create in our homes but is fun and attractive and appealing for a romantic break. And that bed is one of the biggest we've ever seen. Pete, who is 6 foot 6 inches tall, could not reach the end with his feet when his head was on his pillow. And it's wide enough for about 5 people!
We had a very comfortable night's sleep on decent mattresses and good quality linen. Yes, just the two of us… 😉
There are a few niggles.
I know I'm not alone in needing to visit the bathroom during the night. And I can't be the only one amongst us who has poor night vision and doesn't wish to break (any more) toes stumbling around an unfamiliar room in the dark. You might suggest I simply switch on my bed side lamp but the required effort not to knock over my water or sweep my glasses onto the floor whilst trying to find the switch would wake me up even more than the toilet visit! My usual solution is to leave the bathroom light on and almost close the door, leaving just a chink of light glowing through the crack. But in this room, a single switch controlled both the light inside the bathroom and the lights in the small wardrobe area in front of it. Far too much light in the room to sleep.
In such a lovely room, the TV is horrendous. For a start, given the design of the storage unit in which it sits, it could be a fair bit bigger, to allow it to be more easily viewed when sitting in bed. But much more annoying is the quality of image. Everything was bright red and slightly fuzzy and we had no access to any controls to adjust it. In a room designed for relaxing, and with a DVD player provided, what a shame that the TV precluded us watching anything. (We had packed a couple of DVDS but gave up because of the poor image).
We couldn't figure out the light switches at all. On a panel behind the bed side tables are a selection of different switches. Pressing them seemed to randomly switch on/ off various of the lights around the room. We tried to identify which (unlabelled) switch controls which set of lights, but were unable to do so. The behaviour of a given switch seemed to change depending on which lights were already switched on. We consider ourselves fairly intelligent but this system was beyond us and we resorted to either flicking the switches in a random, increasingly frustrated order or leaving all the lights on even when we left the room, against our usual preference.
Afternoon Tea
The receptionist Lucy won our gratitude when she kindly saved our parking space for us when we popped out for the 10 minute journey to collect Pete's mum and bring her back to the hotel with us. We had invited my mother-in-law to join us for afternoon tea and Pete's sister would join us when she finished work a couple of hours later.
The bar area, on the ground floor of the hotel and facing out to the front, is a comfortable, casual and buzzy space. Seating is a bit mixed though, with sofas so soft you sink so far into them it's genuinely difficult to get back out, style-over-substance stools which are not very restful and some regular armchairs. Each table has a mix of seating around it so one of you might be slouched low and far back on the sofa, another sitting tall on a stool and a third just right in the chair!
Service was very friendly indeed and we acceded to our waiter, Tom's suggestion to order one afternoon tea between the three of us (which includes tea or coffee for two) and add additional teas or coffees to it.
At just £18 the quantity and (more importantly) the quality of this afternoon tea selection really, really impressed me!
Brown and white assorted finger sandwiches were properly fresh (unlike those I've been served in far posher, more expensive and oft-lauded London establishments) and very tasty.
Scones were reasonable, though not the best any of us had enjoyed. But they were decent. And they were lifted by a generous dollop of clotted cream and some of the best strawberry jam I've had. I was very pleased to hear, when I asked if the jam was made on site, that it was indeed home-made. It took all my will-power not to half-inch the cute mini Kilner and remaining jam, let me tell you!
The slices of banana and fruit cake were both excellent. Moist with great flavour and texture. The lemon slice was a touch dry but not unpleasantly so.
I'm afraid the gingerbread men bought out my (very) politically incorrect side as I wondered why the limbs had been amputated. They tasted good, though could do with a slightly stronger ginger and spice hit.
On the top layer the chocolate éclair was again very fresh, light and filled with a light cream.
A strawberry custard tart was excellent. The custard was creamy and loose; not a solid gelatine-set disc. The strawberries were, unusually for this time of year, full of flavour.
The chocolate financiers were rich, moist and decadent.
And those raspberry cream macarons, whilst not perfectly shaped, were very good indeed. Macarons so often disappoint but these delivered on both texture and taste.
When Pete's sister finally joined us, there was still plenty left so this one generous afternoon tea was sufficient for four of us! With a few extra teas and coffees added on (though the original two included in the £18 were re-filled without charge) the bill was comfortably under £30, which I think is very good indeed.
We shall very likely go back for this tea again, next time we visit the family in Cheltenham.
Dinner
To reach the restaurant one descends a grand stair case that curves beneath a stunning chandelier made of suspended cut glass wine glasses.
The hotel sits on a hill so there are windows along the back, letting in a little natural light until sunset.
The huge array of wine bottles on shelves and sills is a simple and attractive decoration. The hop-like greenery around the windows, less so.
The menu is full of temptations and it took us some time to decide.
I asked one of our waitresses about what kind of cut a haunch of venison is. I was impressed when, having described it as a foreleg cut, she came back a short time later to let us know she'd checked and had got it confused with another cut they'd sold previously. She apologised and described it to us again correctly.
The wine list is long and offers many bottles for less than £30 as well as more expensive options. Pete chose a St Nicolas de Bourgeuil (an area of France we love to visit) and it was decanted and left on the table for us.
I ordered a fresh apple juice. I was surprised that none of the staff asked if there was anything wrong when it was left virtually untouched throughout the meal (it had an unpleasantly bitter taste and odd texture) but otherwise, service was attentive and helpful throughout.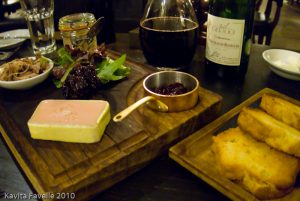 In the end we opted for one of the sharing platters to start – chicken liver parfait, rabbit rillettes and confit duck (£13.95). The contents felt suitably seasonal for our late autumn visit.
Alongside generous portions of all three we were served three thick slices of toasted brioche, a sticky rich onion marmalade, Armagnac prunes and a dressed side salad. The chicken liver parfait was perfect – creamy, fatty and full of flavour. The rillettes were also superb – with fibrous texture and decent fat content and mild but distinct rabbit flavour. The duck was the only disappointment – dry, chewy and tough. Both the onion marmalade and prunes were spot on accompaniments as was the fresh salad. And the brioche too, of course. A generous starter for two, or a lighter one between three.
With it I wanted a glass of dessert wine and asked staff for advice. The Domaine Rotier Gaillac Doux 2007 (£7.95) matched what I'd asked for perfectly; syrupy sweet like a Sauternes with a nice fruitiness.
For my main I chose duck à l'Orange (£14). I confirmed on ordering that I was happy to have it served pink and it was cooked just as I like it. The meat was dense and with good flavour, yet also tender. There was a generous amount of orange sauce with good balance between sweet and sour; none of that sickly sweet dessert-style orange sauce on this plate! I liked the game chips too, though they were quite over salted. And, although I don't much care for watercress, I actually found it's pepperiness a great match with the flavour of the duck and sauce. A successful dish, especially for the price.
Pete opted for the chargrilled Donald Russell rib eye steak and pommes frites with the Béarnaise sauce; he could also have chosen peppercorn sauce or cafe de Paris butter (£21). A thin cut steak, it was medium rather than medium rare as requested but didn't suffer from it as the quality of the meat was good. The skin-on chips were not to my taste but Pete liked them, which is the important thing. The Béarnaise was decent too.
And it came with a Donald Russell branded steak knife, which made us smile!
We were fairly full, but determined to try desserts! There were some lovely options to choose from including a couple of savouries, which almost tempted me.
In the end I chose the choux buns, vanilla ice-cream and hot chocolate sauce (£6.95) and also ordered a glass of the Mozart chocolate liqueur recommended to go with it (£3). The choux buns were hard and crunchy, with none of the soft give that good, fresh choux pastry has. After the delightful chocolate éclair in the afternoon tea selection earlier the same day, I was disappointed. That said, the ice-cream inside was fine and the hot chocolate sauce really excellent (and generously served too).
Pete decided to for a lighter dessert, described as a "cup of espresso ice cream" (£2.50). I assumed it would be an affogato and it was, albeit served separately so you could pour the espresso over the ice cream yourself, but the ambiguous description could equally suggest a small serving of coffee flavoured ice cream, to those unfamiliar with the Italian dessert.
Throughout the meal, service was attentive. And lest you wonder, like I did, whether that was down to staff being advised that I was there to review, I kept a beady eye open and strained an ear to observe the service given to other diners. It was, for everyone within eye and ear shot, warm and attentive and proactive and helpful. It was, simply put, just what one wants. We were impressed.
Breakfast
At either £13.95 for a full breakfast or £10.95 for a selection from their "contintental" buffet we found space for the full. The buffet selection was good though with warm, freshly baked, high quality croissants, cereals and yoghurts, bread, fruit and more.
Both the eggs Benedict and the cooked breakfast were decent using good quality ingredients. Nothing to complain about there. I'd much rather pay just a few quid more for this than some of the truly appalling hotel breakfasts I've had featuring cheap, flacid sausages, extra cheap baked beans, burnt to a cinder bacon and the like for which I've been charged only marginally less.
Summary
This hotel succeeded where it's Bristol sister hotel failed on a number of counts:
Our room was, in the main part, well designed and very appealing. We overheard other customers talking to the reception staff on checking out and the universal opinion on the rooms seemed to be good, even those in much smaller room types.
Staff were well-trained, friendly and constantly looking for ways to improve their guests' experiences. This came through with all the staff we met from reception to bar to restaurant.
Particularly liked
Our open plan bathroom and that great value-great taste afternoon tea.
Not so keen on
See above for my room niggles.
If a hotel can include in the room rate large bottles of toiletries (that the room information folders encourage guests to take home with them) and tea and coffee making facilities (with real milk provided in the fridge), surely it's not necessary to charge an extra £10 per day for internet access? Especially when room only rates range from £145 to £285 a night. I'd prefer to see this kind of curmudgeonly charge rolled in to the room rate too.
Any More Info?
Tucked away in the basement is a small spa where you can enjoy a range of treatments including facials, massages, mud wraps, manicures, pedicures and more. I believe the steam room is also available for use by guests at no charge (but please confirm directly with the hotel).
This stay has restored my faith in this well known British chain and I sincerely hope that my recent experience is more the norm than my first one. I'd definitely book again, for the next visit to the in-laws, especially if I can bag a late booking deal on a quieter date.
Kavey Eats stayed as a guest of Hotel du Vin (dinner, bed and breakfast).