Harumi Kurihara has published over 140 books and is a household name in Japan with an ever-expanding following in the West. Harumi's Japanese Kitchen is her latest title, written specifically for non-Japanese cooks. The book, released in August 2020, promises to take readers back to the basics of Japanese cooking, a cuisine I love and am keen to learn how to cook.
The cover photo of a smiling Harumi makes you feel as though you know her. There's a boldness of design to this book with its dark blue theme which starts on the cover and flows throughout the book. The whole book has a consistent aesthetic with beautiful photos of simple looking plates of food and equipment. The recipes are written in a traditional style but feel quite rigid because of the aligned text and the big spaces between letters.
The book starts with a foreword by the author that touches on her personal journey with learning English and her experience teaching Japanese cookery in Hawaii, where she often received feedback that Japanese cooking is too "time consuming". The aim of this book is to change that image and show that "Japanese cooking is fun". She explains that the dishes chosen for the book have been handpicked for people outside of Japan, using ingredients readily available overseas.
There is a great page at the start that describes how to use the book, including what measurements have been used and what types of sugar, flour and soy sauce. This is such a helpful addition; I would welcome it in other books. The contents page explains where we can find stories and more information on equipment, techniques and cookery methods, and an additional page describing each chapter. As there are a few pages on how to cook rice and dashi properly, the book feels like a true lesson in cooking. I love that there is a page dedicated to the ingredients used in the book.
Harumi's Japanese Kitchen is split into 4 remarkably simple chapters Meat and Fish, Vegetables, Rice, Noodles and More, and Desserts. To help you understand the contents, each of the chapter pages explains what recipes you can expect within. I adore the simplicity of a book where no recipe takes up more than one page, but has one full page dedicated to an image and another to the description of the recipe.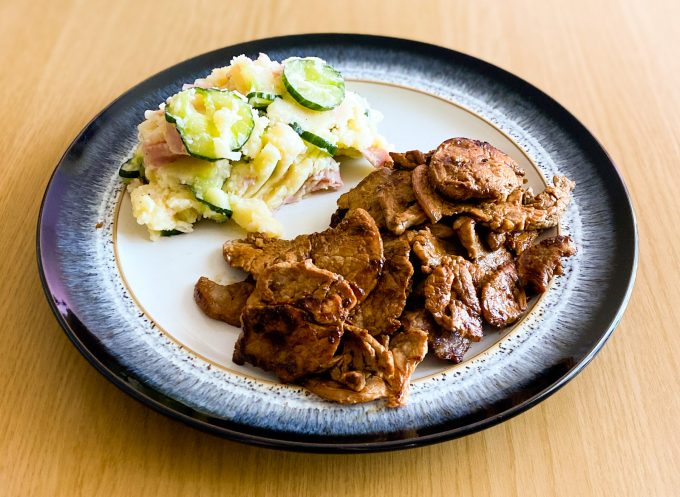 I tabbed nearly every page in this book, as the dishes look so tasty! I decided to start with Ginger Pork served with Potato Salad. I appreciated the simplicity of this dish in which thin slices of pork loin are quickly marinated in mirin, soy sauce and ginger before being flash-cooked in a hot pan and served with the cooking juices. The fresh but spicy ginger flavour of the dish was wonderful and will be a permanent addition to my cooking repertoire. I was very anxious about the potato salad recipe at first; I've never made mash in a microwave before and was worried it would be soggy. The recipe calls for cold mashed potatoes mixed with salted cucumber, raw onion, ham and mayonnaise – it was delicious, and the potatoes cooked perfectly!
The Beef Curry also didn't disappoint. An easy recipe to follow that felt more like a spiced stew with plenty of onions, carrots and potatoes; the curry base is made with ground spices of garam masala, turmeric, coriander and cardamom pods as well as fresh ginger and garlic. As I was cooking the dish, it tasted a little bitter until the surprise ingredient was added – tomato ketchup, which added the sweetness needed. I had to cook the curry a fair bit longer than the recipe called for, as the potatoes were still hard.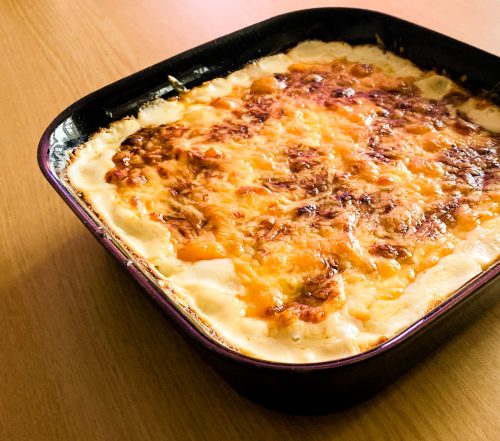 My next dish was the Macaroni Gratin, a mac and cheese type dish with chicken, prawns and mushrooms. I loved the addition of prawns but found the dish too rich; there was a lot of cream and cheese with nowhere near enough macaroni to soak it up. I'd say the ratios of this dish were unbalanced but I enjoyed a small portion of it all the same.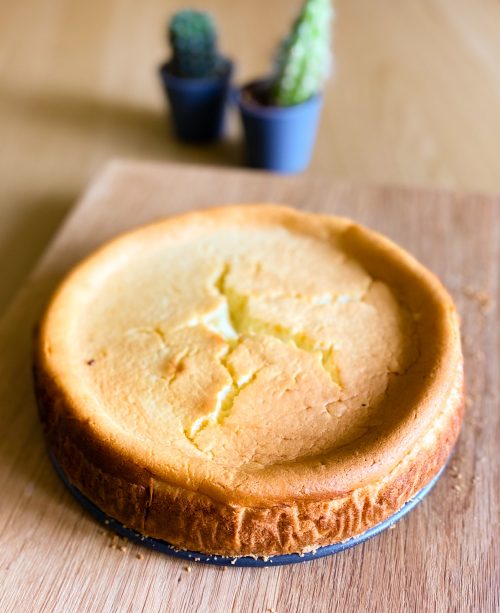 The final dish I prepared was the Foolproof Cheesecake, a classic baked cheesecake with no additional flavourings. The recipe felt familiar however I needed to whisk for longer than expected and wasn't clear on the consistency I was looking for. I almost gave up too soon but kept whisking until it thickened. The cheesecake baked perfectly and was exceptionally light to eat. It lacked a little oomph, so I served it with a homemade lime curd to give flavour and acidity.
There are so many more dishes that I want to make from the 53 recipes in this book including the Aubergine and Beef Cooked in Miso, Fried Chicken in Leek Sauce, and Katsu-don (breaded pork on rice), and I'm hopeful these will be as straightforward to follow as those I've already cooked. An overall appealing book with simple but bold imagery, Harumi's Japanese Kitchen is faithful to its premise of taking Japanese cooking back to basics.
Recipes from Harumi's Japanese Kitchen
We have permission from Conran Octopus to share some recipes with you from the book:
More Harumi
You may also enjoy our review of Everyday Harumi, one of Harumi Kurihara's previous cookbook titles.
If you decide to buy this book after reading our content, please consider clicking through our affiliate link, located within the post and in the footnote at the end.
Kavey Eats received a review copy of Harumi's Japanese Kitchen from publishers Conran Octopus. Book cover and book photography provided by Conran Octopus, all other images by Jack Thomas.