A new addition to this year's Hyper Japan Event was the Harro Foods Japan Food Show, which showcased new and existing product lines from a range of producers and brands. Harro Foods is a Japanese food importer, wholesaler and distributor, and their exhibition at Hyper Japan allowed them to present some great food and drink items to trade, media and other interested visitors.
Read on to discover the products we were most excited about.
Kaneku's Frozen Yuzu Peel
Although fresh yuzu fruit are now (occasionally) available in specialist stores, they are expensive, and of course, very seasonal. Kaneku pick yuzu grown in the Shikoku and Kyushu regions of Japan, remove the peel and freeze while still fresh. The finished product is the very essence of this wonderful citrus.
Kenko Garlic Soy Sauce and Miso Sauce
Kenko make Japanese mayonnaise (richer than the UK equivalent) and a range of delicious sauces (perfect to use as salad dressings and sauces). My favourites were the Garlic Soy Sauce and the Sweet Miso Sauce.
Mishima Yukari Drink, Rice Seasoning and Yuzu Miso
Red Shisho (also known as perilla) is a herb with a very distinctive taste. You will often see the leaves of the green version served with sashimi, alongside grated daikon. Here, Mishima have used the red shisho herb to make a very unusual and refreshing soft drink. I loved this, though the flavour may not be to everyone's taste!
Mishima also make a red shisho rice seasoning mix, which is of course great on rice but can be used to season and add flavour to many dishes.
The other product I loved was their yuzu miso, sold in a squeeze bottle, and a fantastic blend of sweet and savoury white miso with yuzu citrus.
Otsuka Green Tea
It was lovely to enjoy a freshly mixed matcha tea made for me at Otsuka's stand. This family owned company was established 150 years ago, and makes high quality green teas in Shizuoka prefecture.
S&B Curry Pastes
Japanese curry (kare) is based on Indian flavours by way of the British (merchant navy). As such, it has a distinct taste and texture of its own. S&B are the best known producers of quick-to-use curry sauces and blocks that can easily be made into sauce.
Sansu Yuzu Drinks
Sansu are based in England, and make their range of refreshing yuzu drinks here too. They offer a range of flavours including yuzu original, as well as yuzu + pear, yuzu + ginger, yuzu + cucumber and others. I enjoyed the original, ginger and cucumber ones best.
Shibanuma's Soy Sauces
There are many producers of soy sauce in Japan. One of those known for its quality is Shibanuma, founded in 1668. They still make their soy sauce to traditional methods, maturing it in wooden barrels for a year. I loved both their natural soy sauce and their yuzu version, and they also make a lower salt version too.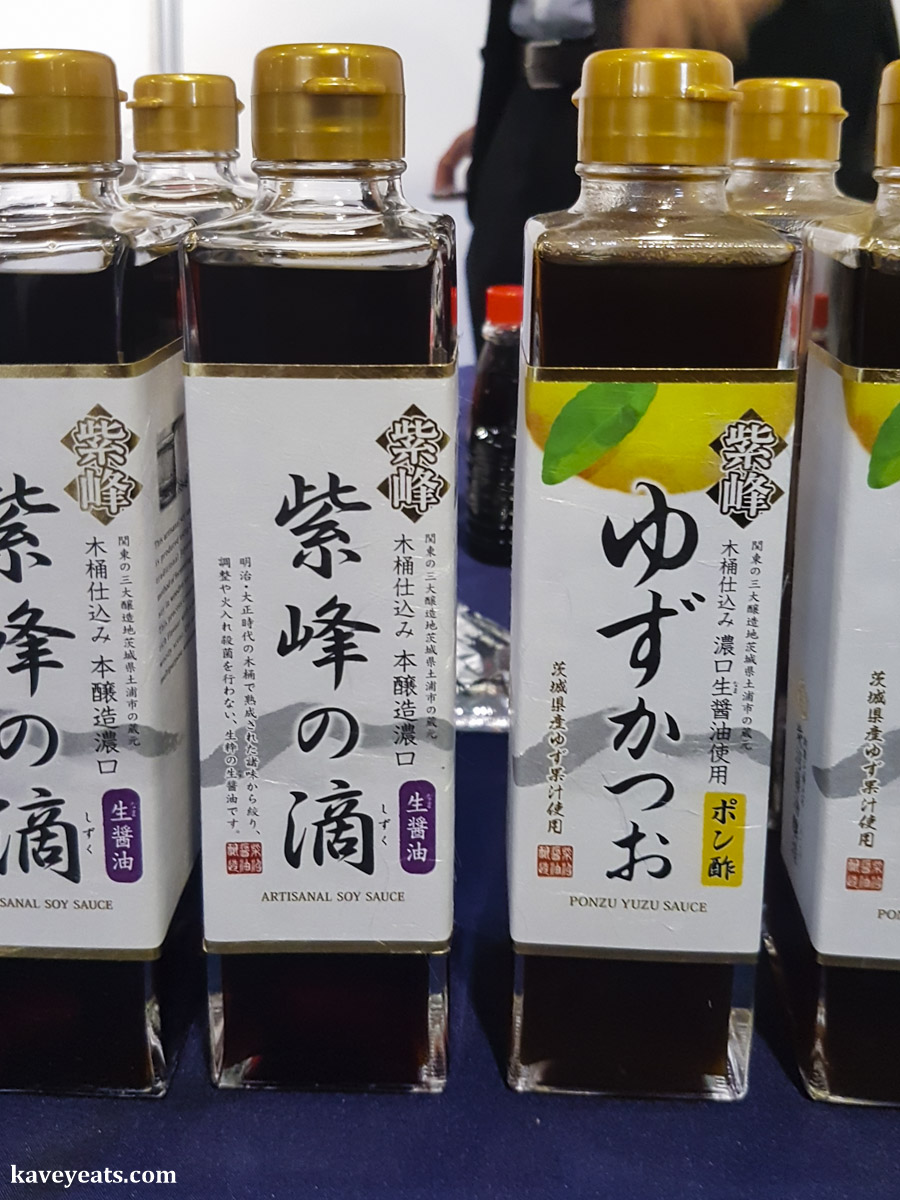 Toa Food's Green Tea Soba Noodles
The addition of matcha (green tea powder) gives these soba (buckwheat) noodles a beautiful colour along with the earthy, grassy flavour of matcha.
Ueman's Gluten-Free Rice 'Panko'
Food coated in panko (Japanese breadcrumbs) and fried is a firm favourite, but off the table for those with allergies to gluten. This new gluten-free version is made from non-glutinous rice, and cleverly feels and tastes just like classic panko.
Some of these products are already on the market, available online or from specialist Japanese retailers. Others are newly developed and will hopefully be available soon.
Kavey Eats received press entry tickets to Hyper Japan and the Harro Foods Japan Food Show.