Making your own ramen noodles is a joy, and allows you to finesse the thickness and texture of your noodles according to the recipe you are planning to cook. From thin and hard to thick and soft, this recipe from Dumplings and Noodles by Pippa Middlehurst creates a springy, chewy noodle.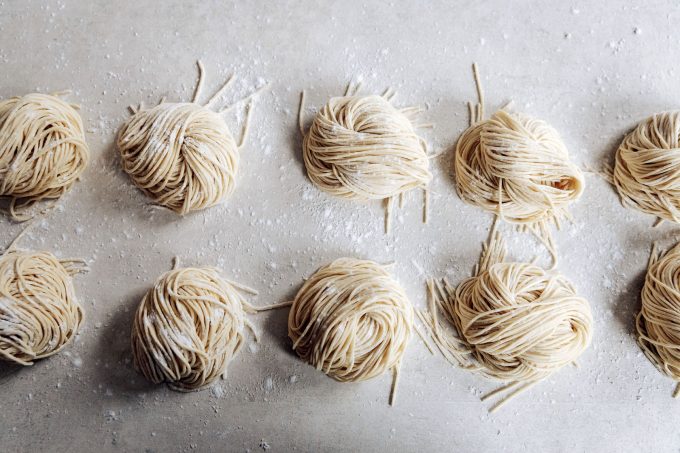 Read our in-depth cookbook review of Pippa Middlehurst's Dumplings and Noodles.
Handmade Ramen Noodles
The word 'ramen' comes from the Chinese la mian, which means 'hand-stretched noodle'. Although this isn't how ramen noodles are produced now, it indicates that they originated in China. Firmly rooted in Japanese culture today, ramen is very much its own entity with its own rules. The variety of ramen noodles found in noodle shops in Japan is vast. Some are thin and extremely hard, some are thicker and softer, some are wavy and some straight. The noodle is the best vehicle for the soup and a true ramen master knows how to create the perfect chewy, springy noodle for a broth.
Servings
4
portions (280 grams)
Ingredients
198

g

(7oz / 1½ cups) high-gluten flour, such as extra-strong bread flour

1

g

(0.03 oz) kansui (see below)

½

capsule riboflavin, to add colour (optional)

Potato starch or cornflour (cornstarch), for dusting

1

g

(0.03 oz) salt
Recipe Notes
Special equipment: pasta roller, and a stand mixer (optional)
A Note on Kansui: When you add an alkali salt to noodle dough, it changes the pH of the dough, increasing bond formation between the gluten strands and making the network tighter and firmer. This leads to a chewier and springier noodle that will absorb water less quickly, which is perfect if the noodle is destined to be set in a bath of hot soup, and ramen noodles are tailor-made for the purpose. In commercial ramen production, a combination of alkali salts are used depending on the properties required from the noodle, whether thick, thin, hard or soft. When making these noodles at home, you add kansui – an alkaline mixture of potassium carbonate and sodium bicarbonate or bicarbonate of soda (baking soda) – to the dough. Kansui is available to buy, but it's very easy to make it yourself.
Making Kansui Yourself: Sprinkle 100g (4oz) bicarbonate of soda (baking soda) onto a foil-lined baking tray and bake in the oven (preheated to 120°C/250°F/Gas ½) for 1 hour. As it heats, the sodium bicarbonate changes into sodium carbonate, an alkali salt that can be used to change the pH of the noodle dough and make it firmer. The powder will lose about a quarter of its weight. Remove the kansui from the oven and transfer it to a clean airtight jar by making a crease in the foil and pouring it into the jar (taking care to avoid contact with your skin as your pour). Seal with a lid and use the kansui as directed in the recipe. The powder will keep for up to a month. Don't leave the jar open for too long, allowing the kansui to come into contact with the air, or it will absorb moisture and be less effective.
Instructions
Combine the flour and kansui in a mixing bowl with the salt, 86ml ( ⁄cup) of water and the riboflavin (if using) and combine until the mixture forms rough pieces. You can use the paddle attachment on a stand mixer to do this. Once dry straggles start to form, bring the dough together into a ball. Apply pressure using the palm of your hand in a downward motion and continue to do this until the straggles of dough are forced together to form a rough ball. Cover the bowl with a clean, damp tea (dish) towel and leave to rest for 15 minutes.

In the meantime, set up your pasta roller, clamping it firmly to the worktop as the dough is extremely hard. Remove the dough from the bowl. Take a rolling pin and press firmly onto the dough, section by section, until it is thin enough to pass through the pasta roller on its widest setting, then feed the dough through the roller. What will emerge may be quite rough and ragged, but this is okay. If the sheet has separated, or holes have appeared, don't worry. Pass the dough through again on the widest setting and repeat this step until you have one complete sheet of dough, with no holes.

Reset the pasta roller to the next narrowest setting and pass the sheet of dough through, then reduce the setting once more, to the third narrowest level, and feed the dough through a final time.

Now fold the dough in half, lengthways, and pass through the pasta roller on the widest setting. Repeat this sheeting and folding process until you have a smooth and even-textured sheet of dough. The edges of the sheet may have become dry and cracked during folding, but this is okay. Gently fold your sheet of dough in half and leave to rest for 30 minutes, covered with a tea (dish) towel or cling film (plastic wrap).

Once the dough sheet has rested, unfold it and pass through the pasta roller to the final desired thickness, before cutting the dough into noodles. On my pasta roller, this is number 4 for a thick noodle, number 5 for a medium noodle and number 6 for a thin noodle. The thickness of your noodle will be dictated by the recipe you plan to use it in.

To create your noodles, pass the dough through the cutting attachment. Lightly dust the noodles with potato starch or cornflour (cornstarch) to keep the strands separate. Ramen noodles get better with age – resting them for 24 hours will improve the texture. They are good for up to 5 days in the fridge, but can also be enjoyed straight away.

Cook the noodles in a pan of boiling salted water until al dente (between 1½ and 2 minutes, depending on their thickness). Rinse in cold water and serve in your chosen recipe.
We have made the ramen noodles a few times, and used them in Pippa's Dan Dan Noodles recipe, which is delicious.
If you decide to buy this book after reading our content, please consider clicking through our affiliate link, located within the post and in the footnote at the end.
Kavey Eats received a review copy of Dumplings and Noodles by Pippa Middlehurst from publishers Quadrille. Recipe extracted with permission. Book cover and original recipe images provided by Quadrille, photography by India Hobson & Magnus Edmondsen. Additional images Kavey Eats.