Following on from Masahiro Kasahara's Quick Pan-Fried Gyoza Disks, here's another great idea for anyone yearning for the flavours of Japanese gyoza, but not wanting to spend the time shaping individual dumplings. Gyoza-Filling Rice Bowl is the first recipe we made from Tim Anderson's JapanEasy Bowls & Bento cookbook.
Find out more about the cookbook in our full review of JapanEasy Bowls & Bento.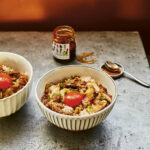 Gyoza-Filling Rice Bowl (Gyoza No Tane Donburi)
Lately, I've come across several recipes for what are sometimes fancifully called 'wrapper-less gyoza rice bowls', i.e. stir-fried gyoza filling on rice, i.e. something for people who want to eat gyoza but don't have any frozen gyoza in the house and can't be arsed to make them. Frankly, this is ingenious – it's about as quick and easy as soboro (page 144) and, of course, it does taste like gyoza, but you can eat it with a spoon. Magnificent!
Ingredients
1

tablespoon

oil

200

g

(7 oz) fatty minced (ground) pork

6

leaves

Chinese leaf (napa cabbage), cut into 1 cm (½ in) pieces

4

garlic cloves, minced or finely grated

15

g

(½ oz) fresh ginger root, peeled and very finely chopped

1

teaspoon

sesame oil

2

tablespoons

soy sauce

2

tablespoons

sake

1

tablespoon

cornflour (cornstarch)

1

teaspoon

rice vinegar or lemon juice

salt, MSG and white pepper, to taste

2

portions cooked rice

2

egg yolks

2

spring onions (scallions), finely sliced

1

teaspoon

sesame seeds

1

teaspoon

chilli oil (optional)
Instructions
Heat the oil in a frying pan (skillet) over a high heat. Add the pork mince, Chinese leaf, garlic and ginger and stir-fry for about 8 minutes until the pork is lightly browned. Stir together the sesame oil, soy sauce, sake, cornflour and vinegar, then pour this into the mince mixture. Let it boil for a few minutes, then taste and adjust the seasoning with salt, MSG and lots of white pepper. Scoop the pork onto piles of rice in deep bowls and place the egg yolks on top of each one. Garnish with the spring onions and sesame, drizzle over the chilli oil, if using, and serve hot. This lasts four days in the refrigerator.
This was such a quick, simple and delicious recipe, perfect for a quick midweek lunch or evening meal.
The leftovers also work superbly well reheated later in the week, so it's worth making the full amount or perhaps a double batch. In this case, add the egg yolks fresh when serving.
Made the recipe? Let us know how you got on in the comments.
You may also enjoy these recipes, cookbook reviews and restaurants reviews for Japanese food.
Kavey Eats received a review copy of JapanEasy Bowls & Bento by Tim Anderson from publishers Hardie Grant. Book photography by Laura Edwards.