When you think of foods that benefit from deep frying, what springs to mind?
For me, the list was long… fried chicken, battered fish, proper chips, pakoras, tempura, tortilla chips, sesame prawn toasts, whitebait, crisps – not just potato but courgette, parsnip and beetroot, fried tofu, onion rings, samosas, calamari, gulab jamon, even deep fried mars bars…
But before all these ideas came doughnuts!
So when we were sent a Judge Cookware Multi Basket deep fat fryer to review (coming soon), the very first thing we made just had to be doughnuts. Well, you would, wouldn't you?
With a pile of cookery books awaiting review, we flicked through Pure Vanilla by Shauna Sever and chose her Glazed Vanilla Bean Doughnuts recipe to try.
Published by Quirk Books, a young American publishing company based in Philadelphia, Pure Vanilla has been written primarily for the US market, which means you'll need to make a little effort to translate aspects of the recipes. Fahrenheit cooking temperatures and cup measurements are easy as conversion charts are handily provided inside the back cover. You'll also need to parse ingredients such as all-purpose flour, confectioners' sugar, heavy cream and sticks of butter… but in the era of Google, that's not too onerous.
Often, single ingredient cookery books can be a little too gimmicky, adding the chosen ingredient to recipes in which it doesn't really belong or contribute just to shoe-horn them into the book. But I really like the kind of recipes Sever has included in her collection – I'm drawn to Light, Crisp Vanilla Waffles; Vanilla Cloud Cake; Tres Leches Cake; Vanilla Snaps; Vanilla Biscotti; Vanilla Bean Marshmallows and Vanilla Mojito, amongst others.
There are some weaknesses with the book though:  the index is truly appalling – it lists over a third of the recipes under "vanilla", which is surely a given in every single recipe in the book (and should have been excluded as an ingredient in the index)
Not all recipes have accompanying photographs, which is a shame since those that do instantly appeal more strongly.
The recipe we made was straightforward to follow and came out beautifully. The colour of our finished doughnuts appeared a touch dark, and we worried we'd overcooked them but they were perfect in both taste and texture, with a light and fluffy interior and a perfectly judged vanilla flavour – it came through clearly, made a definite contribution but didn't overwhelm.
As we made half the amounts given, I'm sharing the amounts we used rather than those in the original recipe.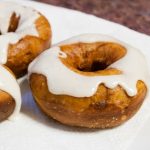 Glazed Vanilla Bean Doughnuts
Ingredients
For the doughnuts:
1 1/2

tsp

dry active yeast

2

tbsp

warm water

3 heaped

tsp

granulated sugar

120

ml

whole fat milk

, at room temperature

1 1/2

tsp

vanilla extract

(not essence)

1

tsp

vanilla bean paste

2

egg yolks

30

g

unsalted butter

225

g

plain flour

, plus a little extra for kneading

1/2

tsp

salt

vegetable oil

, for frying
For the glaze:
100

g

icing sugar

1

tbsp

whole fat milk

pinch

salt

1

tsp

vanilla bean paste
Recipe Notes
Note: Vanilla bean paste is a thick paste full of actual vanilla seeds and is a great alternative to scraping a real vanilla pod. I used Nielsen-Massey's paste, which I think is excellent. If you can't find this product, either use the seeds from a quarter of a vanilla pod or an extra teaspoon of extract instead.
Instructions
In the bowl of a stand mixer, whisk together yeast, warm water and one teaspoon of the granulated sugar. Leave to stand until it foams, about 5 minutes.

Using the paddle attachment on the mixer, at low speed, mix in the remaining granulated sugar, milk, vanilla extract, vanilla bean paste, egg yolks and butter.


Add the flour and salt and mix for a further 3 minutes, occasionally scraping down the sides of the bowl and the paddle.


Turn out the dough onto a floured work surface and knead by hand, briefly, dusting with flour if you need to.


Place in a large bowl, cover and leave to rise in a warm place until doubled in volume. Ours took a couple of hours; you can also leave in the fridge to rise more slowly overnight).


Roll into balls, flatten and cut a whole out from the centre of each one. We used an icing nozzle, as we didn't have a suitably small cookie cutter. We also combined the dough from the four holes into two small round doughnuts.


Cover with a clean cloth and allow to rise for 30 to 45 minutes or until doubled in size.


Heat oil to about 180 C and fry doughnuts, in batches, until golden brown – about 2-3 minutes per side. Sever warns against turning too often, as this can result in greasy doughnuts.


Transfer to paper towels to drain.

With thanks to Quirk Books for the review copy of Pure Vanilla by Shauna Sever and to Judge Cookware for the multi basket deep fat fryer.