Cold tofu is the perfect base for this refreshing, light and full-flavour dish hailing originally from the capital city of Shaanxi Province in China. With no cooking necessary it's very quick to assemble and, as they are long-life, you can keep the ingredients ready in your store cupboard.
Serve for a light, summery lunch for two people or as a side dish or starter for four.
This recipe is extracted from Tofu Tasty by Bonnie Chung and published with permission from Pavilion.
Find out more in our full review of Bonnie Chung's Tofu Tasty.
This is a very adaptable recipe. Bonnie advises that you can quickly and easily adapt the toppings here to suit the ingredients you have at home; silken tofu loves sharp deep flavours, so have a look in your cupboards to see what you have that fits this profile. I have used capers, chopped gherkins and pickled onions for sharpness; Worcestershire sauce, balsamic vinegar or date molasses for sweet acidity; and for crunch, cashew nuts and pine nuts work a treat.
Fully Loaded Spicy Xi'an Cold Tofu
This recipe is, by far, the easiest dish in this book; but more than that, the effort-to-results ratio is embarrassingly high. This is the dish I roll out on desperate evenings, when I am so hungry and tired that I can't even muster up the energy to heat a pan, yet need something quick and satisfying. With this dish at my fingertips I have staved off many a takeaway order. Traditionally – and perhaps surprisingly – this is based on a breakfast dish in China, served with hot steamed rice. The tofu is chilled and cool like ricotta, but laced with zingy-hot, salty and sour flavours and finished with crunchy, mouth-popping toppings. I love it with plain rice or noodles, to soak up all those tantalizing flavours.
Ingredients
For the tofu
300

g

(10 1⁄2 oz) silken tofu block, drained for 20 minutes

1

tsp

Sichuan preserved pickled vegetables (find this in Asian stores in jars or packets)

1

spring onion (scallion), finely sliced

1

tbsp

Chinkiang vinegar

2

tsp

light soy sauce

2

tbsp

Chinese chilli oil with sediment

1

tsp

toasted sesame oil

rice or salads, to serve (optional)
For the topping (choose just one, or as many as you like)
fried red-skinned peanuts or soya beans

Bombay mix

crisp fried garlic or onions toasted seeds
Instructions
Simply pop the silken tofu out of its box or tray, there's no need to press it. Place in a small deep bowl (for people to share) and top with the Sichuan preserved vegetables and spring onion.

In another small bowl, mix together the vinegar, soy sauce, chilli oil and sesame oil and pour on top of the tofu.

Finish with something crunchy, such as fried peanuts, Bombay mix, crispy garlic or onions or toasted seeds.

You can eat this with rice as I do, but it's also great as a summer dish, with salads.
Give it a go and let us know how you get on!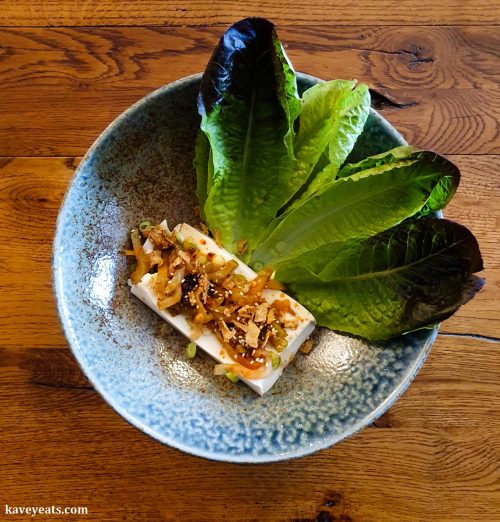 More tofu recipes on Kavey Eats.
If you decide to buy this book after reading our content, please consider clicking through our affiliate link, located within the post and in the footnote below.
Kavey Eats received a review copy of Tofu Tasty: Imaginative Tofu Recipes for Everyday by Bonnie Chung from publisher Pavilion. Book photography by Yuki Sugiura.