We love cooking Diana Henry recipes, they are always so full of flavour, and easy to follow too. She's written twelve wonderful cookery books books, including personal favourites A Bird in the Hand, and How to Eat a Peach. In her latest, From The Oven To The Table, she shares bung-it-in-the-oven recipes that are perfect for midweek, or weekend cooking when you don't want to spend all your time in the kitchen.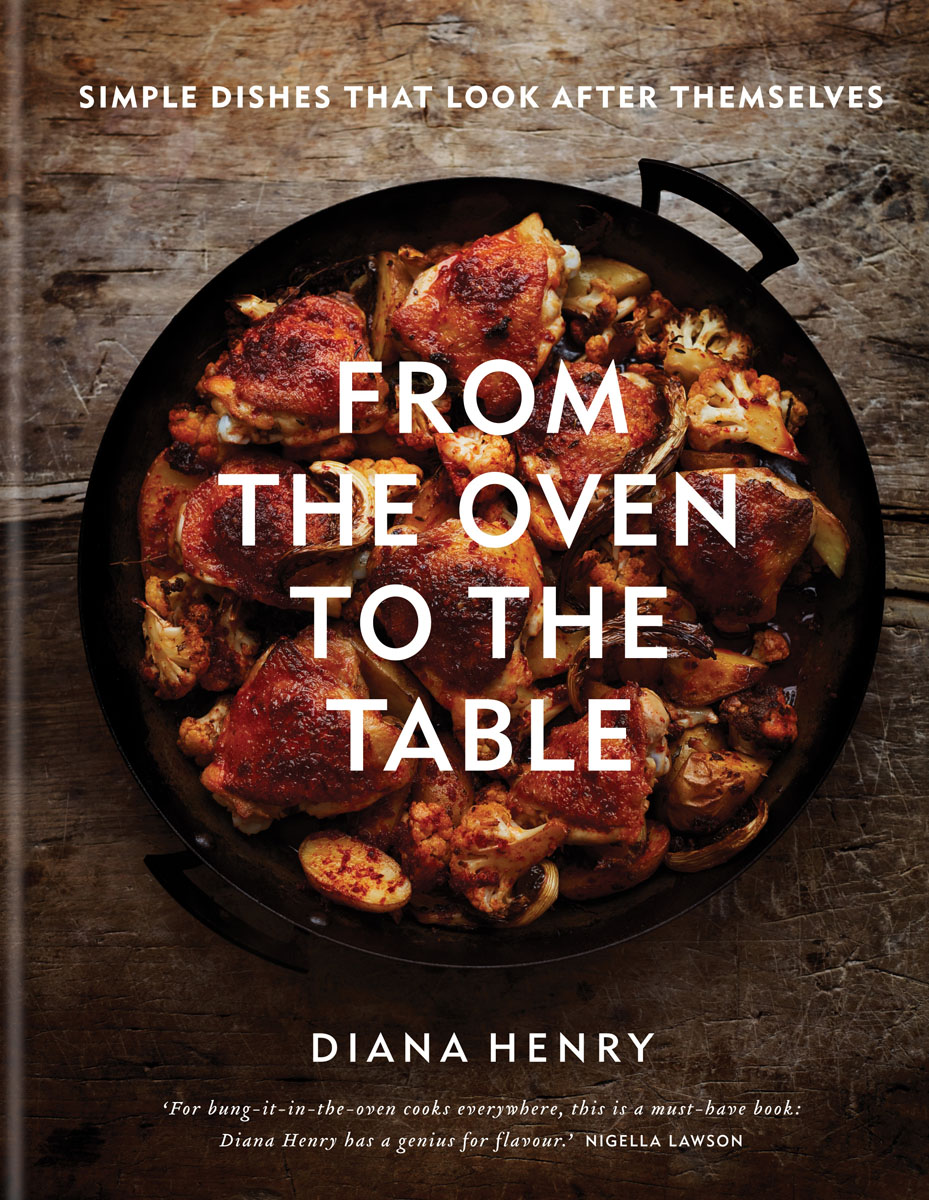 Not every recipe is a one-pot dish, though many are. Some, you'll want to serve an additional side dish with. And a few of the recipes are for excellent side dishes rather than the central dish of your feast. What all have in common is minimal or quick prep, and mostly hands-off cooking in the oven.
toad in the hole with leeks and cheddar cheese
The book is split into seven chapters: Simple Suppers (sausages, chops, fish fillets & the like); My Favourite Ingredient (chicken thighs forever); Asparagus to Aubergines (spring & summer vegetables); Beetroot & Bitter Leaves (autumn & winter vegetables); Cook Until Tender (grains & pulses); Weekends, High Days & Holidays (joints, birds & whole fish); and Something Sweet (puddings & cake).
After her introduction, Diana suggests some key store cupboard essentials, from oils and vinegars, to tin and jars (of anchovies, condensed milk, tomatoes, olives, stem ginger and more); from condiments, pastes and sauces, to spices; from grains and pulses, to nuts, seeds and dried fruits, not to mention a wide range of sweeteners (from honey to muscovado), and alcohol.

roast lamb with apples, somerset cider brandy and cream
So many recipes appeal, from baked sausages, apples and blackberries with mustard and maple syrup; to salmon fillets with miso, shiitakes and pak choi; to creamy gratin of smoked haddock, tomatoes and potatoes; to lamb chops with sweet potatoes, peppers and mojo verde; to chicken with plums, honey and pomegranates; to butter roasted aubergines and tomatoes with freekeh and koch-kocha; to smoked paprika-based courgettes, tomatoes and green beans with eggs; to melting baked onions with parmesan cheese and cream; to roast cabbage wedges with XO crumbs; to roast squash and tofu with soy, honey, chilli and ginger; to roast purple sprouting broccoli with cream and parmesan cheese; to baked baby pumpkins stuffed with wild mushrooms, leeks, grains and lincolnshire poacher cheese; to slow-cooked leg of lamb with sherry and autumn vegetablse; to gigot of monkfish with roast lemon salsa verde; to baked seabass with asian dressing; to chocolate and red wine cake. There's a good index at the back, making it straightforward to search by ingredient, whether it's cheese, chicken or chorizo.

chicken and cauliflower with 'nduja
Most recipes have photos, but not quite all. I am drawn most to those with, as the images are simple, homely and appealing and make the recipes feel achievable.
We've cooked four dishes from the book so far: chicken and cauliflower with 'nduja; toad in the hole with leeks and cheddar cheese; roast lamb with apples, somerset cider brandy and cream and we adapted the recipe for slow-roast hoisin pork shoulder to make a slow-roast hoisin lamb shoulder instead. All delicious, made from straightforward easy-to-follow recipes.
From The Oven To The Table Recipes
The publishers have given us permission to share two recipes from the book with readers of Kavey Eats.
Roast leg of lamb with basil, pecorino, garlic and wine
Ginger-roasted plums with lime, rum and muscovado cream
If you decide to buy this book after reading our content, please consider clicking through our affiliate link, located within the post and in the footnote at the end.
Kavey Eats received a review copy of Diana Henry's From The Oven To The Table from the publisher Mitchell Beazley. Currently available from Amazon UK for £16.12 (RRP £25).