Since the first branch opened in Brixton in 2008, Franco Manca – now a chain with over 30 stores – has impressed both critics and regular customers alike with its simple menu of sourdough pizzas. Since then, the chain has first taken on investment from and later been purchased by Fulham Shore PLC, though I believe founder by founder Giuseppe Mascoli is still very nuch involved.
The question in my mind when I visited the recently opened Broadgate Circle branch (about half way between Moorgate and Liverpool Street stations) was whether they'd retained the style and quality of their pizzas given the fast pace of expansion not to mention the new ownership.
The Broadgate Circle branch opened last year and is clearly popular – we visited early on a Wednesday evening and within an hour, almost every table inside and out was taken.
The Franco Manca menu has 6 semi-permanent pizzas (updated on a seasonal basis), a couple of salads and a straightforward drinks list. On the reverse you'll find a little more information on their ingredients. A specials board lists two daily pizzas – one meat based and one vegetarian and a couple of bites, that make good options for a starter.
There is a dessert menu too if you have space, though we did have to ask for it so perhaps not many diners do!
We asked if the starters (Burrata Pugliese and Buffalo mozzarella with wild pig fennel salami) were sufficiently different to each other to be worth ordering both and, from the answer, we thought that the mozzarella came wrapped up in the salami and cooked but we must have misunderstood as both were served fresh and whole with an identical salad of cherry tomatoes and rocket. The burrata came on a chargrilled toast and the mozzarella with a few slices of salami. That said, both dishes were very good, and the two cheeses certainly had a different flavour profile as well as the expected difference in texture. In retrospect, one of these between two people would be plenty.
The main menu lists 6 pizzas: a simple tomato, garlic and oregano (£4.95); a classic margherita of tomato, mozzarella and basil (£6.40); a no-tomato courgettes, basil, buffalo ricotta and grana cheese (£7.35); a Gloucester Old Spot ham, mozzarella, ricotta and wild mushrooms (£7.35); a capers, olives, anchovies and mozzarella (£7.25) and a mozzarella and chorizo (£7.55).
The specials board gave us two more choices: the no-tomato meat special with mozzarella, mixed peppers, garlic, capers, Gloucester Old Spot  sausage, wild rocket and grana cheese (£8.25) and the veg special with tomato, mozzarella, dried San Marzano tomatoes, goat's curd and watercress pesto (£8.15).
We chose the two specials, intrigued by the unusual combination of ingredients on each.
Franco Manca bases are sourdough in the pillowy-soft Naples style;  cooked hot and fast in wood-fired pizza ovens. They're fabulously delicious and I love the texture.
The meat one seemed a little sloppily thrown together when it came to the toppings; because they were not very evenly spread, one side of the pizza had an enormous swathe of crust – I do like crust, especially when it's this good, but don't really need any more than the usual ratio! The very delicious Italian-style sausage was cut into a few enormous pieces whereas I'd have preferred it chopped a little smaller so it would scatter better across the pizza. That said, flavours and ingredients were really rather tasty.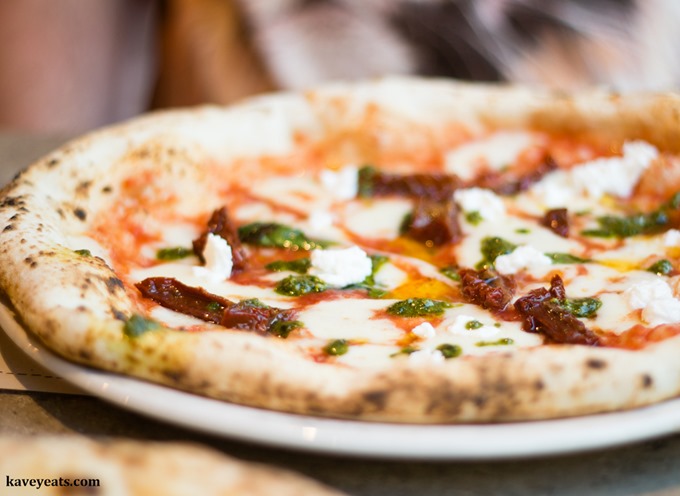 The toppings on the veggie one were more evenly spread and the pizza was really rather beautiful – bright white goat's curd, vivid red fresh tomato base, dark red dried tomatoes and the vibrant green of the watercress pesto. And it tasted just as good as it looked!
When it comes to desserts, I really like that all ice creams and sorbets are available in a single scoop small portion (£2.65) – perfect for satisfying a sweet craving after a filling pizza. The raspberry sorbet we chose was perfect – intensely fresh ripe raspberries and a pleasant smooth texture.
The tiramisu (£3.95) was served in a generous portion but because Franco Manca favour a no-mascarpone recipe, it avoided the usual pitfall of being too heavy and rich. It was wonderfully light and very tasty. To our surprise, we finished the lot!
The pricing at Franco Manca continues to impress, with our three course meal, one beer, one soft drink and a cafe latte coming to just £43, and easy to drop that below £20 a head if you share a starter (or skip them entirely), which is probably the more sensible option unless you're as hungry as a horse! This kind of pricing for good quality food in the centre of London is always very welcome.
Kavey Eats dined as guests of Franco Manca.
Save
Save
Save
Save
Save
Save