Alan Rosenthal is a chef, food writer and cookery teacher who has been cooking stews and one-pot meals at farmers' markets across London since 2008. Foolproof One-Pot is Rosenthal's third book following the success of "Stewed!" and "Ultimate One-Pot Dishes". The book contains '60 simple and satisfying recipes' that can all be cooked in a single pan, either on the hob or in the oven (or sometimes both!)
The cover itself is quite simple, showing off a bright and vibrant picture of 'Shakshuka with Preserved Lemons & Feta' in its cooking pan on a beautiful dark denim blue fabric – the contrast between the colours of red and white in the pan and the dark blue fabric are striking. Likewise, the pages of this book are also bright and stylish.
Each recipe has a photograph and the recipes are set out in a clear and consistent way. There's not much room on the pages in this small format book so the font may be a little small for some readers – I also had difficulties keeping the book open on certain pages. I like the small box summarising serving size, pan type and whether the dish is cooked on the hob in the oven for each recipe.
The quality of the recipe images is excellent – each makes the dish look really appetising. A consistent colour scheme is used throughout the book with blues, greys and whites on each page, enhancing the vivid and eye-catching plates of food (or pots in this case!).
Foolproof One-Pot starts with an introduction outlining Rosenthal's love for one-pot cooking – his appreciation of the warmth and comfort they provide, and the shared experience with others. He describes what makes the recipes 'Foolproof' such as using pre-cooked rice or using parchment paper in new and different ways. This section also includes advice for using the book, including the types of pots Rosenthal recommends, a note on homemade versus ready-made stock, and how to brown meat effectively. As some recipes might need a side dish, Rosenthal has helpfully included basic suggestions for carbohydrates such as 'Mashed Potatoes' and 'Bulgur Wheat' which require an additional pot.
There are 6 different chapters with curious titles including: 'Throw it Together'; 'On the Hob'; 'Absorption'; 'Low & Slow'; 'Pot Bakes' and 'Desserts'. The titles really excited me as I didn't know what to expect! Each recipe has an introduction on why it was selected for this book, or changes Rosenthal has made to traditional recipes.
I was surprised about the size of the ingredients list for a lot of the recipes… for example the 'Black Bean Chilli with Avocado Salsa' has 29 different ingredients. Maybe it's just me, but long ingredient lists do not usually correlate to 'Foolproof' recipes. However, the recipes were succinct and straightforward so I can forgive a long shopping list.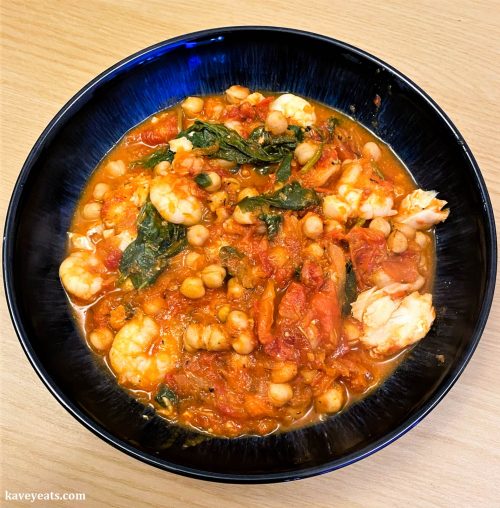 There are recipes to suit every taste from cuisines all over the world. I started with the homely 'All-in-one Fish, Chickpea & Spinach Stew'. The dish was very quick and simple to make with tinned tomatoes and chickpeas and a nice kick from the chilli flakes. Both the fish and the prawns were cooked beautifully, and the sauce was delicious with fresh crusty bread. This was great for a mid-week meal.
I absolutely LOVED the 'Crispy Ginger and Chilli Pork Fried Rice' – so much so that I've cooked it about five times since the first! The recipe suggests using pre-cooked rice or rice from pouches… I've tried both and it tastes good either way. The pork mince gets very crispy by cooking it in a fair bit of oil with the ginger, chillies and spring onions and this creates a good contrast of texture to the rice, the tender broccoli and pak choi. This recipe was very quick and simple but tasted very fresh.
Finally, I cooked the 'Ghanaian Chicken & Peanut Stew', which I'd describe as a mix between satay and a curry. A scotch bonnet adds the heat in this dish and Rosenthal recommends that it's removed before eating but the chilli heat was this still a bit much for me! However, the addition of peanut butter made a super creamy but crunchy texture that worked well with the tender chicken thighs. The dish is served with rice and a lightly dressed cucumber, which helped to calm the spice of the dish.
The book contains quite a few recipes that take a lot of time to cook and may be best for the weekend or a dinner party for a bigger crowd. But there are also plenty that, once prepped and started, just need time on the hob or oven to finish – handy if you are working from home. Many of the recipes are suitable for freezing so you can enjoy one portion on the day and another in the future.
I'd like to make the 'Persian-Style Baked Salmon with Fragrant Rice & Fresh Herbs' and the 'Sticky Braised Beef Brisket with Pears, IPA & Maple' next.
With its excellent range of recipe styles and flavours, this book will appeal to cooks who don't like a lot of washing up… and those who enjoy the comfort and conviviality of serving to the table, family-style.
Recipes from Foolproof One-Pot
We have permission from Quadrille to share these recipes with you from the book:
If you decide to buy this book after reading our content, please consider clicking through our affiliate link, located within the post and in the footnote at the end.
Kavey Eats received a review copy of Foolproof One-Pot: 60 Simple and Satisfying Recipes by Alan Rosenthal from publishers Quadrille. Book photography by Rita Platts. Home cooking photography by Jack Thomas.