2012 has been busy for Kavey Eats, with over two hundred posts shared over the last year!
Here's my pick of posts from each month:
January
The year started sweetly, with several tasty cookie, cake and dessert recipes. A cracker was the Confit Clementines and Lemon Posset I made for the previous year's Christmas day lunch.
The savoury eating had a good start too, with my review of a magical celebratory meal with my sister at The Fat Duck.
I also had the pleasure of cringing at myself on the telly when the BBC food quiz, A Question of Taste aired.
February
Still in the grips of winter, I shared my recipe for Beef Cheeks Bourguignon, a hearty classic with a Kavey Eats twist.
But the recipe which garnered far more attention was these Bacon Pancakes, an idea I picked up from American food bloggers and had to try myself.
Towards the end of the month, I re-launched Kavey Eats, having moved from Blogspot to WordPress and created a completely new look and layout.
March
March saw me post another hearty recipe, this time my culinary handshake between America and Britain – Boston Baked Beans and British Bangers.
A Clafoutis Black Cherry Pudding made a great winter warmer dessert.
Memories (and photos) of childhood abounded when I made Knicker Bocker Glories as part of my second ever BSFIC challenge.
Pete and I amused ourselves by Making Triangular Omelettes in a Sandwich Maker, just to see if we could!
April
We had fun checking out the new Hawksmoor Spitalfield Bar.
I got wrapped up in the history of the loss of the Titanic, after a tasting at Berry Bros & Rudd.
Chicken Savoyarde was utterly delicious, though not very photogenic!
I was bowled over by Satong Sumbat (baby squid stuffed with spiced minced chicken) and other dishes at Umami Restaurant, all the more surprising given that it's a hotel restaurant.
May
Pete and I had a fantastic weekend in Amsterdam during which we did nothing but eat and drink our way around the city. I shared a comprehensive list of local specialities to look out for, some delicious places to find Coffee, Cake and Snacks in Amsterdam and lastly our tips for Amsterdam Restaurants & Bars.
Several eager panellists joined me to carefully cogitate over as many brands of Jaffa Cakes as I could find, which resulted in the Great Jaffa Cake Taste Test. The winner surprised all of us as it was neither the best known brand nor the most expensive, by a long shot!
I shared a non-food project I was very proud of – a collage of heart-shaped maps of our significant places, which I made for Pete as a gift for our 20th anniversary of being a couple.
I was a very proud wife when Pete won Saveur magazine's Best Wine or Beer Blog 2012 after only 6 months blogging at his own site. Go visit, have a look around, leave a comment or three and add him to your RSS reader!
June
I learned and shared a recipe for Easy Dauphinoise Potatoes. They're delicious and have become a regular feature in our house!
Pete and I went to Dublin's Bloom In The Park, and encountered many wonderful Irish food and drink producers.
We tried Club Gascon's amazing Marmite Royale & Toasts shortly before it was launched at Taste London.
Pete made the most delicious Cobnut Bread. The recipe would also work well for hazelnuts or walnuts.
July
We enjoyed a superb dinner at Paul Merrett's pub, The Victoria in East Sheen.
I had fantastic fun attending The Flavours of Italy cookery class at the new Food at 52 cookery school.
Discovering how easy and tasty the condensed milk and double cream no churn ice cream base recipe is has made it even easier to make ice cream at home. This honeycomb ice cream was fabulous.
I gorged myself on crawfish at Bea's Crawfish Boil.
This year I enjoyed visiting many more Indian restaurants, including Cinnamon Soho, for a family Sunday brunch.
August
My genius came to the forefront (or so I maintain) when I came up with the idea for these Pickleback Ice Lollies – yes, that's bourbon mixed with pickled gherkin brine and frozen!
The view and the food were both pretty amazing when we attended Claude Bosi at The Cube, located on top of Royal Festival Hall.
I may have confused redcurrants and cranberries, but my home-made Redcurrant and Port Jelly made an appearance on Christmas day, regardless!
September
I talked about my tips for organising the freezer.
After attending two wonderful fish and seafood cooking classes with Lee Groves, I posted an interview and his recipe for Ray Wings In Pepper Brown Butter Sauce.
I was thrilled with how well this Sichuan Pepper Ice Cream came out. Delicious!
I'm not one for hero worship but I have long admired Atul Kochhar so I was delighted to not only meet him but attend a mini cooking class in his restaurant kitchen, before sitting down to a lovely meal in the dining room.
October
After another great visit to Abergavenny Food Festival, I enthused about my favourite exhibitors.
I enjoyed getting my chops around a Tongue n Cheek ox heart burger.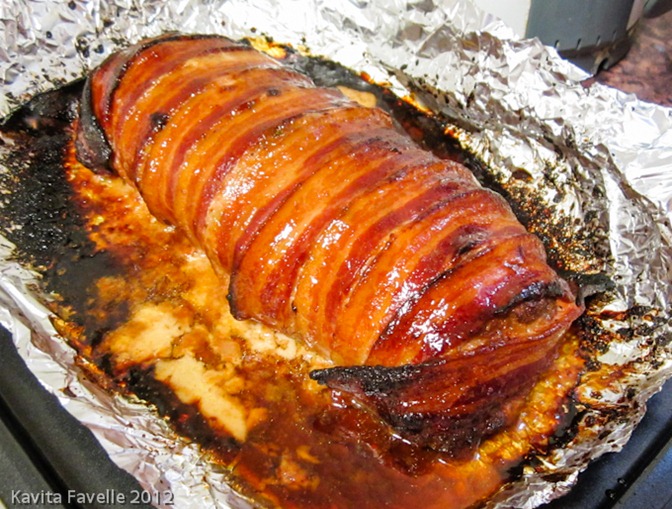 This Bacon Wrapped Meatloaf with a Stout Honey Glaze was absolutely fantastic. It's long past due for another outing!
A residual memory from summer came to the surface when I shared the photos from our day at a Kentish Hop Farm.
November
In October, Pete and I spent a truly wonderful 2.5 weeks in Japan. In November, I started writing up our experiences – there are so very many I want to share. First, an introduction, itinerary and resources list. On to eating, I posted about the challenges of Japanese vending machines, a delicious meal at Tempura Tsunahachi Honten and being intimated by Piss Alley before finding delicious Ramen for dinner.
Probably the post that garnered most attention was my Guide to Staying in a Japanese Ryokan.
Mum and I were very excited to finally see Leon Book 4 because we contributed a few recipes to it, not to mention some photos from the Gupta family album!
I enthused about one of my favourite cookbooks of the year, Jekka's Herb Cookbook.
This year, I've discovered some fantastic teas. I reviewed my favourites for my Fantastic Teas 2012 Great Gift Guide.
December
After an eye-opening (not to mention palate-opening) visit to the Kelly Bronze Turkey Farm, I wrote about the history of turkeys in the UK and about the difference between intensively raised white birds and Kelly's bronze ones.
For once, this dessert-wine drinker was given matching wines for all courses, at The Vineyard in Stockcross.
Ever keen on quick and easy recipes I shared two this month. The first was for Chocolate, Amaretto and Amaretti Ice Cream. The second was an impressive Speculoos and Mascarpone Pancake Cake.
More from Japan, in the form of Hida Beef and Owara Tamaten and a very photo-heavy meander through one of Takayama's morning markets.
And there you have it! Believe it or not, that's only a small selection of what I've posted on Kavey Eats this year. I hope you enjoyed my monthly picks. Happy New Year and see you in 2013!