Made from the sap of sugar maple, red maple and black maple trees, maple syrup is a product that's indelibly associated with Canada, though it's produced by the United States too. Learn everything there is to know about maple syrup: how maple syrup is made and graded, where to buy it, what to expect from a sugar shack visit, and what other products are made from maple syrup.
How is Maple Syrup Made?
Maple trees store starch in their trunks and roots before winter and, as winter comes to a close and spring blooms, they convert it to sugar that rises through the tree as sap. The sap is carefully harvested by cutting holes in the trunk of the tree and collecting sap in an attached bucket as it slowly drips out. It's processed into syrup by boiling to reduce the thin sap to a thick, concentrated and richly-flavoured sweet syrup.
The First Nations (native) peoples of North America were the first to harvest and reduce maple sap into syrup, and the practice was learned and adopted by European settlers. Methods were semi-industrialised and refined over time; firstly the method of heating and reducing the liquid by the use of patented evaporators to increase the surface area for evaporation, and more recently, the use of modern plastic tubing and vacuum pumps to collect and deliver sap directly from trees to processing plant.
The largest producer in the world today is Canada's Quebec Province, which makes 70% of the world's entire output of maple syrup.
The Different Grades of Maple Syrup
A grading system categorises maple syrup according to its density and translucency, with strict rules about the quality required to be sold as real maple syrup. The definitions have recently been revised, to harmonise classification terminology across North America.
Grade A maple syrup comes in four types, Golden, Amber, Dark and Very Dark. The palest has a delicate taste, the darkest is much stronger in flavour. The other two categories are Processing grade (used primarily as an ingredient in commercial food manufacture), and Substandard.
Where to Buy Maple Syrup in Canada
Maple Syrup is very widely available in Canada, especially in Quebec where you can buy it from small farmers markets and specialist food and souvenir shops, to large supermarkets. You can also purchase directly from producers, many of whom have farm shops on site.
It comes packaged in glass bottles (often made in fun shapes to appeal to tourists), in plastic tubs and flagons, and in tin cans, the cans often being decorated with beautiful traditional artworks.
I always buy the dark and very dark grades, as these are harder to find back home in the UK, and I love the intensity of maple flavour they possess. It's also worth looking out for maple syrup candies and maple syrup sugar, both made from maple syrup and excellent souvenirs or gifts.
Visiting A Maple Syrup "Sugar Shack"
In times past, the season for harvesting and processing maple sap was short, and producers usually called in their extended families to help during the busiest period of harvesting and cooking down the sap into syrup.
The foods traditionally cooked and served to workers during the harvest are nowadays nostalgia-inducing for locals and a tourist attraction for visitors. Today, sugar shacks serve up the kind of hearty food enjoyed for generations, and teach visitors about the traditional maple syrup production process.
Discover the best sugar shacks in Quebec.
Dishes on offer include 'tourtière' aka meat pie, baked beans (with maple syrup in them, of course), yellow pea soup, maple-glazed ham, eggs with maple syrup, and 'pouding chômeur' aka poor man's pudding, a simple sponge cake and syrup dessert. Sometimes a maple syrup pie (similar to a British treacle tart) may be on offer instead of the pouding.
If you don't have time to stop for a meal, you may be able to get a bag of 'oreilles de crisse' (literally translating as Christ's ears, these are actually smoky deep fried pieces of pork jowl, a very moreish snack).
Maple Syrup Snow Taffy
Most sugar shacks also offer visitors the chance to try "snow taffy" – maple syrup that has been reduced to an even thicker consistency than usual is poured onto fresh snow; when it starts to solidify it's wound around a stick to eat as a chewy lolly. These days, shacks use shaved ice made in modern freezers to replicate the snow taffy experience even when it's warm and sunny outside.
Other Forms of Maple Syrup
As well as maple syrup itself, look out for maple sugar (made by reducing the syrup even further, so more liquid is evaporated out, and then blitzing to granulate the resulting solid sugar), maple candies, maple cones (filled with syrup or maple butter), and even maple butter (contrary to the name, this product doesn't have any dairy products in it – when maple syrup is whipped to incorporate air, it takes on a more spreadable texture akin to butter).
Save for later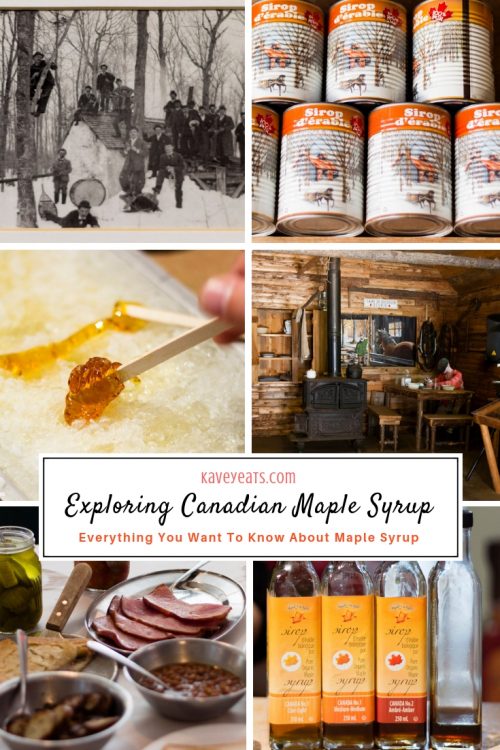 We hope this post has given you the detailed lowdown on everything maple syrup. If you have any thoughts or questions, do leave a comment.