As part of a varied Thailand travel itinerary, many visitors are keen to interact with Thailand's Asian elephants, beautiful animals that are increasingly a part of the Thai tourist offering.
What is Elephant Tourism?
Elephants have been used for heavy labour across Asia for centuries, but their use in the logging industry was banned in Thailand in 1989. After that, many owners turned to the tourism industry as a way to support themselves and their elephants – expensive beasts to keep given the amount of feed they need to consume every day.
But much of the elephant tourism that has sprung up is actively damaging to elephants, both in terms of the physical and mental health of the elephants involved, and also in the unfortunate result of more elephants being taken from the wild, and bred in captivity. The realisation that elephants can be big earners has created a growing demand.
However, there are options for those looking to interact with rescue elephants in an ethical way.
Is it OK to Ride Elephants?
In short, no! The problem is that the only way to train elephants to accept riders on their backs, to perform in shows, do tricks, "paint" or otherwise entertain, they must be mentally broken as babies, a horrific process known as the kraal (crush). Incidentally, this is the same process used to train circus elephants, which is why I'm against that too.
You may not see a mahout obviously enforcing control in front of visitors, but that's partly because the animal's will was broken so effectively in the first place, and also because it can be very subtly enforced by use of a small metal hook jabbed into the tender area behind an elephant's ear, such that most visitors don't even notice it.
In addition, unlike horses and other large animals, the backs of elephants are not the right shape for carrying weight upon them, and are damaged by the heavy riding platforms and passengers they carry. And don't forget, even if you are told that the weight of one or two adults on the elephant's back is not a problem, an elephant's spirit still needs to be broken completely for it to accept this.
What Kind of Elephant Tourism is OK?
The first thing to look for when seeking an ethical elephant tourism experience is a place that does not allow riding, nor puts on shows where elephants perform. More and more tourism operators are banning elephant riding from their offerings, so look for an operator that is willing to give you a frank answer on this question.
All the ethical options I have found are focused on the rescue of previously domesticated elephants.
I would avoid places that talk about breeding elephants; this is not a sign of an organisation focused on the rescue of suffering elephants. In some cases, the babies have been taken from the wild (and breeding papers faked), further fuelling the continued poaching of an already-endangered wild elephant population. Did you know that in order to capture one baby elephant, an entire herd of adults (which are too old to be trained) is often killed, as they are naturally very protective of their infants?
Finding an Ethical Elephant Sanctuary, Thailand
There are a number of responsible elephant sanctuaries in Thailand, which rescue elephants from physical labour or inhumane tourist attractions. These elephants are often not able to return to lives in the wild, so they are looked after by their handlers in as natural an environment as possible, where they can rest and relax in their retirement.
Because they have grown up with human company, visitors can approach and interact with them (in a controlled manner). In most sanctuaries, this is usually to feed them and to help wash and scrub them. Some sanctuaries also offer walks (where visitors walk on foot alongside the elephants).
Elephant Hills, in Khao Sok National Park, has been open to visitors since 2010, and has received several awards for animal welfare and sustainable tourism, from both the Tourism Authority of Thailand as well as a number of relevant international bodies. Visitors observe, feed and wash the elephants.
Elephant Nature Park in Chiang Mai is probably the most famous elephant sanctuary in Thailand, and has received awards for its conservation projects, high welfare standards and work in educating visitors about elephants and other wildife. As well as their main sanctuary in Chiang Mai, they also operate a project in Surin, near the border with Cambodia; one in Kanchanburi, in Western Thailand; and one in Siem Rep, Cambodia.
Boon Lott's Elephant Sanctuary is a 600-acre rescue centre, located about an hour's drive north of Sukothai. The sanctuary helps its rescued elephants to live as natural life as they can. Unlike other sanctuaries, there is not a set schedule to each day, and the intentionally small number of guests may find themselves gathering food for the elephants, walking with them as they forage for themselves, washing them and generally caring for them.
These are not the only ethical choices within Thailand, but I've chosen them based on their mission statements, recommendations and awards from those whose opinion and expertise I value, and recognition given by tourism and welfare authorities.
Elephant Hills, Thailand
A Visit To Elephant Hills
Since elephants previously trained for labour cannot survive in the wild, Elephant Hills have created a sanctuary within the Khao Sok National Park where these animals can retire with their mahouts, to a life of leisure.
To fund the costs of this project, paying visitors can visit the rescued elephants, feed them fresh fruit (which they eat in enormous amounts), and help to wash them.
The sanctuary allows no breeding or riding and has won awards from the Tourism Authority of Thailand, as well as a range of international tourism bodies.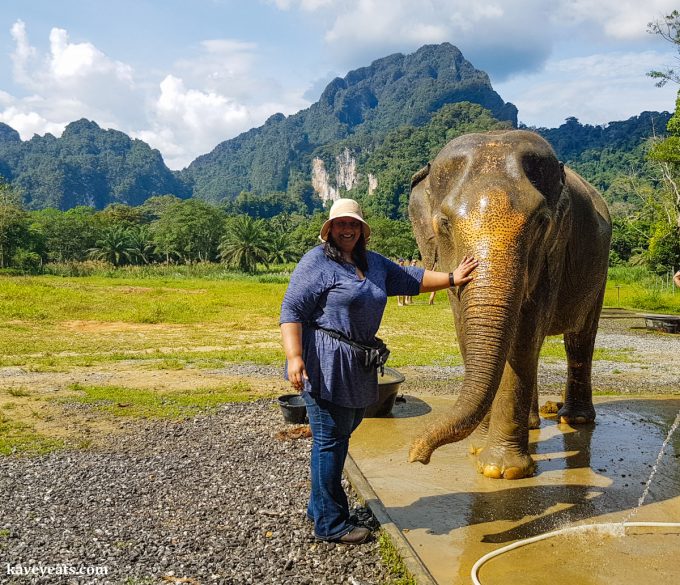 One of the aspects I liked about our visit was that individual elephants were not forced to participate. First we watched a couple of elephants enjoying a playful session in a natural waterhole. Then we spent some time washing and scrubbing a few of the sanctuary's elephants. Lastly, we prepared some fruit and fed a large number of elephants – for this last activity many more elephants were keen to join in!
The sanctuary also played us an educational film about Asian elephants, and about their own project.
Staying at Elephant Hills Elephant Camp
We had a few reasons for choosing Elephant Hills as our choice for an ethical elephant sanctuary. The first was the excellent reputation of Elephant Hills, and its awards for animal welfare, sustainable / green tourism, conservation, and service from the Tourism Authority of Thailand, Wanderlust Magazine, National Geographic Traveler and PATA (Pacific Asia Travel Association).
I also liked the sound of an overnight stay in their rainforest safari-style tented camp within Khao Sok National Park.
The Elephant Camp is fairly large, with the tents set out on two sides of the central space which houses a small shop, a reception desk, and the large dining and bar area. This is open air, with a wooden roof high above to protect from downpours, and large communal tables where guests can mingle. Meals are served buffet style and are a bit of an odd mix of Thai and Western dishes; I noticed a large number of their guests did not eat any Thai food at all so they had to cater for a wide range of tastes.
The tents themselves will be familiar to anyone who's been to a luxury tented safari camp in Africa; each tent has a spacious bedroom area with proper beds and furniture, and an en-suite bathroom at the back, with toilet, sink and shower. Zips and netted windows keep insects out pretty well, and the tents are comfortable and clean, albeit a little closer together than I'd like – who wants to hear the snoring of their tent neighbours instead of the gentle sounds of the jungle fauna?
There's also a small outdoor swimming tool next to the central dining area, pool towels available from the bar on request.
The last reason that I chose Elephant Hills was the option to stay overnight at Rainforest Camp, their floating camp on Cheow Lan Lake.
Booking the Elephant Hills Package
We booked an inclusive package with pick up and drop off from local resorts and airports, one night in the Elephant Camp, one night in the floating lake Rainforest Camp, activities including visiting the elephant sanctuary, river canoeing, trekking in the jungle and kayaking on the lake, and all meals during the stay.
Because of limited availability by the time we booked and the resulting need to juggle the order of our itinerary, we had to fly down the day before pick-up and stay a night near Phuket airport, to be collected from our hotel lobby in the morning. However, if you co-ordinate with the Reservations team during the booking process, they will let you know specific flights from Bangkok into Phuket or Surat Thani airports which they will meet on landing, so you can fly in the same morning your package begins if you prefer. Of course, if your itinerary includes one of the beach resorts within their pick-up zone, a hotel pick-up will suit you better. The Jungle Lake package costs from 20,372 baht per adult based on two sharing (at time of posting).
Elephant Hills is very family friendly and combines well with a visit to Phuket with kids.
Save for later:

Want to read more about our three week itinerary in Thailand? Check out my other recommendations for where to visit, where to stay and what to eat in Thailand.