If all you want is to get your hands on Damson Chocolate, jump directly to the 15% discount code!
The Road to Becoming a Bean-to-Bar Chocolate Maker
I've written before about my friend Dom Ramsey, who I met back in 2009, not long after I started blogging. Back then, Dom was a chocolate blogger, and much nearer the start of his journey in chocolate. Though he began by reviewing cheap mainstream confectionery, Dom gradually moved on to more complex and higher quality chocolate, learning about the industry from the many contacts he developed, and travelling not just around the UK but globally in order to increase his knowledge. As his expertise developed, so did his palate, and he is easily able to identify good, great (and poor) quality chocolate, not to mention his understanding of the flavour profiles of cocoa from different origins and different producers. He's provided workshops and consultancy services within the industry, and was instrumental in setting up a well-known specialist chocolate retail business a few years ago.
Throughout these years, I've been fortunate enough to ride sidecar for some of Dom's journey, exposed to the most fabulous chocolate (and many of the experts and artisans who work in the industry). My own palate and appreciation of fine chocolate owes Dom a great deal.
Of course, it was almost inevitable that someone so closely connected and interested in the world of top quality chocolate making would move on to experimenting with making chocolate himself. And when Dom came to do so, it was only natural that he'd go all in for the full bean-to-bar process.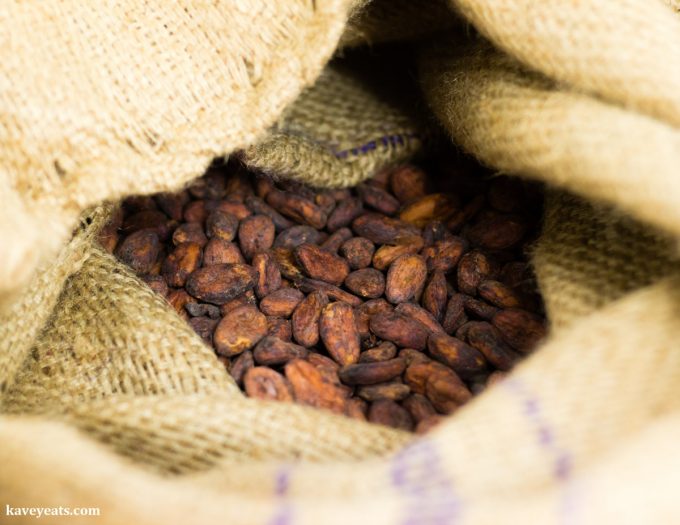 If you're not sure what I mean by bean-to-bar, it's when a chocolate maker buys actual cocoa beans and makes chocolate from scratch. A lot of brands you may think of as chocolate makers actually buy chocolate that's already been made by other manufacturers, and simple re-use it in their confectionery. In some cases, they'll liaise with the manufacturer on the sourcing of cocoa, and request that chocolate is made to their specifications, but they don't make it themselves. If you want to learn more about the whole process, and the industry in general, check out Dom's book, Chocolate | Indulge Your Inner Chocoholic | Become A Bean-to-Bar Expert. Read my review, here.
Dom's first bean-to-bar chocolate, made in his tiny domestic kitchen, was so damn good that he was winning awards for it within months, and he established Damson Chocolate in early 2015.
I've been happily buying Damson Chocolate ever since.
If you know me at all, you'll know that while I love to support my friends in their businesses, especially if they are in the food and drink, restaurant or travel industries, I won't enthuse about their products unless I truly adore them.
So believe me when I tell you, hand on my heart, that the chocolate Damson Chocolate makes today is amongst the very best chocolate I have ever tasted, and that's against the very best bean-to-bar producers from all across the globe.
Half Day Bean-to-Bar Workshop
If you're serious about wanting to make chocolate yourself at home, the Damson Chocolate private half-day workshop takes you through the entire process from bean to bar. It's actually popular not only with keen amateurs like me but those interested in making chocolate professionally and is held in the professional kitchen and retail space in Angel Islington, London.
You learn not just by watching but by doing; Dom encourages you to be hands on so you get a real feel for the ingredients, the machinery, the processes and the different textures of chocolate during its manufacture.
The course includes lots of tips on how to adapt domestic appliances to your needs rather than invest in lots of expensive specialist equipment. The only item you will need to purchase is a 'melanger' to use for refining and conching your chocolate, for which Dom recommends the Premier Tilting Stone Wet Grinder, which will set you back around £165.
And as you quickly discover, Dom still uses many cleverly-adapted appliances in his professional kitchen, from a rotating drum oven to a bean breaker and winnower made from a professional juicer, a domestic vacuum cleaner and some pipes!
Of course, chocolate starts with the cocoa bean and that's the only part of the process a bean-to-bar chocolate maker cannot control. It's down to the farmer to create the ideal growing conditions, nurture the trees and cocoa pods as they grow, harvest the cocoa beans from the pods and carefully fermenting and drying them in the sun until they are ready for packaging, transport and sale.
That fermentation and drying process is critical as if they are dried too fast, the natural fermentation of the fruity pulp of each bean doesn't complete its work in transferring flavours into the bean, and the result is a bitter, acidic flavour. But if drying is too slow, moulds and off-flavours can develop. A key part of making top quality chocolate is in selecting and buying the very best beans!
The workshop starts with sorting the beans, discarding any that are misshapen, miscoloured, flattened or broken, and of course any little twigs and bits of fibre that have made their way into the bag.
Next the beans are roasted in a rotating drum oven after which they need to be cooled, so the cocoa butter within the beans doesn't make a sticky mess during the next step. That step is breaking the beans into small pieces so that the skin can be easily removed, much like winnowing the chaff from wheat.
Next come the refining and conching processes.
Refining is the combination of cocoa beans, extra cocoa butter (for a silkier mouthfeel) and sugar, plus milk powder for milk chocolate, and grinding these ingredients over many long hours to reduce the size of the particles.
Dom will explain all about microns and mouthfeel, and why it's so important to continue refining until you achieve a suitably tiny particle size. Flavourings such as coffee, matcha, freeze-dried fruit powders are also added in during this stage.
Conching happens once the grinding aspect is finished, and is essentially a continuation of the mixing and process, with or without heat. The movement of the liquid chocolate continues to oxidise the chocolate, reducing sharp flavours, and helps the cocoa butter to bind more fully to the particles. Where heat is used, this drives off excess moisture, concentrating flavours further.
At Damson Chocolate, both refining and conching can be done in the same Melanger machine, the only difference is that the tension of the grinding wheels is reduced.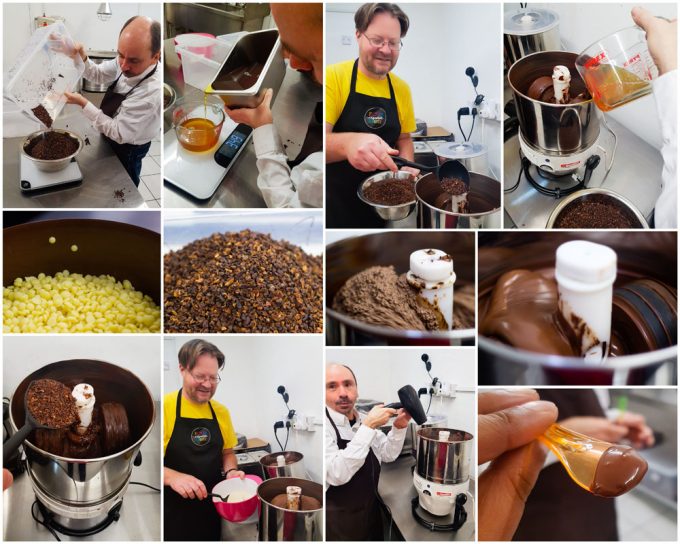 Next, the chocolate needs to be tempered, a process that changes the texture of chocolate and gives it the distinctive shine, solidity and snap you'll recognise in good quality chocolate. It stops chocolate from being too soft or crumbly, and without it chocolate is prone to blooming, where the cocoa butter separates out from the cocoa solids.
This involves melting and heating the chocolate, cooling it and heating it again, to very precise temperatures each time – it's all about helping the chocolate crystallise properly. Ask Dom, he'll explain! If you're working on a smaller scale, you can easily temper chocolate using a bain marie, a thermometer and a large cold worktop on which to move the chocolate around as you cool it. Like most chocolate makers working with larger volumes, Dom uses a dedicated tempering machine to do this step.
From here, it's simply a case of pouring tempered chocolate into moulds (where a machine designed for dentists comes into play!) and letting them set before turning them out and popping them into Damson Chocolate's elegant packets.
The half-day workshop costs £300 for one person, £350 for two people and you'll get a 15% discount if you book in May using the Kavey Eats discount code below.
Discount Code for Damson Chocolate – May 2018
Use discount code KAVEYEATS in Damson Chocolate's online shop for a 15% discount on all products.
You can also use the code for a discount on his chocolate workshops and tasting events; just make sure you mention the code when you email to book a session.
Discount code valid till end of May 2018.
My Favourite Damson Chocolate Bars
You'll be able to explore the full range of bars currently available via the online shop, but my personal favourites are the new Cafe Peru (a blend of Peruvian cocoa beans, Peruvian coffee and just a dash of milk, listed under Limited Editions), the classic Angel bar (milk chocolate for grown ups), the Nicaragua Johe 70%, and the Matcha White Chocolate.
Save for later
Kavey Eats attended the Damson Chocolate Bean to Bar Workshop as guests for review purposes.