Enjoy these delicious dairy free frozen treats shared for this month's Bloggers Scream For Ice Cream.
First up are these whimsical Finding Nemo Popsicles from Jessica at The Healthy Mouse. The Nemo pops are orange creamsicle flavoured and the Dory ones are blueberry lemonade flavoured. Jessica has used both coconut milk and dairy free yoghurt in these recipes, a healthy homemade alternative to ready-made popsicles.
Claire at Foodie Quine is a girl after my own heart with these adult-only Pimm's O'Clock Ice Lollies featuring Pimm's and lemonade with strawberries, cucumbers and lemonade. Can I put in an order for a big bowl of these, please?
I really love the idea for these Summer Pudding Ice Lollies by Janice at Farmersgirl Kitchen. Having made a summer compote with freshly picked summer berries, a moment of inspiration lead her to transfer it into lolly moulds for a cooling summery alternative.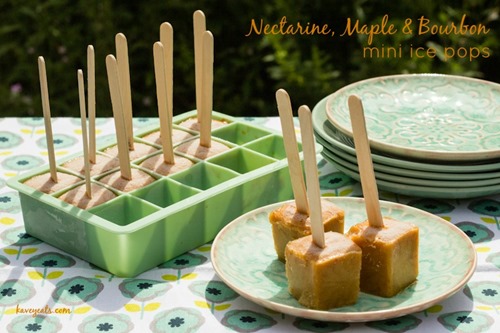 For my own dairy free challenge, I too went for an adult-only option – creating these Nectarine, Maple & Bourbon Mini Ice Pops in a large ice cube tray. Very quick to make using my Froothie Optimum power blender, and deliciously decadent and cooling.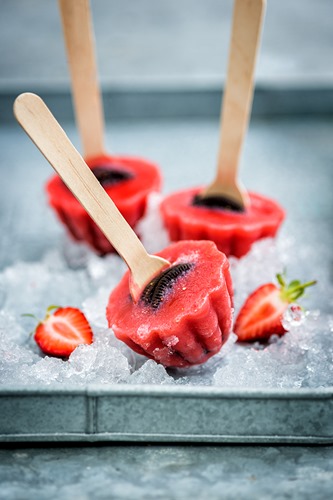 Our last entry for the month is another gorgeous ice lolly idea – these Four-ingredient Oreo and Strawberry Popsicles by Lucy at Supergolden Bakes. I love her vintage moulds, the wooden spoon lolly sticks, the flavour combination itself and the way the biscuits poke out of the bottom!
I hope you've enjoyed these summer frozen treats as much as we have!