Who doesn't love a freshly baked French pastry for breakfast? Flaky, buttery croissants, pillowy brioche with jam or perhaps a pain au chocolat if you're feeling decadent. In my house this usually means an early morning walk to the nearest bakery but today I'm learning how to make these breakfast delights for myself.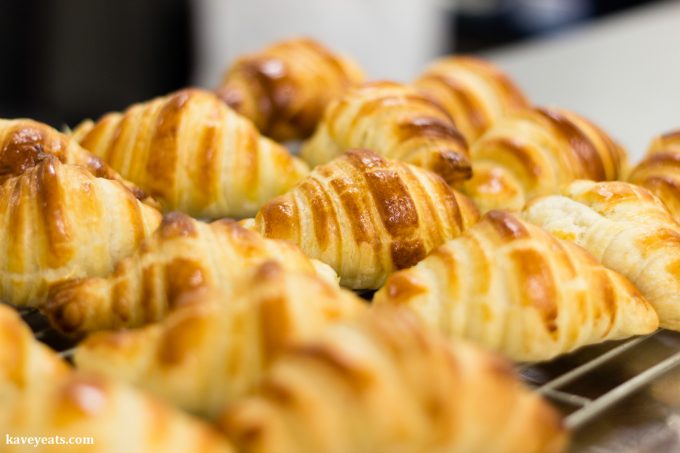 Located in the heart of London, a short walk from Oxford Circus, the Cookery School at Little Portland Street offers a range of single- and multi-session classes including fish & shellfish, meat & poultry, making pies, stews and casseroles, baking and bread making.

Our three hour lesson on French Breakfast Pastries is taught by Ghalid Assyb. Born in Morocco, Ghalid discovered his love of cooking at a young age. He trained and spent the first years of his career as a pastry chef in France before moving to London where he worked with Yotam Ottolenghi on the opening of Ottolenghi's first shop. There Ghalid had a wonderful time developing and perfecting new patisseries and training other members of staff, eventually making the decision to become a cookery school tutor.
Teaching pastry-making in half a day is quite a challenge when doughs need to prove and some techniques are quite complicated. The solution at the Cookery School at Little Portland Street is a clever one: we make and laminate our croissant dough from scratch, then put it aside. When it comes to learning how to assemble our croissant, pain au chocolat and pain au raisin pastries, Ghalid adopts the familiar Blue Peter tactic, 'here's one I made earlier', and pulls from the fridge a rectangle of perfectly risen dough made for us the day before.
Giving us hands on practice is critical to absorbing the process. We mix and knead our own dough, taking out any frustrations by bashing flat a pat of butter, make an envelope of dough around the butter, then roll it out and fold it into thirds not once but three times. This is the elaborate process of laminating – creating paper-thin alternating layers of butter and dough. It's these that produce the characteristic flakiness of croissants, so it's crucial we get it right.
Each of us will take home the laminated dough we make in class, where it can finish rising fully. Next we learn how to shape and fill pastries by switching to the dough that was made for us in advance. For each of the three croissant dough recipes, we crowd around to watch Ghalid at the front counter before heading back to our shared benches to try for ourselves.
With limited time and space, a couple of the recipes are demonstration only. When it comes to making brioche dough and pastry cream Ghalid shows us the methods step by step, encouraging us to look, smell and taste along the way. I find this particularly helpful for brioche dough, having attempted it unsuccessfully before. Now I realise my dough wasn't beaten enough – till the sides of the bowl come clean and the dough makes a slapping noise as it moves!
There are lots of little tips like this to help us improve our baking skills; understanding and using different forms of baking yeast, the difference between regular and strong flour, how kneading develops gluten, the benefits of slow and cold proofing of dough and why it's worth weighing to ensure evenly sized balls of brioche dough – so each can rise and bake sufficiently in the same amount of time.
My favourite lesson is how to use a rolling pin: a grinning Ghalid laughingly admonishes us, "You're not riding a motorcycle and you're not tickling the dough, you're rolling it!"
The three hours pass very quickly, but to my surprise, I leave not only with a batch of croissants in the making but a new confidence that I can do it all again on my own.
Kavey Eats attended the class as guests of Cookery School at Little Portland Street.