This post contains affiliate links to booking.com.
Where do you take a beer-lover who enjoys travelling for their birthday? A country with a strong beer tradition is a must. And preferably a city he's not been to before, with plenty to see, do, eat and drink.
Ghent (spelled Gent in local Flemish) is a charming, historical city in northern Belgium, and is also the capital of the East Flanders province. Dating back to the Late Middle Ages, it was once one of the largest and richest cities in Northern Europe, second in size only to Paris. Today, it's not quite as prominent but is still a busy port and university town with a population of around a quarter of a million. From a tourism perspective, visitors are drawn to the beautiful, well-preserved, medieval architecture of Ghent's city centre as well as the friendly and relaxed vibe, and excellent food and drink. And the bonus is that it's far less crowded than Bruges or Brussels.
Ghent's Best Tourist Attractions
Walking Around Ghent Old Town
One of the best things to do in Ghent is simply to walk around the city centre. The canals and rivers of the old town are lined with beautiful historical buildings, and different neighbourhoods offer distinct architectural styles and atmospheres. Ghent is a hugely picturesque city.
There are also many squares lined with cafes, bars, restaurants and shops, such as Korenmarkt, Botermarkt, and Groentenmarkt, where you can while away time watching the world go buy over a coffee or waffle.
Cathedrals, Churches & Bell Towers
St. Bavo's Cathedral (Sint-Baafskathedraal), a huge cathedral with many art treasures and antiquities to discover inside. It is most celebrated for one artwork in particular, the Mystic Lamb, a folding alterpiece made up of 12 interior panels and 12 external ones. Started by Hubert van Eyck, it was finished by his brother Jan van Eyck in 1432.
The Belfry & Cloth Hall (Belfort en Lakenhalle) dates from the early 15th century, with its baroque  prison extension added in 1741. Originally the bells were used only for religious purposes, but over time, it became more integrated into city life, used to announce the time, sound warnings and as a watchtower over the city.
The glorious 13th-century Church of St. Nicholas (Sint Niklaaskerk) is a mix of Romanesque and Flemish Gothic, and along with St. Bavo and the Belfry, is one of the "three towers of Ghent".
On the banks of the opposite side of the River Leie from Korenmarkt and the old Post office building is St Michael's Church (Sint-Michielskerk), a Gothic church with several treasures and artworks inside.
We also made a visit to the Church of St. Jacob (Sint-Jacobskerk), its square (bij) the location of a bustling fleamarket every Friday, Saturday and Sunday morning. The church is open to visitors.
Castles
Gravensteen (the castle of the counts) was originally built in 1180 by Count Philip of Alsace; the location of a wooden castle dating from two centuries earlier. However, in the 14th century, the castle was abandoned as the seat of the Counts of Flanders and came to be used as a courthouse and a prison. Houses were built against its walls and even inside its courtyard and stones were stolen for use in other buildings. In the 1880s, scheduled to be demolished, it was instead purchased by the city of Ghent who started an ambitious restoration project. All the houses were removed and the walls and keep were restored to their original condition. Today, tourists can explore the castle, and learn about the history via exhibits and museum artifacts. Partially surrounded by a moat, the restored castle is hugely photogenic.
Unlike Gravensteen, the Castle of Gerald the Devil (Geeraard de Duivelsteen) is not open to the public; indeed the city of Ghent sold it to a developer and it's currently being converted into luxury apartments. However, the exterior of this 13th century fortress is well worth checking out. Through the ages the castle has been used as a knight's residence, an arsenal, a monastery, a school, a seminary, an institute for the mentally ill, an orphanage and a detention centre.
Museums
The museums of Ghent are pretty varied in their themes, ranging from Fine Arts (at MSK), to Contemporary Art (at S.M.A.K.) and Belgian and International Design (at the Design Museum Gent).
For history lovers, you can learn about local history (at STAM), the history of industry (at MIAT), the history of the sciences (at Collection of the History of Sciences), the history of psychiatry (at the Dr Guislain Museum), and the history of education (at the School of Yesteryear). The House of Alijn showcases the ordinary daily life through the 20th century.
Boat Tours
There are a few operators of tourist boat tours in central Ghent. Each company operates its own ticket booth and jetty, with some offering tours of different durations and routes. These are a pleasant way to see Ghent from its waterways, and learn more from your guide about the history and buildings you see along the way.
Note that different operators offer boats of different sizes, from small open boats, to larger ones with glass roofing.
Check out Boating Gent, De Bootjes van Gent, Rederij De Gentenaer and Rederij Gent Watertoerist.
Graffiti & Street Art
Not usually something I'd list separately, but in Ghent, it's absolutely merited! The city not only celebrates its many beautiful murals painted on the sides of buildings around the city centre, it also provides a Ghent street art map for visitors to help find and identify each piece (available from the tourist office).
It's also well worth visiting Werregarenstraatje aka Graffiti Street, a long alley running from Hoogpoort to Onderstraat. Along this twisting alley way, the walls, railings and even the odd window grate are comprehensively covered in an ever-changing kaleidoscope of graffiti. Created as a temporary display for the 1995 Ghent Festivities, it's now a permanent attraction and indeed budding street artists are encouraged to have a play – bring your own spray cans.
The Ajuinlei Book Market
On Sunday mornings, Ajuinlei becomes a bustling lane of second hand book stalls. Whilst most are, of course, in Dutch, a number of the vendors offer some English titles as well, so it's well worth a browse for book lovers.
Ghent Night Illuminations
The Ghent Light Plan is a beautifully-illuminated route through old Ghent, using carefully designed lighting to showcase the city's best architecture, monuments, parks and squares. During our June visit, the illuminations came on at 10 pm and were switched back to regular street lighting at midnight, giving two hours each evening to enjoy the more dramatic lighting. A map of all Ghent's illuminated locations (and a suggested route between them) is available from the tourist office.
Sunday Flower Market at Kouter
The Sunday flower and plant market at Kouter Square is extensive, and bustling with locals looking for cut flowers and plants for their homes and gardens. During our visit, a brass band were playing in the raised bandstand.
CityCard Gent
The CityCard Gent is a tourist card that provides access to all of Ghent's main tourist attractions and museums, use of public transport (buses and trams) within the historic centre, a guided boat tour, and free bicycle rental for one day. It also comes with a handy foldable city map and list of everything included. The CityCard Gent is priced at €30.00 for 48 hours, or €35.00 for 72 hours.
Where to Stay in Ghent
Which are the Best Locations in Ghent to Stay In?
The tourist heart of Ghent is fairly compact, making it easy to choose a hotel that is well located for sightseeing. Anywhere within the rounded lower half of postcode 9000 is within walking distance (or short hops on a bus or tram) to the main sights of the old town.
We appreciated our very central location on Korenmarkt; our room looked out over the square; the entrance to the hotel was on Graslei, perfect for an evening stroll. Anywhere in this area, or near St. Bavo's, St. Jacob's or St Michael's, will be central for sightseeing.
If you are travelling with a lot of luggage, or only visiting for a short stay, look at hotels near the two main stations, Gent-Sint-Pieters (for trains from all destinations including Brussels) or Gent-Dampoort (for trains from Antwerp).
If you want to be well-located for a high density of bars and restaurants, look for hotels in Patershol.
For a quiet, residential area, consider an apartment or hotel in Prinsenhof.
If you are visiting over a weekend and enjoy flower markets, a location on or near Kouter may appeal. It hosts a glorious flower and plant market on Sundays, and you can hop on local buses or trams to reach the key sites very quickly.
Hotel 1898 The Post
As our visit was to celebrate a birthday, we splurged to stay at Ghent's newest five star hotel, 1898 The Post. Housed in the extremely grand former post office, the hotel offers beautiful, luxurious rooms in a retro-historical style, decorated with an array of pretty, historical knick-knacks.
Many of the rooms are duplex rooms split over two floors, with the bathroom on a mezzanine level, above the bedroom and toilet below. Only a few suites are laid out on a single floor.
Cobblers, the breakfast and bar room, is a lovely place to sit and relax. Breakfast is pricey, but bar drinks are not unreasonable against other bars in town.
Other properties (covering a range of budgets) that caught my eye when searching for rooms include B&B Great, Ganda Rooms & Suites, and B&B Hôtel Verhaegen. Each of these is highly rated by fellow travellers, and is well-located in Ghent city centre. 
Eating & Drinking in Ghent
Eating and drinking well is very easy in Ghent, and markedly more affordable than Brugge, in our experience. There are restaurants to suit most tastes, from casual pubs, friteries (fried fast food joints) and pizzerias, to elegant spaces offering fine dining.
Cafes and bars are numerous, so whether you want to take a break over coffee (and a sneaky waffle or pastry on the side) or try some of Belgium's many, many beers, you are well served.
Ghent Drinking Spots
There are plenty of excellent spots to savour a drink in Ghent. Here are a few of our favourite drinking spots.
Gruut Brewery was set up by Annick De Splenter in 2009. You can buy their beers in bottles to take away or enjoy it on site; a tasting flight is available.
Proof is a gin and spirits shop that offers structured tasting sets, as well as an excellent range of spirits to buy.
Het Waterhuis aan de Bierkant offers a frankly crazy long beer menu. It would be a life's effort to work your way through it! Damberd is one of the city's historical 'brown bars', its interior features nine panels depicting the city, painted by two customers back in 1936). 't Galgenhuisje is a super-cute tiny cafe pub, said to be the smallest in the city, though there's plenty of space outside, when the weather is good.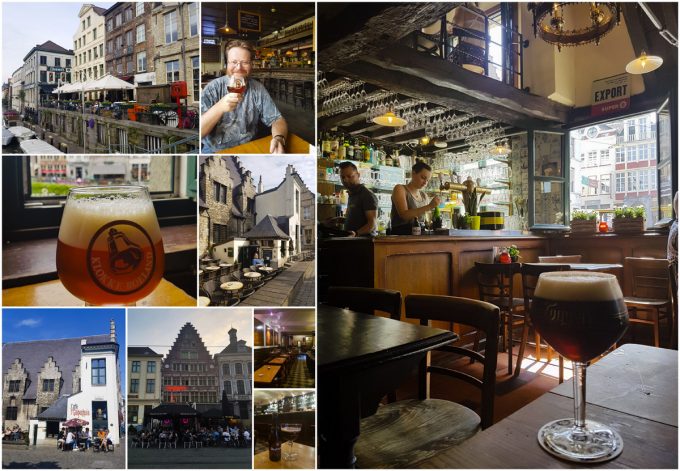 Eating Out in Ghent (Restaurant Recommendations)
Edgar Kaasbar is definitely one to visit for any cheese lover. Launched in September 2017 by first-time restaurateur Eline Goossens, we loved the carefully curated cheese boards and the hot baked Crémeux du Jura (a soft bloomed rind cheese much like Brie) topped with pesto and bacon, served with salad and bread to dunk.
Otomat is a fun and funky pizzeria serving delicious pizzas with unusual toppings on a dough made from brewer's yeast. We were tempted and very happy with our choices of 'Rock the Kasbah', featuring merguez (spicy lamb sausage), feta, coriander and mint, and 'Boul & Boulette', topped with minced meat, fennel and red onion. At lunch time, opt for a smaller sized pizza with your choice of one Otomat's six side salads.
De Gekroonde Hoofden is the most famous rib restaurant in Ghent, and most visitors opt for the eat-all-you-like ribs deal. Choose full or half racks in four different flavours, re-ordering as many times as you like. The ribs are served with salad, garlic bread, potatoes, bread and several sauces.
If you're looking for a charming coffee shop with outdoor seating, check out Simon Says in Patershol. It's also great for breakfast, a light lunch or an afternoon pastry. I loved being able to order soft boiled eggs and soldiers here, and Pete enjoyed a delicious cheese and ham croque with homemade chutney.
We were blown away by the quality of the food at Argenvino, a small Argentinian steak and wine restaurant just off Korenmarkt. Top tip: the Parrilla Argentina (grill) featuring a 250 gram rib-eye steak (Argentinian, of course), chorizo, short ribs and half a provoleta cheese, served on traditional hot plate, is plenty for two, served with baked baby potatoes and seasonal vegetables. We were thrown by its pricing of €29, about the same as other mains for one, and ordered a superfluous second main! Starters and wines are also excellent in taste and value.
Allegro Moderato offers fine dining in an elegant waterfront building. The Chef's Table menu is an excellent deal at €49 for five courses. We loved the delicate flavours of seasonal ingredients deftly cooked and combined to let them shine.
CRU, at the north-eastern corner of Kouter Square, is a popular contemporary cafe restaurant that we recommend wholeheartedly for Sunday breakfast, but be warned, it's very popular! We loved the set menu for two, which included pastries and breads, ham and cheese, smoked salmon, fried eggs, and yoghurt with fruit and granola.
Chocolates, Sweets & Waffles in Ghent
You won't have any trouble finding waffle vendors and chocolatiers in Ghent, and will no doubt enjoy any that you try.
We particularly loved chocolates and sweets from Hilde Devolder Chocolatier (from which we bought a selection of different chocolates, all of which were superb) and Sophie's (where we bought and adored chocolate dragons with a raspberry filling).
I really liked my waffle from Chocolate Cafe Juffrouw Strik, in Groentemarkt. This small square is also where you'll find the famous mustard shop Tierenteyn-Verlent and Himschoot Bakery, as well as 't Galgenhuisje.
For cuberdons, Belgium's iconic cone-shaped sweets, we bought a selection of flavours from the street cart vendors, also in Groentemarkt. It's fun to try other flavours, but our favourite remains the original raspberry flavour.
Confiserie Temmerman (sweetshop) sells a range of traditional sweets including cuberdon.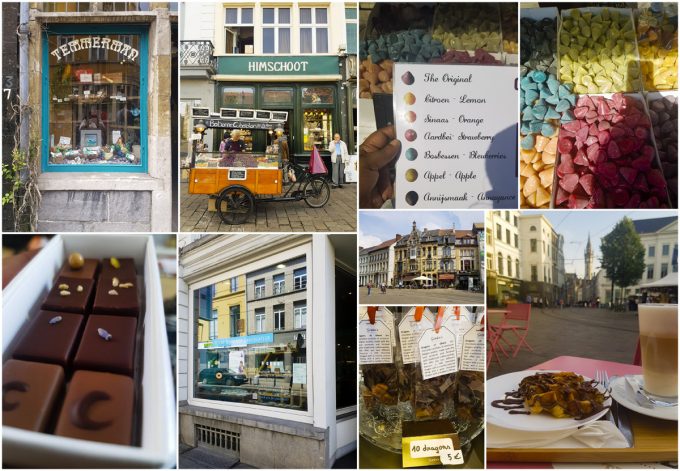 Travelling from London to Ghent
London to Ghent via Eurostar
For travellers from the UK, it's an easy journey via Eurostar, with one simple change at Brussels onto a local train to Gent-Sint-Pieters. Total journey time is less than three hours; there are regular departures from Brussels to Ghent but take care to catch one of the fast trains (30 minutes trip) rather than the slow ones (which take an hour).
UK to Belgium By Car
It's not difficult to drive to Belgium from the UK, and this option is particularly attractive if you plan to visit a few different places on the same trip. Those further North can take a ferry from Hull to Zeebrugge; for those of us in the south, it may be more convenient to drive through Northern France via the Eurotunnel. Do note that central Ghent operates a car-free policy (though taxis and local business vehicles are exempt), so
UK to Belgium via Coach or Bus
A number of operators offer services to Ghent. Check where in Ghent city they terminate, when comparing offerings, as some don't go all the way into the historic city centre.
Visiting Ghent
Ghent is a perfect city break, and worthwhile to visit whether you have only a couple of days, or can stay for three to four. It offers a wonderful blend of historical and modern, cosmopolitan and provincial, and has plenty to see, do, eat and drink. People here are friendly and welcoming and the city is hugely photogenic.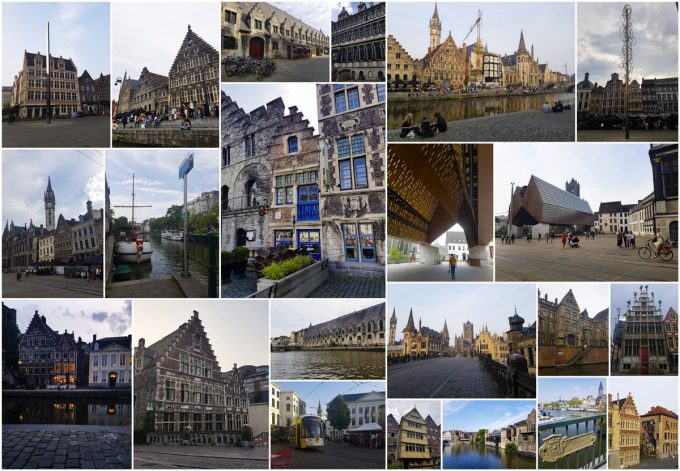 Save for later
Kavey Eats would like to thank the Gent Tourist Office for providing complimentary CityCard Gent passes for our visit.