Indulgence Coffee is a book about nostalgia. Published in April, it's part of a series by Murdoch Books which aims to celebrate vintage style and "a bygone era when dressing up, serving tea in fine china and writing personal thank you notes afterwards were regarded as simply good manners."
In that, it succeeds, full of beautifully styled photographs featuring lots of vintage crockery and props. The textured matte cover in place of the ubiquitous shiny dust jacket also contributes to the deliberately dated feel.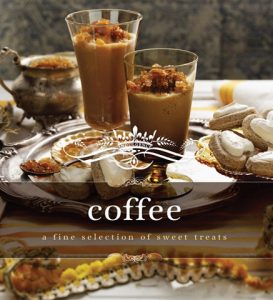 The recipes themselves include classics such as coffee mousse, Viennese coffee and a range of traditional cakes as well as ideas for more modern tastes such as self-saucing puddings, panna cotta with coffee jelly, espresso martini and espresso lassi.
Having been to two parties recently where chocolate profiteroles were on the menu, I was keen to try the recipe for Café Choux Puffs, having never made choux pastry before.
Indulgence Coffee Café Choux Puffs
Ingredients
For the choux puffs:
50

g

unsalted butter

1

tsp

caster sugar

125

ml

water

60

g

plain flour

2

eggs

icing sugar, for dusting
For the coffee custard filling:
2

egg yolks

25

g

caster sugar

1

tbsp

plain flour

125

ml

milk

100

ml

double cream

3

tsp

strong instant coffee, dissolved in 1/4 mug hot water

few

drops

vanilla extract
Instructions
To make the coffee custard:
Remove from the heat and gradually whisk the milk mixture into the egg mixture. Return the mixture to the saucepan, place over a low heat and whisk until the custard just comes to the boil and thickens.

Remove from the heat and whisk in the vanilla. Transfer to a bowl to cool, cover with clingfilm and refrigerate until required.
To make the choux buffs:
Preheat the oven to 200C. Line two baking trays with baking paper or silicon baking sheets.

Place the butter, caster sugar and water in a saucepan over a medium heat and bring to the boil.

Remove from the heat, add the flour and stir until smooth.

Return to the heat and stir for 1-2 minutes, or until the dough pulls away from the side of the pan and forms a ball around the spoon.

Transfer the choux mixture to a piping bag fitted with a 1cm plain nozzle - or use a freezer bag and cut a hole in one corner.

Bake for 15 minutes, then reduce the oven temperature to 160C and bake for another 5 minutes or so, until crisp.

Dust with icing sugar and serve.
The coffee choux buns were absolutely wonderful!
I'd worried that using extra strong instant coffee instead of espresso wouldn't be ideal but the custard filling was really delicious; the coffee flavour came through clearly. In retrospect, we don't think the icing bag approach was necessary, next time we'll simply spoon and gently flatten the loose choux pastry dough directly onto the baking tray. We were surprised at how simple the choux pastry recipe was, something we definitely want to make again. I'd like to add a little more sweetness to the choux pastry – will need to experiment a little to find a good balance without breaking the choux recipe.
As someone who loves coffee as a flavouring far more than as a drink, a selection of sweet recipes based on coffee is ideal. I also love the pretty, old-school feel of the book. I think it would make a rather lovely gift for someone will similar coffee sensibilities and a love for pretty things and cookery books.
If you decide to buy this book after reading our content, please consider clicking through our affiliate link, located within the post and in the footnote below.
Many to Murdoch Books for the review copy of Indulgence Coffee.