I wish we'd given longer to Chiang Rai than the two nights I allocated – which is why I've recommended a third night in my perfect 3 week Thailand itinerary.
You'll want a full day to see the famous sights in and near the city, and Chiang Rai is also the perfect base from which to explore the Golden Triangle, visit one of the Thai hill tribe communities in the region, or learn more about the production of coffee and tea.
I also recommend Chiang Rai's wonderful night market (see below) for casual evening dining and shopping! If you visit at the right time of year, you can add the flower festival in Mueang Chiang Rai Park to your list. Throughout the year, you can enjoy the Mae Fah Luang Botanical Garden on the slopes of Doi Tung (mountain); I wish we'd had time to make it there – I know I'd have loved the rope-bridge Tree Top Walk.
Most of the time, I prefer to research the sights and visit independently, making it easy to spend as long or as little time as we like at each place and adjust our plans on the fly. But in Chiang Rai the key sights are pretty spread out so I decided to book a private guide and car for our one day tour. This made travel between the sights much easier, as the dedicated driver dropped us off at the entrance of each sight and found a spot to park or wait while we explored with our guide.
There are lots of companies offering similar itineraries, so if you want to do the same, consider factors such as maximum group size for a public tour, increased pricing for a private one, and vehicle type (a lot of tour operators here use trucks with semi-open seating on the truck-bed, which aren't very comfortable).
Chiang Rai in One Day | Top Sights
Wat Rong Kun – Chiang Rai's White Temple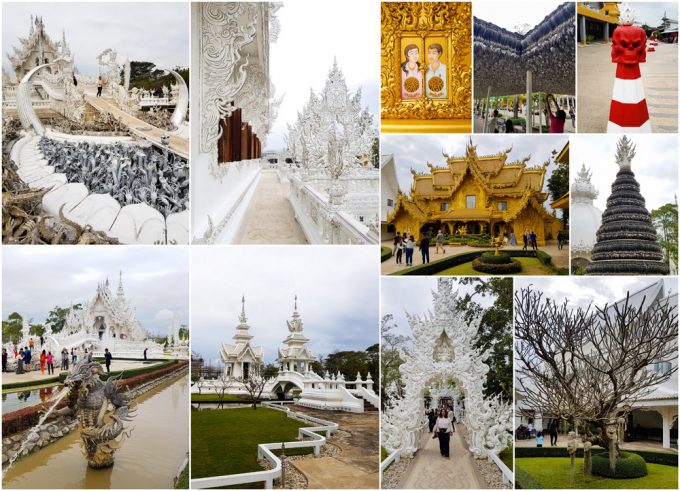 Although it's relatively new, having opened only in 1997, the White Temple has fast become one of the most iconic sites of the city. Although there was a previous temple here, by the late 20th century its condition was so dilapidated that local artist Chalermchai Kositpipat decided to completely rebuild the temple to his own design. He funded the project with his own money, and considers it an offering to Buddha.
The temple and associated buildings offer a veritable delight of over-the-top ornamentation and bling! The ubosot (prayer main hall) puts me in mind of the intricate icing of a wedding cake, shimmering in the sunshine thanks to fragments of mirrored glass embedded in the exterior. At the foot of the bridge leading up to the prayer hall are a sea of hands, and it gets even stranger inside, when you take in the details of colourful murals featuring modern day characters from Elvis to Batman, from the Minions to Spiderman!
Similarly shiny are the golden building (in which the toilets are located), and the thousands of silver prayer leaves hanging from conical tree-like structures and from the roofs of covered walkways.
A favourite detail of mine was a tree hung with concrete heads of evil characters such as Hellraiser – modern references like this seem incongruous and yet perfect for such a phantasmagorical place!
There are meanings associated with most of the elements above, so I'd recommend booking a knowledgeable guide if you are interested in understanding more.
If you have two days in Chiang Rai, you'll also have time to visit nearby Singha Park.
(Admission fee for overseas visitors)
Chiang Rai Blue Temple (Wat Rong Suea Ten)
The Blue Temple is even newer than the White Temple!
Wat Rong Suea Ten is named for the village of Rong Suea Ten, which translates as Dancing Tiger, a reference to the tigers that once roamed the forests here. There was a temple here previously, but it was abandoned nearly a century ago. In 1996 the villagers decided to build a new temple in its place, starting construction in 2005.
The tall white standing Buddha statue, located to the back of the main prayer hall, was finished in 2008, but the prayer hall itself was not completed until 2016. There is still construction ongoing; when we visited a second immense statue was being built at the entrance to the site.
The outside is richly decorated in blue and gold, with regular tiger motifs as well as the more traditional dragons. Inside is a large seated white Buddha, startlingly bright against the blue interior with colourful decoration.
(Free admission)
Chiang Rai Chinese Temple (Wat Huay Bla Gang)
This is often called the Big Buddha Temple but the absolutely huge statue built on top of a hill is actually Guan Yin, the Goddess of Mercy. Regardless; the statue is incredibly striking, visible as it is from miles away.
The site is also known for its beautiful nine-storey pagoda, with huge dragon heads on either side of the stairway to its entrance and a huge
Between the pagoda and the giant goddess is a white prayer hall with vivid red roof. Behind it there's an onsite vegetarian restaurant. The fence that runs alongside the pagoda has a long line of prayer bells; many visitors walk slowly along, ringing each bell in turn.
There's an active monastery school on site, and when we visited, the Abbot was making a tour and greeting visitors. He has worked extensively to help villages in the area, and in turn, the local communities are devoted and very respectful.
(Free admission to the site. Fee payable to enter and climb up inside the giant goddess.)
Chiang Rai Black House (Baan Dam)
Sometimes erroneously called the Black Temple – no doubt because it trips off the tongue when included in a list with the White, Blue and Chinese Temples – Chiang Rai's Black House is actually a museum-cum-art gallery, the creation of one of Thailand's most famous artists, Thawan Duchanee.
Spread across the extensive gardens are over 40 predominantly black buildings in a variety of styles, the largest of which is right by the entrance. These are decorated with a huge collection of animal bones and skins, along with sculptures and other artworks by Duchanee.
Much of the work is quite dark and disturbing, and yet the garden setting means it's not a foreboding site to explore, utterly strange though it is! Some of the buildings are not open for entry, but their contents can be viewed through windows or open sides; the rest can be explored inside and out.
(Admission fee)
Chiang Rai Temple of the Emerald Buddha (Wat Phra Kaew)
Although the original Emerald Buddha is now housed in Bangkok, this temple in Chiang Rai is where it originated. The icon of Buddha is thought to have been created in India over two millennia ago.
Since then, it has housed in many places, from India to Sri Lanka and Cambodia before arriving in Thailand, where it was first displayed in a temple in Ayutthaya. In the 14th century, a time of much strife in the region, the King of Chiang Rai decided to hide the revered statue, covered in stucco, in the chedi of a temple then known as Wat Pa Yier (bamboo forest temple). In 1434, lightning hit the temple during a storm and cracked both chedi and stucco open, revealing the green Buddha within. The local people, thinking it was made of precious Emerald, called it the Phra Kaew Morakot, and renamed the temple to Wat Phra Kaew. Not long afterwards, the King of the Lanna kingdom ordered this treasured icon to be moved to the capital, then in Chiang Mai, however a recalcitrant elephant carried it farther, to Lampang, and the king allowed it to be housed there instead. From Lampang, it eventually moved to Chiang Mai, before being taken out of Thailand by the Burmese Taungoo Dynasty, who took control of the region. It remained in Laos for the next 225 years. Not until 1778 was it brought back to Thailand, when King Rama I (still a general under King Taksin at that time) captured Vientiane from the Burmese and retook the Buddha.
As Bangkok was established as the new capital, the statue's new home was in Bangkok's Wat Phra Kaew (officially known as Wat Phra Sri Rattana Satsadaram and considered the most important Buddhist temple of the country), where it remains today.
It's still worth a visit to Chiang Mai's Wat Phra Kaew, which now houses a replacement jade Buddha, as well as another made of green stone and several others.
(Free admission)
Chiang Rai's Night Bazaar, Perfect for a Street Food Dinner
The night markets of Thailand are a wonderful mix of street food and shopping, perfect for tourists and locals alike. Chiang Rai's Night Bazaar was our favourite night market of the trip, it's pedestrian-only lanes a pleasure to browse.
To find the Night Bazaar, head south from the Clock Tower on Phaholyothin Road and you'll spot the entrance gateway on your left about two hundred metres along.
With two large open-air seating areas, it's easy to find somewhere to sit so grab a table and make an evening of it. We preferred the area with folding metal tables and seats, bordered by permanent food stalls along two sides to the one under a large tree.
Favourite food items we ate at the night bazaar include a pork and vegetable hot pot, mixed vegetable tempura, omelette-wrapped pad thai, satay meat skewers, stir fry green vegetables with crispy pork and mango and coconut sticky rice.
In between eating and drinking, browse the stalls for locally made handicrafts, including beautiful silk scarves, clothing and bags made of handwoven fabrics, wooden ornaments and toys, and much more.
(Free admission)
On a Saturday or Sunday, you may want to try the Thanalai Road Walking Street Market and the Sang Khon Noi Walking Street Market, respectively.
Save for later:
A Three Week Itinerary For Touring Thailand
We visited the Chiang Rai as part of an independent holiday, which we organised and booked ourselves. Check out this comprehensive three week Thailand itinerary, including tips on sightseeing, hotels, food and transport.