This may sound like heresy from a self-confessed cheese addict but sometimes – especially after a few weeks of excess eating that nearly always includes a copious cheese board – I really fancy something different. It's not that I get cheesed out… wash your mouth out for even thinking such a thing! But the same old-same old cheeseboard starts to lose it's appeal. I still want cheese, but I crave something more creative.
I came up with this quiche as a way to use up cheeseboard leftovers – you know all those little remnants that are too small to serve up on the next board but far too good to waste… and there's often leftover chutney too, whether it's homemade or a good quality shop bought.
But I quickly realised this quiche is so very very good that it's worth making even if you don't have any cheese board leftovers!
Rather than having a huge Christmas day lunch and another meal for dinner, we sometimes spread out the starter, main, dessert and cheese course by an hour or two between each so that it's pretty much dinner time by the time we get to the cheese. This cheeseboard and chutney quiche makes the perfect alternative to a cold cheese board and if you serve it hot out of the oven, it's wonderfully warming.
Of course, it's a perfect boxing day dish too.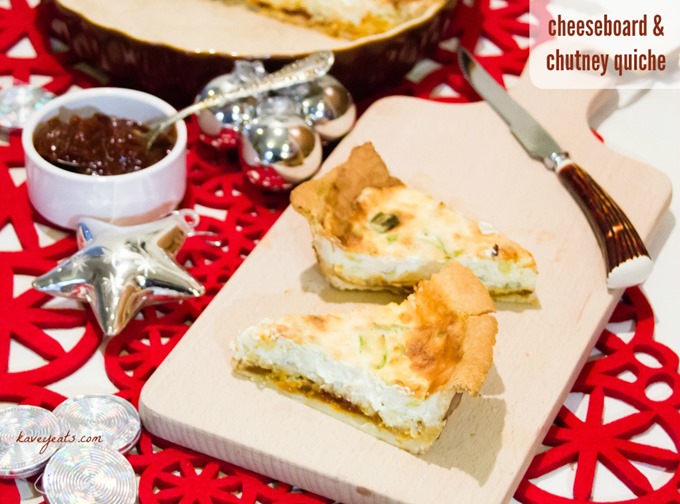 If you cook this after your Christmas roast and have a handful of cooked Brussels sprouts leftover, they make a lovely addition. If not, leave them out.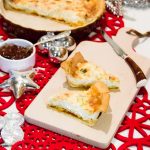 Kavey's Cheeseboard & Chutney Quiche
Total Time
1
hour
10
minutes
Ingredients
320

g

shortcrust pastry

150

g

good quality chutney of your choice

160

g

mixed cheeses

finely chopped or crumbled

300

ml

double cream

300

ml

creme fraiche

3

large

eggs

4-6

leftover cooked Brussels sprouts, shredded

(optional)
Recipe Notes
We take the quick and convenient option and buy ready made shortcrust pastry from the supermarket. You can, of course, make your own if you prefer. Likewise, we used English Provender's Sweet Tomato & Chilli Chutney for this quiche. We have also used homemade green tomato chutney, and a spiced fig chutney for this recipe.
In this quiche, we used extra mature Cheddar, vintage Gouda and Stilton. Use whatever cheeses you have; you can even include a softer cheese such as Brie if you like.
There is often a little pastry and custard mix leftover. We usually use these to make an extra mini quiche in an individual ramekin dish or muffin tin.
Instructions
Preheat the oven to 180C (fan).

Roll out the pastry into a circle large enough to line a 22cm pie dish with a little extra over the edges.

Carefully lift the pastry into the dish and gently push into the edges. Trim the pastry so that it comes up over the edge of the pie dish by about a centimetre to allow for shrinkage during baking.


Line the pastry with foil and fill with baking beads – if you don't have any, you can use dried beans or (uncooked) rice instead.


Transfer to the oven and bake for 15-20 minutes, until the pastry has taken on a pale golden colour.


In the meantime, combine the double cream, crème fraiche and eggs and whisk well. We do this in a large (1 litre) jug so that it's easier to pour into the dish.


Once the pastry is cooked, remove from the oven and leave to cool for 15 minutes, longer it you can.


Before assembling the quiche, heat the oven back up to 180C (fan).

Spread the chutney in an even layer across the bottom of the pastry.


Sprinkle the cheese over the chutney and if using the sprouts, spread these over the cheese.


Carefully pour the custard mix into the dish – go slowly so the chutney and cheese aren't moved around too much. They will float up within the mixture.


Transfer to the oven and bake for 30-40 minutes until the surface is golden brown and there is not too much of a wobble when you give the dish a gentle shake.


Remove from the oven and allow to rest for at least a few minutes before serving – it's always easier to cut a quiche once it has set a little than when it's piping hot from the oven.

This really is an absolutely delicious quiche and can be enjoyed hot or cold. Serve with coleslaw or a mixed salad for a light meal, or wrap individual slices in cling film for a lunchbox treat.
The original version of this post was commissioned by English Provender.