When I was a kid Indian restaurants in the UK were either local neighbourhood 'curry houses' serving a standard set of semi-Anglicised Northern Indian dishes to a mostly-evening trade, or a few rather more formal places with prices to match. Fast forward three to four decades and the Indian food scene (in London at least) is an altogether different beast. Not only can you find a wide range of restaurants specialising in the many regional cuisines of India and its sub-continental neighbours, it's also the era of an entirely more casual style of Indian cafe restaurant, as popularised by Dishoom over the last several years.
Joining this category is Chai Thali, a colourful and relaxed "street food bar and restaurant" situated in a converted row of warehouses on a quiet street in Camden.
Open for breakfast, lunch and dinner Chai Thali isn't quite an all day cafe – it's closed for an hour between breakfast and lunch and for another two hours between lunch and dinner. The neighbourhood is a mix of residential and business, and the Centro buildings themselves offer modern office space to small businesses, many of whom I'm sure will already be regulars in the colourful and funky new cafe restaurant in their midst.
Inside, 120 covers are divided between tables and booths, including a few that are suitable for larger groups. There's also a cool private dining room for up to 16.
For breakfast and lunch, customers can order food and drinks at the bar for takeaway or eating in. In the evenings table service is offered and you can order from the extensive menu.
The menu meanders around India, though I'd say that there's still more I recognise from Northern regions than anywhere else. It's a great menu though, with plenty to tempt quite a few different palates.
Both of us started with a Flavoured Lassi (£4.50) intending to switch to beer for Pete and perhaps a cocktail for me but the sweet lassis were so delicious we ordered the same again. Good quality natural yoghurt with plenty of flavour, sugar, a restrained splash of rosewater and enough water to make it a refreshing drink – as opposed to the thick and cloying version that is far too heavy to be a good match for food but which I have been served all too often.
We were also treated to a Mini papad basket (£2.50) of tiny popadoms served with four delicious chutneys.
Chai Thali's menu is perfect for those who love to share lots of small dishes rather than the classic main course each. You could certainly have a very satisfying meal from just the chaat and tandoor small plate sections alone. We went for a mix, with a few small plates to start followed by a couple of mains to share.
A mix up (on my part) meant we ordered two chaat dishes, which was a little repetitive.
The first to come was this delicious plate of Aloo corn tikki chaat (£5) – a platter of potato and sweet corn patties served with curried chickpeas, yoghurt, mint sauce and tamarind chutney. Sprinkled on the top were the essential crunchy sev (deep fried threads of chickpea paste) and a few ruby red pomegranate seeds for sweetness and colour. A classic chaat dish, this was excellent.
The second was Lamb samosa chaat (£5) in which simple lamb samosas are topped in the same way as the potato and sweet corn patties. The menu does offer plain Lamb samosa (£4.50) as well as the chaat version.
Bhaaji pao fondue (£5.50) was a wonderfully innovative take on a Mumbai classic. Usually a thick fried vegetable curry served with a bread bun, here the vegetable curry is served in a small fondue pot with the bun cut into pieces to be dipped – using the fondue forks provided.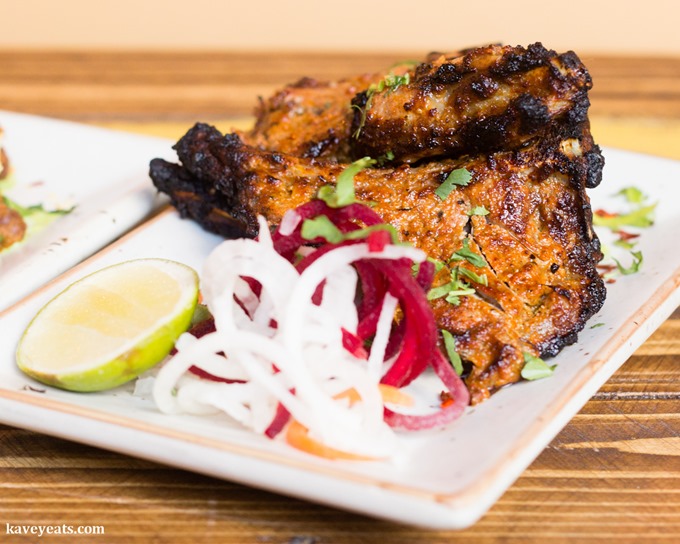 The favourite small plate for me was definitely Lamb ki chaampe (£9) – lamb chops marinated overnight and cooked in Chai Thali's tandoor oven. The spicing was delicious, strong and punchy but still letting the lamb shine through and the cooking was spot on – meat still soft and juicy but with a perfect blackened char to the surface, and the layer of fat left on the chops to blacken nicely.
Our first choice from the Curries section was Dhaaba murg (£8) cooked on the bone and incredibly like my mum's chicken curry – one of my all time favourites and one I'm thus very fussy about. The balance of flavours was very good, the right level of heat, the perfect consistency of sauce (not thick and gloopy à la curry house, but not so thin you can't scoop it up with the bread) and the chicken cooked to just the right texture.
Perhaps my gleeful reaction to this was driven by how closely it resembled my mum's version – certainly it's not an unusual style of chicken curry, indeed it's a staple of roadside dhabas across North India). If you try it, let me know what you think!
Another mix up (but this time on the part of the restaurant) meant we were served a bowl of Lamb shank nihari (£10) instead of the biryani we ordered. In a nice display of customer service, the restaurant encouraged us to enjoy the extra dish and brought out the missing biryani as quickly as they could.
Again, this typically North Indian dish reminded me of my mothers cooking and thus I enjoyed it very much indeed. Fantastic flavours. and good quality lamb helped enormously here – so nice not to be wrestling with bits of gristle or tendon.
On the other hand, this was the only dish where I felt the portion was a little small for the price tag.
From the Accompaniments section of the menu we chose a Roomali roti (£3.50) and (I think) a Kulcha (£2.50). Both were soft and fresh and good.
We didn't have too long to wait for the Hyderabadi dum biryani (£9.50, also available in a chicken version for £9) and it was a tasty dish with very punchy spicing and a generous portion of lamb within.
I didn't love it quite as much as the fantastic biryani we enjoyed at Daawat a few weeks previously, mainly because it didn't provide the layering of rice and meat (and the flavours of each) that I personally adore in a biryani – instead the spicing was mixed throughout meat and rice, an equally valid way of making biryani even if I'm not quite so keen on it. But it was still delicious and I'd happily eat it again. The only black mark for us was that, even though we're both used to picking out the whole spices as we eat Indian dishes, there were so many whole peppercorns and cloves through the rice that it was distracting to pick them all out and unpleasant to bite down on them when missed.
Overall, the authenticity and deliciousness of flavours in Chai Thali's food was far better than I expected on first glance at the very trendy and colourful interior – I'm always wary of those places that are more style than substance but I needn't have worried here.
I learned that owner Ajay has a very strong background in the Indian restaurant industry, having previously run several Indian restaurants in other locations. This is his first venture in Central London, and the first in this more modern cafe restaurant style. Judging by our visit within the first few weeks of opening, he's created a very strong offering and I'm more than a little envious of the office workers and residents in the area.
Kavey Eats dined as guests to review Chai Thali.
Save
Save
Save
Save
Save
Save